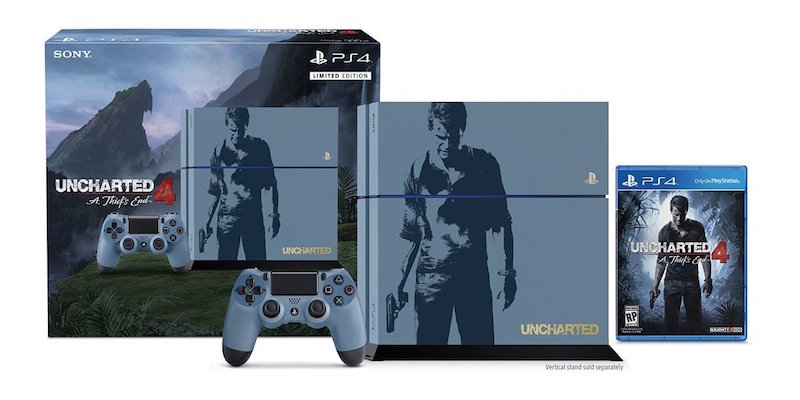 Uncharted 4 is without a doubt, Sony's biggest game of the year. And while the marketing machinery behind it is yet to rev up the hype, Amazon.com has jumped the gun, listing a special edition PS4 for the game.
The Uncharted 4 Limited Edition Bundle as it's called has a 500GB PS4 decked up in Grey Blue with "custom Uncharted 4: A Thief's End inspired silk screened artwork", there's a matching DualShock 4 controller and the game on Blu-ray disc of course.
For $399.99 (roughly Rs. 27,000) it's one of the better looking special edition consoles we've seen this generation. Though we can't help but feel 500GB of storage space might be a little anaemic for heavy gamers.
If you were expecting this to hit India, think again. In the past Sony has stated that BIS regulations have made it cumbersome to consider bringing these special edition consoles in. As it sports a different model number and appearance, it would have to undergo BIS testing all over again- a costly affair. And it's further compounded by the fact that Sony hasn't named its new head of PlayStation for India either since Atindriya Bose's exit late last year. It makes us wonder if the region is of any importance for the company at all. Perplexing given that the PS4 is the highest selling console in the country by a handsome margin.
However, if Microsoft India was able to bring in the Forza 6 special edition console, we're hoping that Sony India revisits its stance on special edition consoles. And if it doesn't you can try your luck since the listing states delivery to India. Logging in and attempting to place an order will throw up a price inclusive of customs and shipping. The Uncharted 4 Limited Edition Bundle will be available the same time the game is out in the US, April 26.
["source-gadgets.ndtv"]