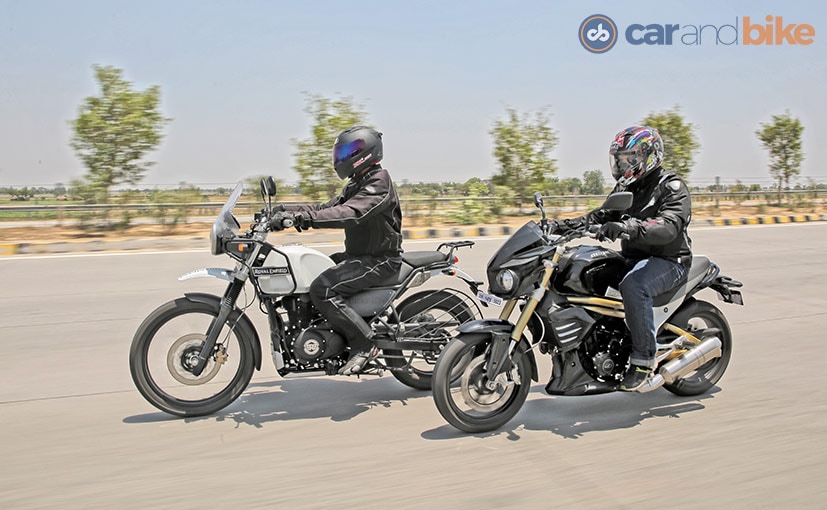 The Royal Enfield Himalayan is certainly going to get a lot of interest from the motorcycle touring community – for those seeking to venture out to the remote mountains or even on a cross-country tour. The Himalayan also promises versatile performance – a comfortable touring machine and a bike which can easily do the daily commute.
It's of course, purpose-built for adventure and it's got enough equipment to take on all kinds of terrain when the tarmac ends. But to get to the remote terrain, it also needs to cover quite some distance on the highways. In practical terms, almost 80 per cent of the time, the Himalayan will be on tarmac.
And this is where the Mahindra Mojo comes in. The Mojo has got similar weight, similar power figures as the Himalayan and it's been promoted by Mahindra Two Wheelers as a touring motorcycle. And they are priced quite competitively as well – the Mahindra Mojo retails at 1.63 lakh (ex-showroom Delhi), while the Royal Enfield Himalayan is available at 1.57 lakh (ex-showroom Delhi).
We spend some time with the Royal Enfield Himalayan and the Mahindra Mojo, to get a sense of how these bikes stack up against each other, from a touring perspective as well as how they are to live with.
Design and Features
The Mojo looks unique; in fact opinion is polarised on its looks – some love it, some take some time warming up to its looks. It's got high quality bits though- from the 43mm upside down forks, Pirelli Diablo Rosso II tyres to the twin headlamps with LED guides. But look at the Mojo in its entirety and you're left wondering whether you like the way it looks, or not. But there's no denying that it's a headturner and it's got road presence.
The Mojo also gets a large 21-litre tank for fewer fuel stops on the highway, and the digital console offers a range of information, including maximum achieved speed, trip meter, odometer and side stand indicator. It also offers a shift light.
The Himalayan, on the other hand, sports a bare bones look, with a simple, understated design. It certainly looks the adventure tourer though with its tall stance and off-road oriented equipment – dual sport tyres, long travel suspension and high ground clearance. It looks nothing like what a Royal Enfield is usually identified with and just with its looks alone, the Himalayan seems to promise adventure and a level of off-road prowess no other Royal Enfield can come close to.
Engine and Performance
The Himalayan has an all-new, air-cooled, long stroke engine, and it is fed through a carburettor. It displaces 411cc and makes just over 24bhp, kicking in at 6500 revs. The peak torque is rated at 32Nm which is available between 4000 and 4500 revs. The torque kicks in early and the Himalayan has got a strong low- and mid-range, and it's between 4000 and 4500rpm where the Himalayan shines.
The engine revs freer and smoother than other Royal Enfields, but the Himalayan doesn't like being revved too much. The engine doesn't protest as such, but the noise and harshness creeps in above 5,000rpm and it just isn't a happy place to be in. So, if top-end performance and triple digit cruising speed is what you are looking for, the Himalayan will oblige you with a top speed of over 125kmph, but it isn't happy doing that – 4500rpm and between 90-95kmph at best is what the Himalayan is happy doing, and will cheerfully do all day long.
The Mojo on the other hand, has an engine, which could easily be the single most entertaining feature of the bike. It's a single cylinder, liquid-cooled, four-stroke 295cc fuel-injected engine which belts out just a shade below 27bhp, kicking in at 8000rpm, while the peak torque is rated at 30Nm, available at 5,500rpm.
What's immediately likeable is the refined, smooth performance. It's got a strong mid-range, so accelerating through the gears is a delight, the grunt kicking in at around 5000rpm, and the Mojo's engine retains its finesse right up to over 8000rpm. Out on the highway, the Mojo's engine remains stress-free, whether you're cruising steadily or even at over 100kmph! It's a capable highway cruiser and will effortlessly do triple digit speeds all day, clocking a speedo-indicated 139kmph maximum speed. It's only right at the top of rev band does the Mojo's power taper off, but you wouldn't want to be wringing the throttle wide open all day anyway.
Ride, Handling and Braking
The Mojo offers a supple ride, with its suspension taking care of all kinds of road undulations with ease, so there isn't much to complain in terms of straight line handling and ride quality. It's only when you show it a corner or two, the Mojo doesn't inspire a lot of confidence. It doesn't wallow as such and the Pirelli tyres offer superb grip, even when you are leaned in. But the front end doesn't offer you much feedback and you become wary of pushing it harder. Part of the issue is also due to the Mojo's long wheelbase and part of it due to the chassis, which doesn't offer intuitive handling.
The moment you switch bikes, it becomes immediately apparent how comfortable the Himalayan is. For long hours in the saddle, the Himalayan is a few steps ahead of the Mojo, offering a plush ride and a ride quality which sails through all kinds of bumps and road undulations. And when the going gets tough, the Himalayan has a distinctive advantage with its off-road oriented equipment making mincemeat out of the harshest of terrain, giving the Himalayan versatile performance over all kinds of surfaces.
Even on tarmac, the Himalayan offers predictable handling while negotiating direction changes – the chassis offers neutral handling around a corner, and the tight turning radius is a boon whether you are negotiating traffic or taking on the rough stuff.
The Mojo has discs at both ends for braking and they do a good job – there's appreciable bite and feel and the superb tyres offer confident braking. But ABS is missed on both bikes. It's understandable the Himalayan lacks ABS to take on off-road duty but ABS is missed when you are doing highway speeds and need to shave off speed in a hurry. The brakes on the Himalayan offer decent bike, but lacks feel at the levers – you have to apply some pressure for the calipers to bite on the discs. That's not to say they aren't effective, but it takes some getting used to.
Verdict
The Mahindra Mojo is a commendable effort; it's a bike which took its own time in being production ready, but the results are there. Sure, it looks a bit quirky and may not be to everyone's liking. But it's got road presence and offers average fuel economy of around 32-33kmpl in combined city and highway riding. With a 21-litre fuel tank, the Mojo offers a range of over 650km on a single tankful.
It's happy cruising at a decent clip and will cover kilometres after kilometres of highway without any signs of protest. It's only when the road ends, and the terrain becomes difficult, the Mojo is at a disadvantage.
The Royal Enfield Himalayan offers superb riding comfort and good cruising ability. It's only when you compare it with the Mojo, you realise that the Himalayan is the more relaxed cruiser here, and doesn't like accelerating fast or holding triple digit speeds for too long. The Himalayan also returns actual fuel economy of around 32-34kmpl, but with a 15-litre tank, its range is reduced to around 450km. That's not bad for a tankful of fuel, but the Himalayan also doesn't like being revved and high speed cruising is not its forte.
Keep the engine spinning around 4,500rpm and the Himalayan will happily cover hundreds of kilometres in a day. It's only when you seek to extract a bit of top-end performance, the Himalayan disappoints. But when it comes to taking on the rough bits – sand, slush, snow, rocks or even gravel – it's the Himalayan which sails through without a care in the world.
So, if you are looking for a touring motorcycle, and you intend to keep to tarmac and cover long distances in a day, the Mahindra Mojo certainly ticks all the right boxes. It likes being revved and the smooth, refined engine offers a level of performance that is quite impressive – be it negotiating city traffic or covering long distances on the highway.
And if you're looking for a motorcycle with adventure in mind – whether it's taking that urban short cut through the biggest potholes imaginable or if you intend to go farther than where the road ends; explore the wilderness and take back roads far from tarmac, it's the Royal Enfield Himalayan which will satisfy all your adventure needs. So, ultimately, the Royal Enfield Himalayan offers a more versatile package for all your needs, and in this comparison, it's the Himalayan which emerges as the winner.