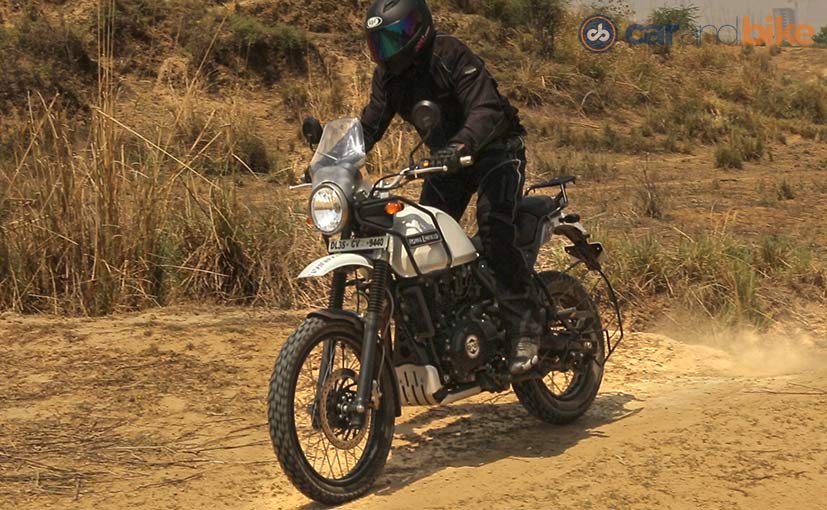 Mention the name 'Royal Enfield' and the first thing that comes to mind is the retro, '60s design of the Bullet. Although Royal Enfield, over the years, has moved on to products like the Thunderbird with more conventional cruiser styling, the brand is still identified with the 'classic' Bullet look. In fact, the largest selling Royal Enfield today is the Classic 350 – a bike with retro styling, but a modern engine.
In a way, Royal Enfield bikes have also come to be identified as the choice for touring; rugged, easy to repair and with torquey engines, they have become almost synonymous with motorcycle touring in India. With the Himalayan, Royal Enfield wants to target the adventure seekers, riders who seek to go and explore with a bike that promises to go far beyond where the tarmac ends.
The Himalayan also promises to be a versatile motorcycle – one that will happily do the daily commute and when the call for adventure comes, it promises to deliver. But is it all the motorcycle you need?
How does it look?
The Himalayan doesn't look at all like what Royal Enfields are 'supposed' to look like. The overall design is quite simple and bare-bones, but it looks really purpose-built for adventure – the large 21-inch front wheel, dual purpose tyres, high ground clearance and engine sump guard definitely play up the bike's 'adventure' personality. It's a design which is simple, but it looks the part.
The single, round headlight is topped off by a small windscreen, and a 'beak' (which seems to be the design norm for adventure bikes these days) protrudes out from under the headlight. The headlight doesn't get any LED trim, but it's effective; although the taillight is LED. The 14-litre fuel tank offers decent range – around 400-450 km on a tankful, depending on terrain and riding style.
The instrument panel gets several analogue dials – a large speedometer taking pride of place with read-outs in both kmph and mph. The speedometer dial also houses a small LCD screen displaying a digital selected gear indicator, two trip meters, odometer, ambient temperature, clock, average speed, service indicator and a side stand indicator. A smaller large dial houses the tachometer, with two even smaller dials displaying a duel gauge and a digital compass. It's quite a busy instrument panel, and takes some getting used to.
More than the compass, a power socket could have been added though, and something which proves very useful when you are in the back of beyond.
How does it perform?
The Royal Enfield Himalayan's engine is all-new; it's a 411cc single-cylinder, air-cooled engine which makes 24.5bhp at 6500rpm and peak torque of 32Nm at between 4000-4500 revs. The Himalayan only comes with electric start, so there's no kick starter.
Thumb the starter and it's immediately apparent that this is a Royal Enfield. There's a muted thump from the upswept exhaust – not too loud – but it sounds like a Royal Enfield, and it suits the bike's personality.
The gears take a little persuasion to click into place, but open the throttle and you feel that the Himalayan revs freer, smoother than other Royal Enfields; there's no rush of acceleration, no strong surge of power. In a way, performance wise, the Himalayan feels more or less similar to other Royal Enfields, but revs just a little more.
The 32Nm of peak torque kicks in between 4000 and 4500 revs, and this is the range where the Himalayan feels happiest. The engine also has a counterbalancer, so it performs smoothly, as long as you ride the torque and don't wring the throttle wide open. So shift early and let the torque do its thing, and you will happily chug along.
The engine's redline is rated at 6500 revs, but it's towards the upper revs where the Himalayan doesn't quite feel at ease. There's no protest from the engine as such, but cross 5000rpm and you feel the noise and harshness creeping in, as do the vibrations on the handlebar and footpegs.
If engine refinement is what you're looking for, the Himalayan doesn't offer a lot of it, especially if you want to cover long distances in a hurry. However, keep the motor spinning around 4200-4500rpm at a speed of around 90kmph and it will happily cover inter-state distances, in relaxed, laid-back manner.
How does it ride?
The riding position is quite neutral; you sit upright and a low seating position ensures you are in reach of the ground below at all times. The accessible seat height also makes the Himalayan easy for riders of all kinds of height to straddle. It's also got a tight turning radius, so the bike's handy to turn around in a tight spot and feels completely at home, even in the urban jungle. With a weight of 182kg, it's not exactly a light, nimble bike. But whether you are filtering through traffic or doing the daily commute, it doesn't feel cumbersome or unmanageable.
In fact, the seat itself is quite comfortable. Ride it for a couple of hours and on to the open highway, and you begin to appreciate how comfortable the Himalayan is, even for a pillion rider. So, this is one bike where a pillion can enjoy a long-ish ride, without the need for frequent breaks.
The long travel suspension soaks up all kinds of bumps, potholes and even the occasional speed breaker without a care; it's plush and you begin to appreciate it moments into riding the bike. The Himalayan gets 41mm telescopic forks with 200mm travel. The rear suspension is a monoshock, the first for any Royal Enfield, and gets 180mm travel.
Show it a corner, and you appreciate the new split cradle chassis. Built by Royal Enfield-owned Harris Performance, the Himalayan's chassis has to be one of the best on any Royal Enfield motorcycle in production. You can lean into a corner without worrying about any nervous twitching from the bike, giving the Himalayan a level of agility which is instantly likeable.
Is it adventure ready?
Yes, it certainly is. Large, spoked wheels, long travel suspension and dual sport tyres give the Himalayan plenty of equipment to take on all kinds of terrain where the tarmac ends. And all that equipment does help – the dual sport tyres offer enough traction off-road to take on difficult terrain; the long travel suspension and 220mm ground clearance allows you to overcome obstacles with ease.
The brakes – a 300mm disc at the front and a 240mm disc at the rear – are effective. But they don't offer too much feel at the lever. You'll need to put some pressure to really get that bite, but it's got enough bite to shave off speeds in a hurry. The Himalayan doesn't get ABS, which is a shame, sure you don't need ABS for off-road use, but switchable ABS would have been made the bike even better equipped.
The Himalayan also comes with plenty of space and mounting points to stack up extra luggage with ease. There's a luggage carrier over the taillight and a sub frame at the front also allows you to stack up a couple of extra bags or fuel cans, if you decide to venture far from civilisation. In all, the Himalayan is a commendable effort from Royal Enfield, and it opens up an all-new segment of adventure tourers.
Should you buy it?
The Himalayan promises to be a versatile, all-you-need motorcycle; it will happily do the daily commute to work and back, and offers a great level of comfortable long distance touring. And when things get a little gnarly, it's got the capability to go over broken terrain, sand and slush and can even ford mountain streams, if you need to. It's certainly a good bike, and at 1.73 lakh (ex-showroom Delhi), the Himalayan offers an affordable adventure tourer, and one which is certainly going to find a lot of appeal among the motorcycle touring crowd.
The question though is, if it's got enough bang for your buck. If you are seeking a motorcycle which will cater to your touring needs and also act as your daily ride, the Himalayan certainly ticks all the right boxes. For those seeking an upgrade from their 150-160cc motorcycles, the Himalayan offers an adventure-ready bike with that extra grunt needed for rides into the high mountains. But what the Himalayan probably lacks is a little extra juice, particularly for those who seek some performance and high speed cruising ability. Some more power, ABS, and some more finesse and refinement at the top of the powerband is what the Himalayan needs to make it a truly great bike.