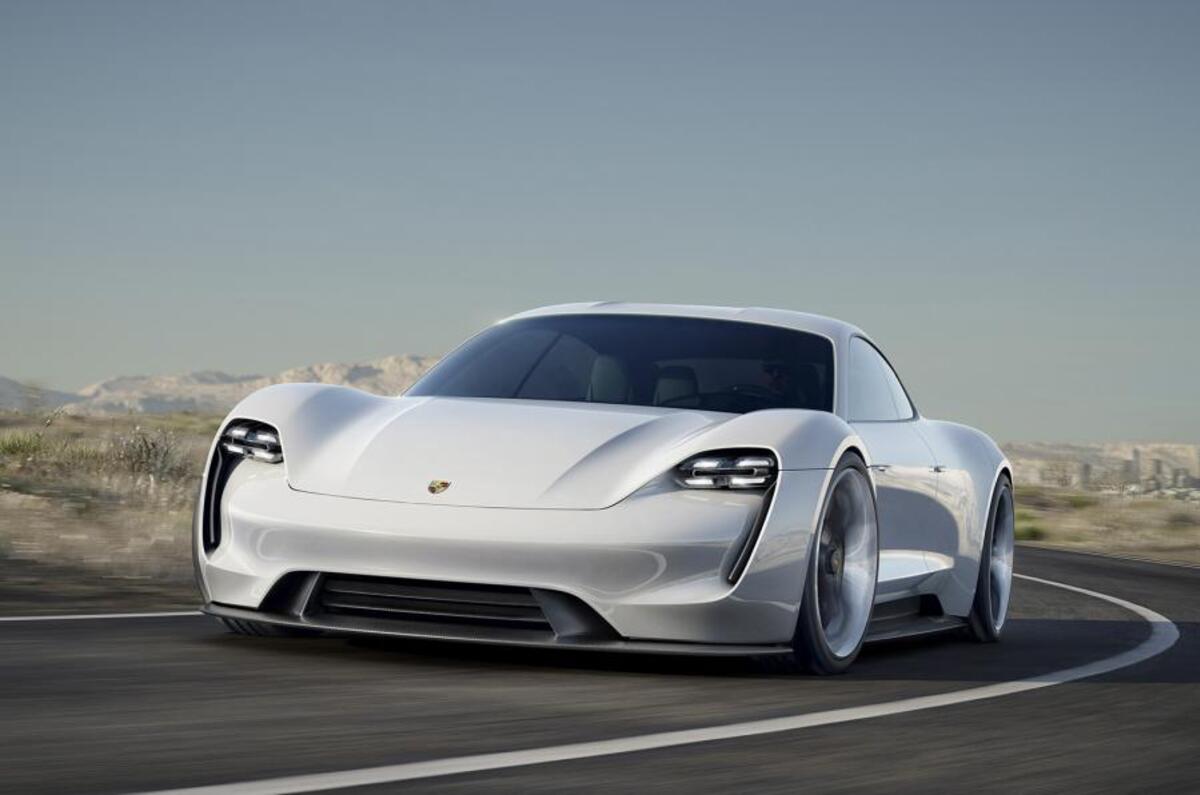 The upcoming Porsche Mission E will be sold in a number of different model variants with differing power outputs in a move mirroring that of the German car maker's more traditional combustion engine models, company chairman Oliver Blume has said.
Set to become the first fully electric Porsche production model when it goes on sale towards the end of 2019, the new four-seater will also feature state-of-the-art electronics permitting over-the-air updates to key systems such as the driveline and autonomous driving functions.
Speaking to Autocar at last week's Geneva motor show, Blume said: "The Mission E will sit in the segment below the Panamera. It will offer a 500km (311 mile) eletric range, with a 15 minute charge time."
Of plans for the model range, he added: "We will think of different options. There will be more than one, with different levels of power."
Blume also revealed that Porsche is working on providing the Mission E with software that will allow over-the-air updates like those pioneered by Tesla with its Model S. "It will be possible to work with over-the-air options," he said. "It isn't decided yet, but it could be possible to charge up with more power. For example, when you have 400bhp, it could be possible to upgrade to 450bhp."
Blume's comments indicate Porsche is planning the Mission E as a complete line-up of models with differing performance levels similar to the strategy undertaken with its current 718 Boxster/Cayman, 911, Panamera, Macan and Cayenne model ranges.
Initial performance claims for the earlier 590bhp Mission E concept made by Porsche suggested it would be capable of sprinting from 0-62mph in less than 3.5sec.
Unveiled in concept form at the 2015 Frankfurt motor show, the first roadgoing prototypes of the Mission E are now undergoing construction at Porsche's research and development centre in Weissach, on the outskirts of Stuttgart, Germany. According to Blume, these cars will begin testing in summer, beginning a planned two-year development phase.
The Mission E sits on one of three new electric car platforms being developed within Porsche's parent company, the Volkswagen Group. This J1 structure is described as being different in construction to the C-BEV platform planned to underpin sister company Audi's forthcoming production version of its E-tron quattro SUV concept.
"The J1 has a low floor, while the C-BEV is constructed differently with a higher floor that suits an SUV," said Blume.
Despite the differences in thier construction, Blume also confirmed that the production versions of the Mission E and E-tron will feature similar lithium ion battery technology.
Also under development at the Volkswagen Group is the MEB electric platform, which is planned to underpin a production version of Volkswagen I.D. hatchback concept.
Blume also revealed at the Geneva motor show that Porsche will stick with the 800v charging system used on the Mission E concept.
Details remain scarce, but Porsche is rumoured to be working with Japanese electronics company Hitachi on the system, which Blume describes as the key to providing the batteries of the production version of the Mission E with an 80% charge in just 15 minutes.
Blume also confirmed that Porsche plans for the Mission E to have Level 4 autonomous driving technology (self-driving in nearly all situations, with driver attention not required), but denied that it would allow fully autonomous driving over longer distances. "There are situations in traffic jams where you will be able to read a newspaper, but our customers take pleasure from driving and this will remain," he said.
[Source:- Autocar]