For first time superbike buyers, and even riders upgrading to a superbike, the mid-size superbike segment is one which is of keen interest. And naturally; this is a segment of motorcycles with decent 'big bike' looks, brag-worthy performance and some street cred. Typically, this segment straddles the 400-800cc displacement bikes, catering to buyers with diverse budgets – ranging from 4 lakh to upwards of 9 lakh, yet not overshooting the psychological 10 lakh barrier.
And this is where DSK Benelli is targeting to make inroads into, and already has two formidable offerings – the Benelli TNT 600 GT and the Benelli TNT 600i. Both are in a way, twins – built on the same platform and powered by the same powerplant – an in-line four cylinder, four-stroke, liquid-cooled 600cc engine. But this is where the similarities end.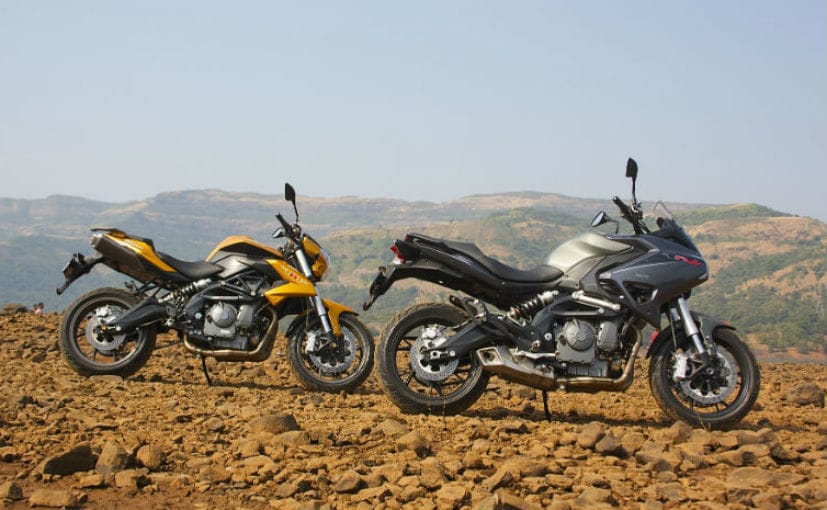 For all practical purposes, and in personality and character, they are two entirely different motorcycles, but with the same, common DNA. And what makes both of these two bikes attractive is that they offer decent performance, a brand known for its Italian lineage and the fact that they are two of the least expensive in-line four cylinder bikes available on sale in India. We ride the two Benelli 600 twins in Pune traffic, on the open highway, and through some twisty mountain roads.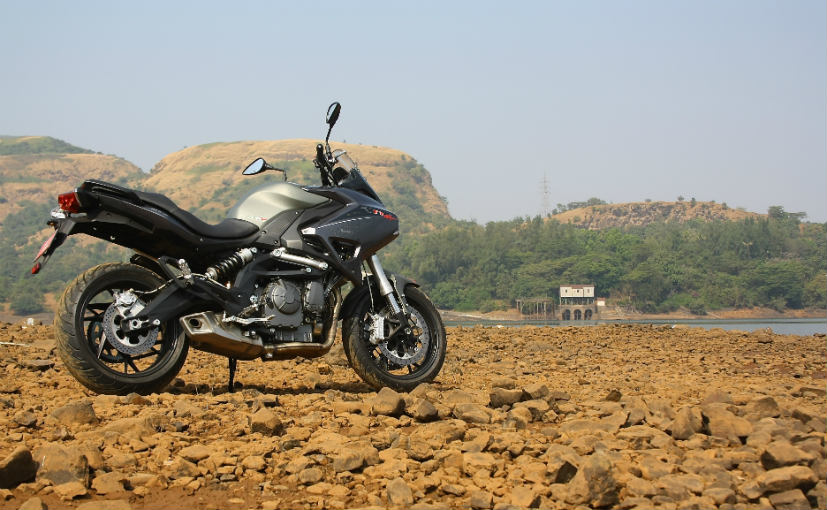 DSK Benelli TNT 600 GT
At first glance, the 600 GT looks the bigger version of the twins -with its imposing road presence and bulky front end. And its looks go with the purpose it's built for, that of long distance touring rather than the daily city commute. Big front fairing with a small windshield, projector headlamp, high-capacity, 27-litre fuel tank, flat, wide handlebar, upright riding position and a flat, broad seat, all point to the GT's touring-oriented pedigree. It's not quite the headturner, but it's definitely not one to be ignored. If you are the kind who finds appeal in a quiet, confident, yet subtle presence, the TNT 600 GT will certainly tick all the right boxes.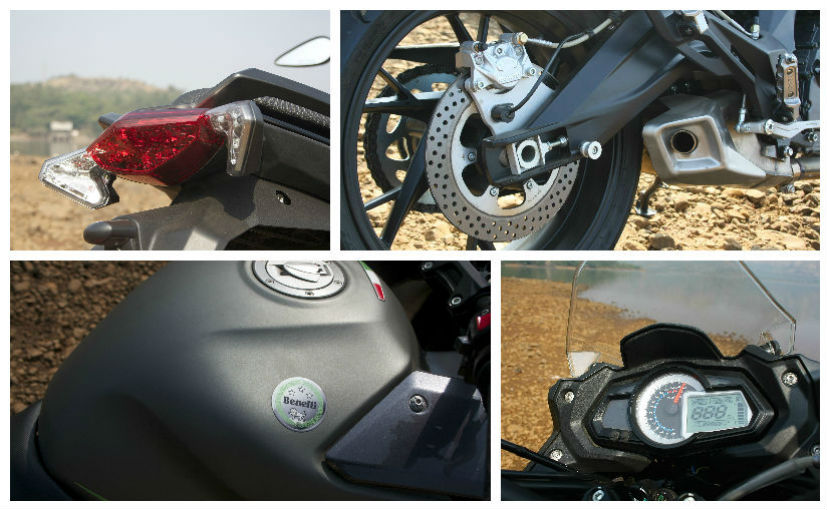 Thumb the starter, and the GT's 600cc in-line four cylinder engine fires up with a sweet, refined hum. Give it some revs and the in-line four holds a lot of promise, just by listening to the note from the exhaust. Pull in the clutch and you will feel your left fingers getting a good workout; it's not light, that clutch, but not very hard as well, unless you are stuck in bumper-to-bumper rush hour traffic.
The six-speed gearbox clicks with easy precision, the shifts slick and precise, with not a single slip here or there. The 600 GT fairs pretty well in traffic even, as long as you stick to a straight line or you are not challenged by too many sharp turns. At over 243kg kerb weight though, the TNT 600 GT is anything but light. And if you need to make any quick u-turns or back into a tight parking spot, the GT will certainly make its bulk and weight felt, in a not-so-subtle way.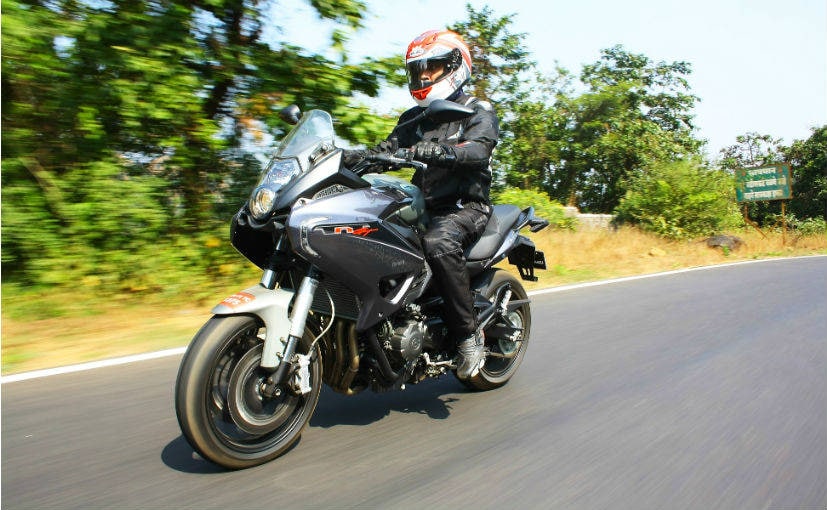 Once you are out of traffic and on an open road, the GT comes into its own. Acceleration is not blistering, but good enough to keep you entertained and not so overwhelming to intimidate you, if you are new to large capacity, multiple-cylinder motorcycles. Performance is flat till you climb up the revs, and only after you hit 7,000 revs or thereabouts does the TNT 600 GT show any sense of urgency.
But it's the nature of the in-line four which is the star of the TNT 600 GT – the refinement and smooth acceleration will immediately impress you, and if you think it's not fast enough, the sound of that brilliant engine will bring a smile to your lips, whether accelerating from red light to red light or from standstill to highway speeds.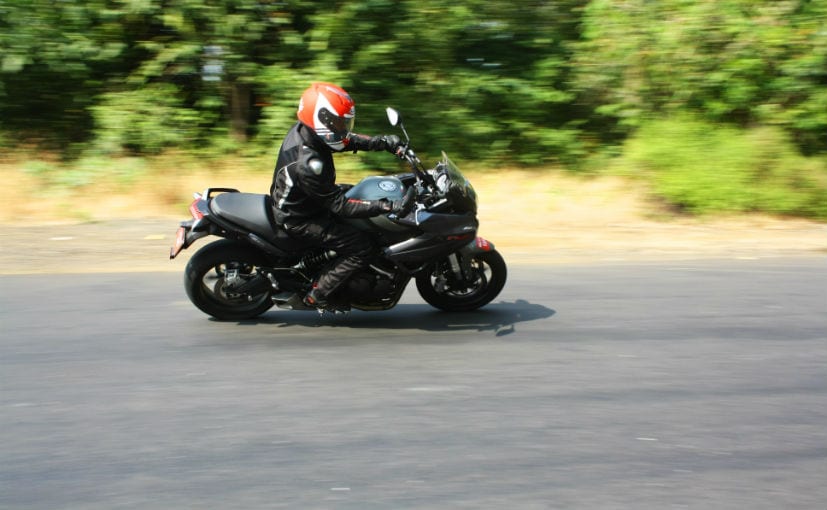 Cruising down a highway, you will be tempted go down a cog more than is needed, on every overtake, just to hear that in-line four sing under you. But there's no crackling performance here, and you have to twist the throttle to climb the revs to get any sense of the 83.9bhp of power on tap, which kicks in quite high up the rev range at 11,500rpm. The 54.6Nm of torque also comes in over 10,000rpm, so the TNT 600 GT needs to be prodded on the throttle to give it a sense of urgency.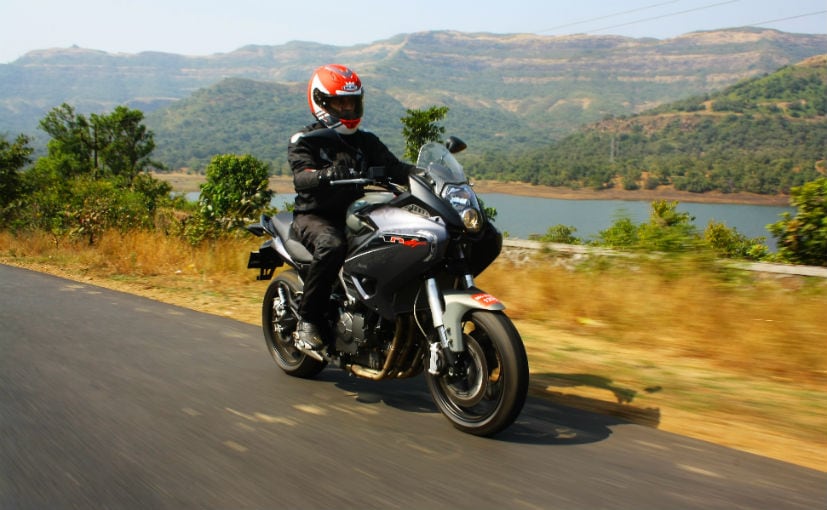 And then, every time you hit sixth, you will feel there's one more shift left in the 'box; in fact, every single time we worked through the gears, we felt there was yet another higher gear to shift up to. It's an odd feeling, and something which will probably take some time getting used to.
The TNT 600 GT's engine is mounted on a tubular steel trellis frame, but the rear part of the frame is part aluminium, ostensibly to keep the weight low. But it works well, this chassis. The GT may not have sportbike-like prowess around corners, due to its weight and high stance, but it's anything but unstable. The chassis remains planted even under hard cornering and the Pirelli Angel shod 17-inch wheels provide sufficient grip through a set of twisties. It's a sport tourer, and the 600 GT does everything it's expected to do, with relative ease of riding and giving the rider a sense of quiet, laid back confidence.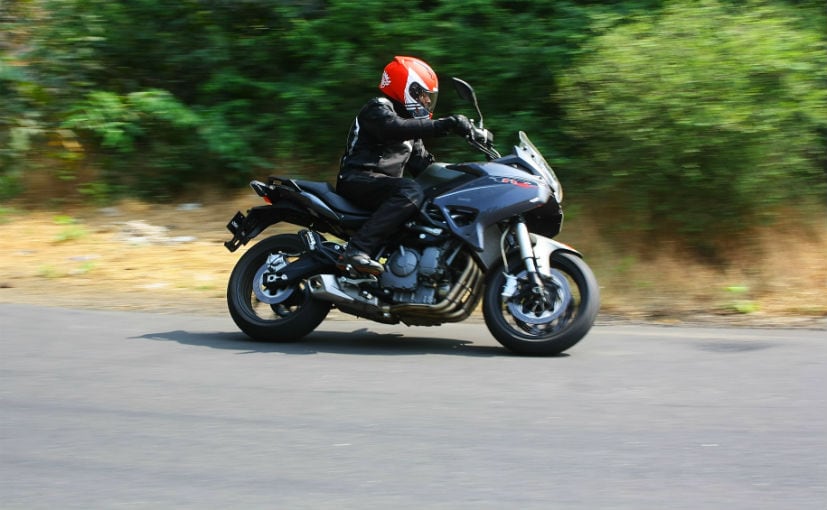 Suspension is a 50mm upside down fork and a side mounted rear shock absorber with adjustable rebound and spring preload. It offers a smooth and pleasant ride, over a variety of road surfaces we encountered, and even over occasional broken patches. In all, the Benelli TNT 600 GT offers everything expected of a modern day sport tourer – tall, muscular looks with a decent suspension and an engine which is refined enough to not feel stressed for high-speed highway cruising.
The brakes offer good feel and bite, with the double floating 320mm diameter disc at the front with four-piston radial calipers and a single 260mm disc at the rear. But the lack of ABS, even as an option, is sorely missed. At 5.62 lakh (ex-showroom Delhi), the TNT 600 GT is one of the least expensive sport tourers available on sale and competes against the Kawasaki Versys 650 and Honda CBR650F.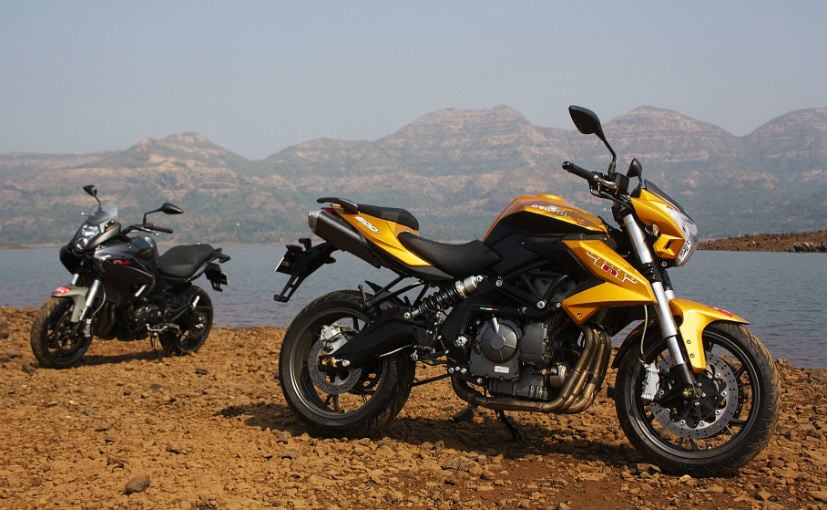 DSK Benelli TNT 600i
The TNT 600i, on the other hand, has a completely different personality and character. If the TNT 600 GT is the heavy, muscular highway cruiser, the 600i is a proper naked motorcycle, the sculpted tank, angular tank shrouds, tubular trellis frame and underseat four-into-two exhausts adding to the overall naked street design language of the bike. Look at them side by side, and the Benelli TNT 600i looks like a different bike altogether.
The one we are riding, the TNT 600i Limited Edition, comes in an attractive golden shade with matching brake and clutch levers. Overall, even the TNT 600i is not a bike which will win any design or styling awards, and in a crowded parking lot, not too many folks may give it the once over.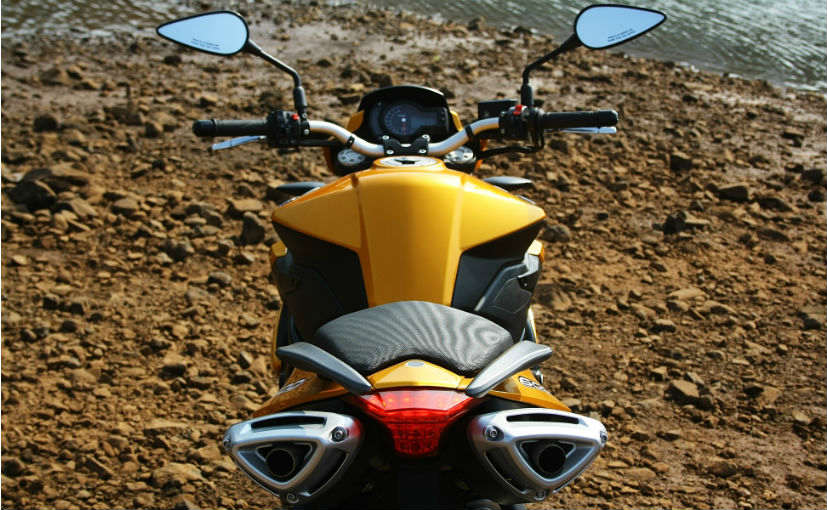 Start it up and the twin underseat exhausts strike up a symphony – and it sounds fantastic. In fact, just by its sound alone, the TNT 600i has the power to attract and seduce. And get it out on the road and give it a strong twist of the right hand, there will be heads turning for sure, just to hear the source of that sound.
The TNT 600i shares its chassis, suspension, brakes and engine with its sibling, but its personality is more playful, more urban, rather than the laid-back gentlemanly nature of the GT. The engine, though on paper, has the same specs, it has been tuned differently, and that's where the difference crops up, in performance and character.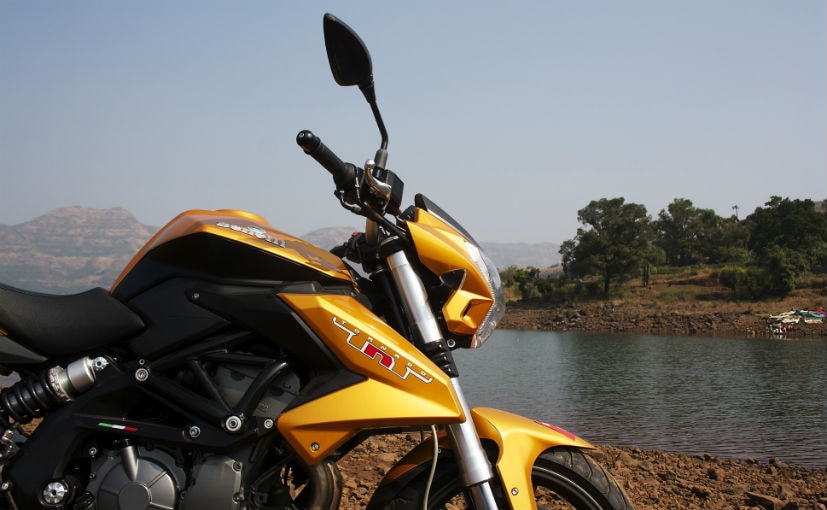 The TNT 600i is a lighter bike than the 600 GT, so the power-to-weight advantage is evident once you start climbing the revs. And the engine feels more responsive than the GT, but also seems to require more downshifts once you shave off speeds to normal city traffic conditions.
Overall, there's not much change in the engine character of the Benelli TNT 600i from the TNT 600 GT. The engine has the same, free-revving nature and it needs to be kept spooled up at high revs to keep the entertainment flowing. But where the TNT 600i differs again is in its personality. Lighter in weight, a sportier, yet comfortable riding position endows it with a lot more versatility than the 600 GT.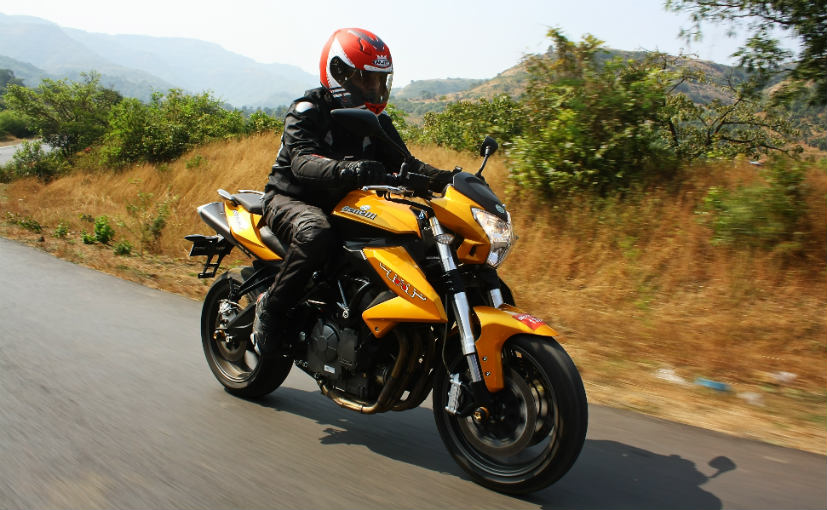 At 231kg kerb weight, the TNT 600i is a good 12kg lighter than the GT. The chassis is also the same part trellis, part aluminium structure as the GT's, as is the upside down front fork and rear monoshock suspension. But go around a corner, and the 600i feels more planted, and offers more confident handling, primarily due to the lower centre of gravity and its lower overall mass.
At 5.15 lakh (ex-showroom Delhi), the Benelli TNT 600i is the least expensive in-line four available on sale in India. (The Limited Edition we are riding is 5.58 lakh ex-showroom Delhi). At that price what you get is, an attractive naked street with a refined in-line four engine which sounds great and will give you the feeling of riding a much more powerful bike than it actually is, just from that sound.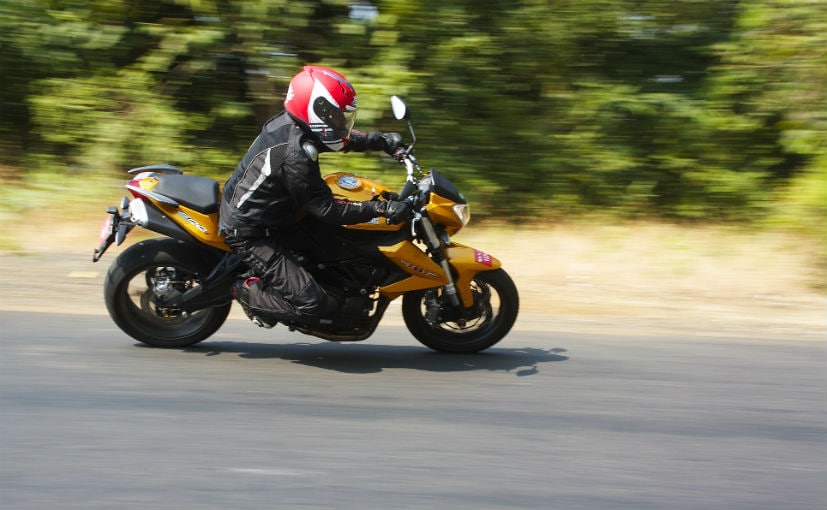 For riders new to superbikes, the TNT 600 twins offer decent performance, looks and a refined engine which will certainly appeal – both for its character and its great sound. For everyday usability, the 600i is the more practical choice, and at a price where no other manufacturer offers a parallel four-cylinder motorcycle.
Should you consider either of the 600 twins? Yes, if you're new to motorcycling and if you're looking for a bike with a great sounding in-line four engine at an attractive price. But if you're the kind of rider who swears by acceleration, you may need to keep in mind that the 600 twins need to be kept revved up to derive adrenaline pumping performance.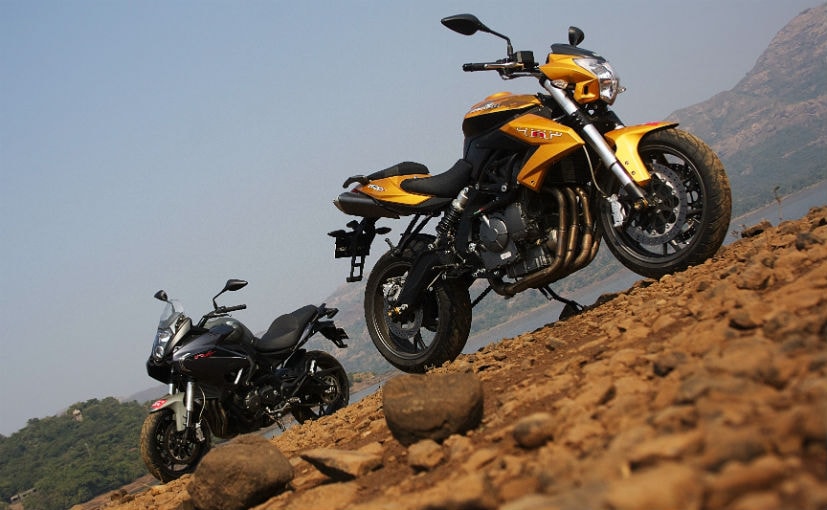 For everything else, the 600 twins offer very good value for money. And for two very capable mid-size bikes, both the GT and the 600i are yet to be offered with ABS. If that's a deal breaker, you may want to hold off writing that cheque yet – DSK Benelli will be upgrading the 600 twins this year, and ABS is certainly going to be one of the standard goodies offered in the 2016 models.
["source-ndtv"]