Someone at the launch was saying that it was a late entry by Yamaha in the entry-level performance segment with its R3, but is it really true? I don't think so. Sure, we can say that Honda CBR 250R has been around for years and Kawasaki have had the Ninja 250 tucked somewhere in corner of the segment, too, but truth be told; they didn't really stir the market much.
Even upon launching the Ninja 300 no one sampled great whispers and loud forum talks. The entry-level performance segment was given a shot of life with the KTM's RC390 – that was the first time real enthusiasm was sensed in this segment. Now, Yamaha comes in with its R3 and it's just as important because it was Yamaha that essentially introduced the concept of 'affordable' faired biking in India with its YZF R15 and has been taken by the consumers quite seriously.
Yamaha R3 – it's priced at 3.25 lakh and though one could moan about it being 25 thousand more than expected, it really doesn't matter because if you're in the market looking at something around 3 lakh rupees, a 25 thousand stretch wouldn't be a great bother for a good product. And the R3 is a good all-round product.
I'm not really the best guy to speak much about looks and styling, so I'll not stretch the article with drivel but I will say that Yamaha has clearly done a good job with making the R3 look appealing to almost everyone. It looks fresh, has great aesthetic appeal, instruments look nice and clear and is a generally good looking motorcycle. Yamaha had a 250 on display at the 2014 Auto Expo and that received quite a positive response from show-goers. But over time, it became clear that a 250 might not cut it any longer and the company decided to bring in the larger, 321cc engined bike in.
The all-new 321cc in-line twin motor hides behind the smart fairing as the stressed member on a diamond-type steel frame, breathes via 4-valve DOHC layout and gets fed through a closed-loop fuel injection system with 32mm throttle bodies. The offset cylinder design is an inspiration from Yamaha's MotoGP race bike and reduces friction and mechanical losses and delivers higher power. A typical customer will clearly be inclined on performance, even if I say that it's a product made for long-distance riding as well. So, the numbers – a peak of 41.4bhp is channeled through a 6-speed gearbox (no slipper clutch like the Ninja 300) at 10,750rpm and a healthy 29.6Nm is made at 9000rpm.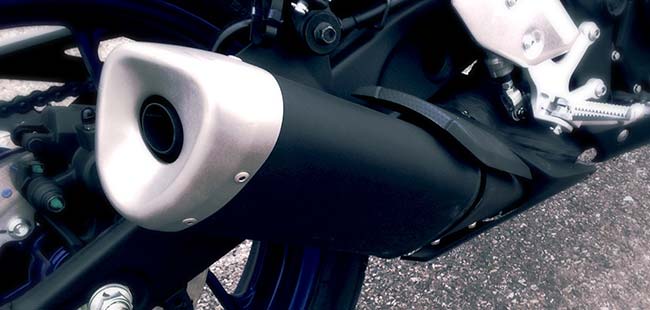 The engine revs fairly well but it doesn't pretend to be as excited as the Ninja 300's. I like that. The Ninja delivers its best performance singing the high-notes while the R3 is a more relaxed and calmer experience. I liked the power delivery across the mid-range and there's a sweet spot of performance between nine-and-a-half and twelve. There's a shift light too – fancy! Get the engine revving north of 4,500 and you can take bends without shifting through the gears, or overtake on the highways without getting your left foot busy.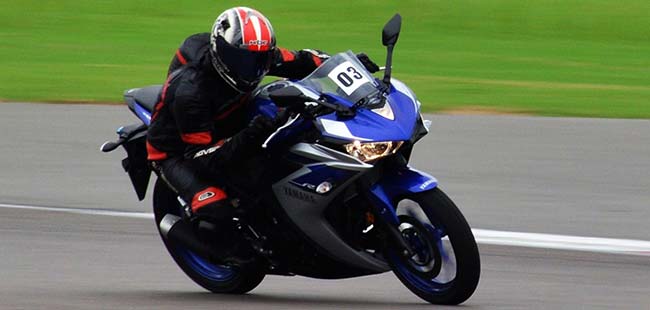 Yamaha claims a 50-50 weight distribution on its R3 and that may have gone quite some way into making the bike a very good riding experience. Even the riding position is a great compromise between full-attack mode and highway cruising.
The steering is quick and intuitive and the overall balance is great. The default ride setting is on the softer side and that may make you imagine that the R3 isn't going to be an ounce of fun on a track, but it was – it was actually quite good! The travel at the rear is 125mm but the shock is adjustable for preload and that may enhance the feedback and road-holding a level or two. I did however find the tyres to be lacking somewhat.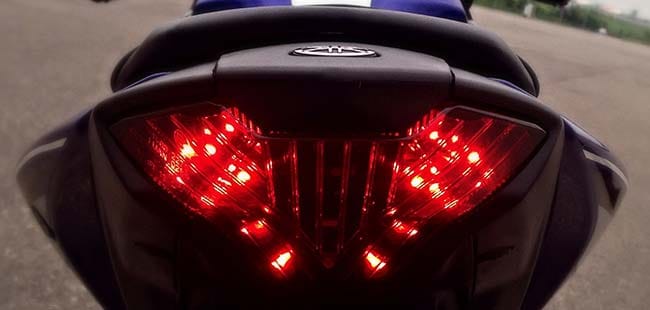 The rear was a little jumpy under hard braking and rapid downshifts. While the off-throttle corner entry was quite good, apexing out on-throttle upset the bike on more than one occasion. The brakes are fine, but I wish the bite came in a tad bit earlier in the lever travel to lend more confidence. Yamaha has omitted out an ABS unit on the R3 and while you might not really need ABS on a track where you have calculated braking distances and the braking zones mapped in your brain, it would definitely have been a useful feature in real-world application. High speed stability is appreciable and the wind-deflection through the screen is quite effective.
It was a very short stint of about 5 laps at the Buddh International Circuit so the first impressions here are representational only of the way the R3 behaved on the smooth surface, fast and flowing corners and we'll do a real-world test soon. That should reveal a lot more of the character the Yamaha R3 hides under its smart clothing.
["source-ndtv"]