It's disappointing to see you paint such an unremittingly gloomy picture of the prospects for newspaper brands, largely ignoring the innovation taking place across the industry, not least at your own organisation (Media, 19 October). Martin Sorrell, chief executive of WPP, the world's biggest advertising group, said at the Society of Editors' conference that more and more people are recognising the value of the engaged audiences that newspaper brands provide. Not only do 46 million people read newspaper brands each month, but readers are regularly spending well over an hour with their titles and are not distracted by other things as they do so. Ad blocking is undoubtedly an issue for everyone in the industry, including Google and some digital pure plays, who also have to contend with growing scepticism about viewability and the value of the audience they claim to deliver.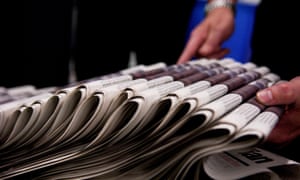 Tesco, as you point out, has reduced its print spend, but you fail to mention it has also cut its overall spend by 31%. The same is true of some of the other advertisers you mention. By contrast, some of the UK's biggest print advertisers have increased their year-on-year print spend significantly, including Virgin Media, Marks & Spencer and Lidl, which is turning into one of the great supermarket success stories of the decade. If you look at HSBC, it has increased its print advertising budget by no less than 73%.
And there is a growing recognition that Google, Facebook, Snapchat and others benefit significantly from the value that news brands like the Guardian, the Telegraph and the Mail provide. The relationship is not dependent. It is interdependent – mutually beneficial, because the news brands provide serious, engaging content through the power of their journalism and the power and influence of their brands. So the pendulum, you could say, is starting to swing back to what some people still like to call "traditional media". That would be an interesting story to see.
Rufus Olins
Chief executive, Newsworks
• The media industry says it wants more video ads, but 12 million people use ad-blocking online. Why? Because of violent intrusive graphics; because of animated and video ads. Adblock Plus won't block ordinary static ads: people then have a choice – look at them or not. On one website recently there was an animated ad, bold colours and cycling/flashing at a dangerously fast rate, sufficient to trigger a mild seizure. Get rid of these animated and video ads, go back to simple static ads and people will tolerate them.
["source-theguardian"]