UPDATED at 8:20 a.m. Thursday with new details from court records.
ST. LOUIS COUNTY • A man trying to steal underwear, lamp oil and candlesticks from a Walmart crashed his getaway car in a used car lot in the Lemay area on Tuesday night.
His car flipped onto several vehicles in the car lot and caught fire. A police officer pulled him from the burning wreckage, in the 9900 block of South Broadway.
Once he was out safely, the man pushed the officer and tried to run, but police used a stun gun to stop him, said St. Louis County Police Officer Shawn McGuire. A woman in the passenger seat ran away, McGuire said.
The man, Cedric Burton, was charged Wednesday with resisting arrest, tampering with a motor vehicle and unlawful use of a weapon. His bail was set at $25,000, cash-only.
Police said Burton, 45, lives in 1700 block of Hudson Road in Dellwood, but court documents give an address for him in Marietta, Ga.
Burton was evaluated at a hospital, then sent to jail, where he was being held Wednesday.
McGuire gave this account:
About 10:45 p.m. Tuesday, a Walmart employee called police to report a larceny. The store is at 3270 Telegraph Road in south St. Louis County. He was trying to steal $163 worth of merchandise, including underwear, lamp oil, candlesticks, two bluetooth headsets and batteries.
When police arrived, an officer grabbed the man's arm, but he pulled away and started running to the parking lot. The officer chased him and tried to use a stun gun, but it didn't work.
The man sped off in a stolen car, a 2010 Lincoln MKS, and almost hit a pedestrian on the parking lot, McGuire said.
A short time later, an officer on Telegraph Road near Kingston Drive saw a car speed past him that matched the description of the robber's getaway car. He was going so fast that the officer decided to back off.
The next time the suspect was spotted was in the 9900 block of South Broadway, when his car flipped and struck several cars on the lot at Quality Car Care. Five of the cars in the used car lot were badly damaged.
That's when the officer pulled him from the wreckage. McGuire said the man was taken to a hospital for evaluation, but McGuire said there was no major injury and the hospital staff deemed him fit for confinement in jail.
Inside the Lincoln, police say they found a loaded .40-caliber semiautomatic pistol. The car had been stolen in Richmond Heights, McGuire said.
Burton has been in and out of Missouri prisons since at least 1990.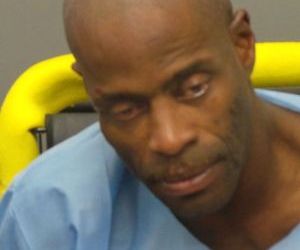 According to David Owen, a spokesman for the Missouri Department of Corrections, Burton was convicted of a 1998 robbery in Cape Girardeau County. Burton also has convictions in St. Louis County for burglary and stealing in 1988; and tampering, unlawful use of a weapon and stealing in 1989; forgery in Richmond Heights in 1992 and resisting arrest in a tampering case in Valley Park that same year.
Several times after being paroled in the early 1990s, Burton would be sent back to prison for parole violations. His most recent stint in a Missouri prison ended in April 2013, when he was released after serving about 14 years of a 15-year sentence for the Cape Girardeau robbery.
["source-stltoday"]