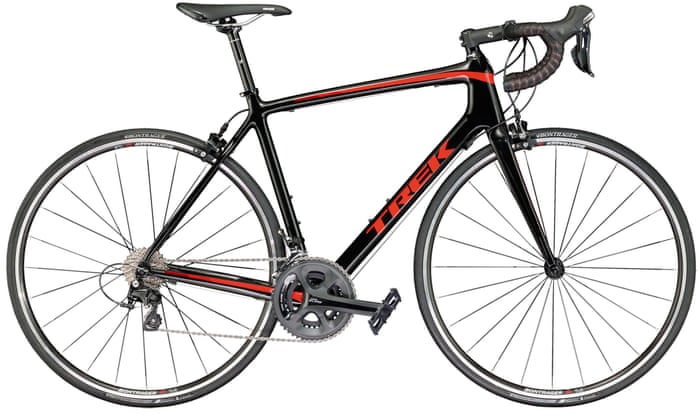 Trek Emonda S5: 'I've always had a soft spot for the brand.'
My friend Adam sent me to Austin, Texas, with a task: "Can you get Lance Armstrong to sign my US Postal Service jersey?" It's like asking someone going to Newcastle if they can persuade Gazza to autograph an old Magpies shirt. Austin is a big place. Almost a million people live there. It's true the seven-time Tour de France winner (since disqualified) is one of them, but would I be able to track him down?
Armstrong's bike shop seemed a good place to start. I'd heard he spends a lot of time hanging around Mellow Johnny's (imagine "maillot jaune" said in a Texan drawl), a paradise for those cyclists who don't mind their dollars going towards Armstrong's legal fund.
We decided to join one of the shop's weekly club rides, plumping for the misleadingly titled Middle of the Road ride, only to find ourselves chasing down a 50-strong peloton as it left Austin's suburbs. I was glad I'd borrowed a carbon-framed Trek Emonda S5, which comes equipped with a decent Shimano 105 groupset and 50/34T compact crank, more than adequate for the moderate Texan hills. My rental was the 2015 women's edition, in a 50cm frame, but the set-up looks pretty much the same on the 2017 models.
Trek severed its marketing deal with Armstrong after the whole blood-transfusions-and-EPO thing. I've always had a soft spot for the brand. My first proper adult road bike was a £500 aluminium Trek. I rode it all the way from London to Land's End, and then some tosspot stole it from Hackney Road when I got back. The Emonda was much lighter and very responsive. The brakes were good; important when you're in a bunch of riders you don't know.
One of the joys of riding in such a huge group is that, if you stay in the middle, you don't have to heed the stop signs that plague American cities. "Rollin', rollin', rollin'!" the ride leader yelled as our spandex swarm buzzed through each junction out to the Veloway, a 5km closed-road loop in the city's south-west fringes. It wasn't even 20 miles there, but I was cooked on arrival, sitting out one of three loops to catch my breath. For this I cannot blame the bike but the heroic quantities of tortilla and carnitas I'd been inhaling that week.
We arrived back at Mellow Johnny's to pick up Adam's Postal jersey, newly emblazoned with Armstrong's signature. I wasn't sure he'd go for it – the US government is suing him for $100m, after all – but he did. Cheers, Lance.
["Source-smallbiztrends"]