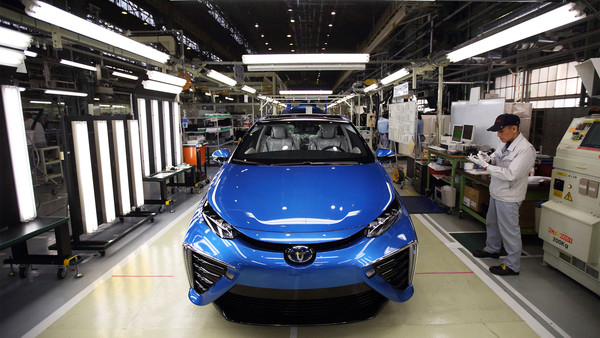 ©Bloomberg
Toyota showed off a special version of its new Mirai saloon this week to celebrate Back to the Future day.
The Japanese carmaker's take on the time-travelling DeLorean from the popular movie series has the trademark gull-wing doors and the same, bare-metal bodywork seen in the Hollywood film.
 FirstFT is our new essential daily email briefing of the best stories from across the web
But Toyota's car is not fuelled by banana skins. This one runs on hydrogen.
Mirai — meaning "future" in Japanese — is Toyota's fuel-cell vehicle, a hybrid car powered by two tanks of high-pressure hydrogen and an electric motor. For the world's biggest carmaker by sales, this is no mere movie tie-in project. It is Toyota's next big visionary bet.
Akio Toyoda, chief executive, has called the fuel-cell sedan a "new start". The project is an important part of Toyota's ambitious plan, announced last week, to virtually eliminate petrol and diesel engines from its fleet by 2050 — a drive that has taken on urgency across the industry following theVolkswagen emissions scandal.
The hydrogen car represents a key moment for a company that may be making record profits but is still recovering its poise after a global recall over unintended acceleration.
The move echoes Toyota's big bet two decades ago on petrol-electric hybrids. The company launched the Prius in 1997 and has now sold 8m vehicles worldwide, turning Toyota into a leading green-car company.
The Prius sells at a price competitive with alternative technologies and requires no charging infrastructure, because the electric boost is provided by energy from regenerative braking.
"When we developed the hybrid, all we had to do was design a great car," says Yoshikazu Tanaka, chief engineer of the Mirai.
With the £66,000 Mirai, however, "no matter how good a job Toyota does, Toyota alone cannot make this technology popular", admits Mr Tanaka. "We really need to build an ecosystem."
Fuel-cell cars — which are effectively hydrogen-electric hybrids — cannot be recharged at home, so drivers are reliant on public filling stations, which at the moment are rare. Hamburg, where Toyota launched the Mirai in Europe this month, has four. But that is the same number as in the entire UK.
Analysts at Goldman Sachs say hydrogen stations require upfront investment of $3.2m-$4m, versus about $800,000 for petrol stations, meaning infrastructure may be slow to develop.
"That's not range anxiety. That's range panic, because you just can't use the car," says Andy Palmer, the Aston Martin chief executive who oversaw development of the all-electric Leaf while at Nissan.
The cars are expensive, too, because of the costly fuel stack at the heart of the vehicles. The Mirai is priced the same as a BMW 7-Series, a luxury executive saloon. The Hyundai ix35, the first production fuel-cell car, is not much better at about £53,000.
["source-ft"]