In mainland Europe they called this roadster the Opel Speedster and it sold by the bucket load. In the UK it was called a Vauxhall and most badge-obsessed Brits walked on by.
More fool them. This lightweight two-seater packs a 147bhp 2.2-litre in-line four amidships, enough to propel the car to 136mph and from zero to 60mph in 5.6sec. Track down the hotter VX220T, with its 200bhp 2.0-litre turbo, and you can dispatch 60mph in under 5.0sec.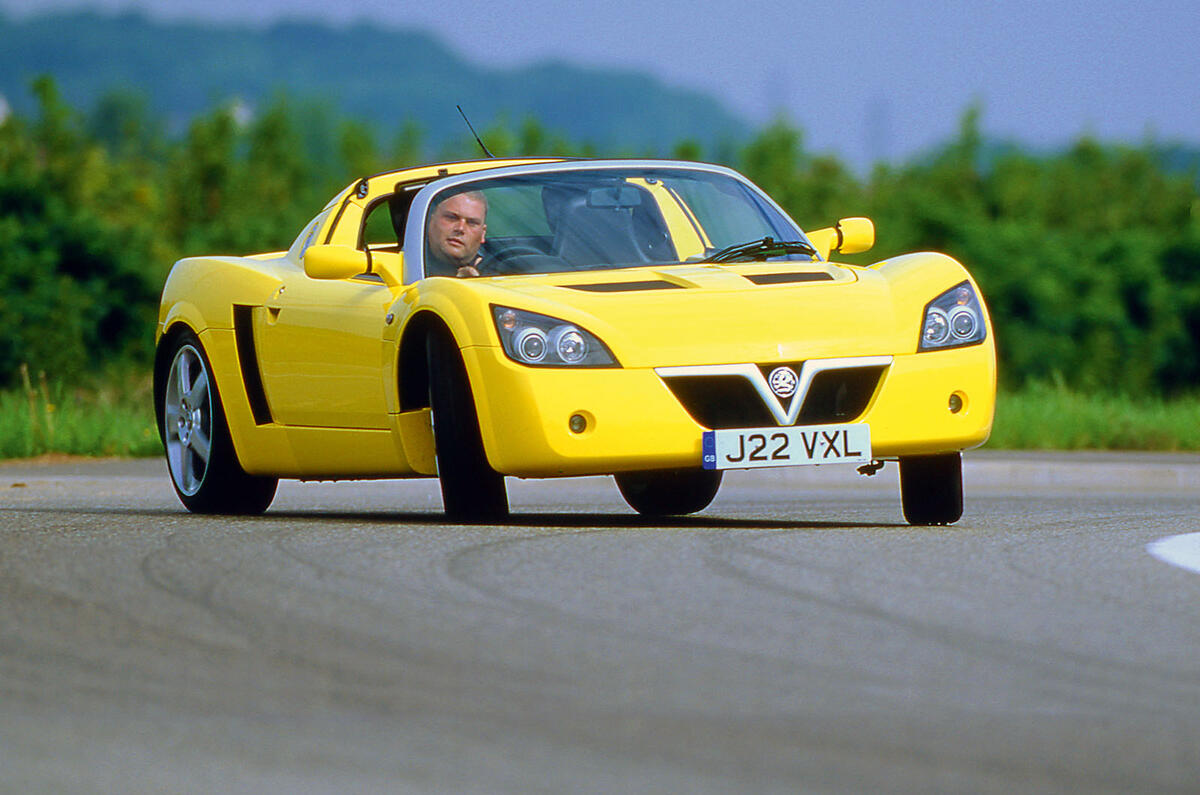 It's fun in the bends, too: agile, chuckable and easily recoverable, with go-kart steering and great balance. The driving position is superb, brakes are good and it even comes with airbags and ABS.
It's arguably a more rounded package than a Lotus Elise, with which it shares its basic chassis. You can pick one up now from just £8k. Watch out for signs of hard track-day use and beware of accident-damaged cars.
2 – BAC Mono (2011-onwards)
If it looks like a grounded fighter plane, this central, single-seat open supercar actually goes like a rocket.
Beneath that F-22 Raptor-inspired carbonfibre bodywork lies a mid-mounted 280bhp 2.3-litre Cosworth four. Drive goes to the rear wheels via a six-speed F3-style sequential Hewland gearbox. Dry weight is just 580kg, 0-62mph takes 2.8sec and top speed is a very blustery 170mph. It's beautifully balanced in the bends, grips well and brakes powerfully. There's no pitch, no roll – and no weather protection, either.
New, it'll set you back £125,500. There are 40 of them so far, so if you're lucky, you might find a second-hand one for around the same price.
3 – TVR 420/450SE V8 Wedges (1980-1991)
'Hairy-chested' is the phrase most often used to describe TVRs, but the original Oliver Winterbottom-designed Tasmins now look rather dainty.
It was initially based on lowly Ford underpinnings, but a 190bhp 3.5-litre Rover V8 arrived in 1983 and things started to improve. In 1985 it was enlarged to 3.9 litres, before eventually reaching 4.4 litres and a brutish 325bhp in the 450 SE. Think 0-60mph in 5.2sec and 150mph. SEACs are faster still.
These V8s are meaty, mighty and a bit of a handful, but they grip and handle well. If you can put up with the sheer loutishness, then old-fashioned open-top fun doesn't come much better.Prices start at £20k for a good V8.
4 – Panther Lima (1976-1982)
Fancy a drop-top British roadster of classic style but think a Morgan too common? Then hunt down a Panther.
Under the Lima's glassfibre body is the running gear from a Vauxhall Magnum: an easily tuned 108bhp 2.3-litre four driving the rear wheels through a five-speed gearbox. Performance may be modest but this is wind-in-the-hair fun. The Lima covers 0-60mph in 7.6sec and purrs up to a top speed of 112mph. It was replaced by the equally retro Kallista, which has Ford running gear.
You can buy a Lima from £6k, or consider other equally rare Panthers: the Deville was massive and looked like a Bugatti, the Rio was a tarted-up Dolomite and the 6 had six wheels. Way to go.
5 – Triumph Stag (1970-1977)
The Stag should have been a huge success. It had a good-looking body penned by the Italian designer Giovanni Michelotti and a novel T-bar roof that let in the sun but kept the car strong.
It was good to drive, too. Its 145bhp 3.0-litre V8 had enough urge to propel the car to 130mph and to reach 60mph from rest in 9.0sec. It had light steering, a comfortable ride and a sporty interior.
It was also extremely quiet, especially so when it had broken down by the side of the road. Alas, that engine was prone to overheating and general misbehaviour and it soon earned a reputation for unreliability that it could never buck: the Stag was caught in a rut and it would cost Triumph dear.
It cost a lot of dough new but you can snap one up now for around £5k.
["source-autocar"]