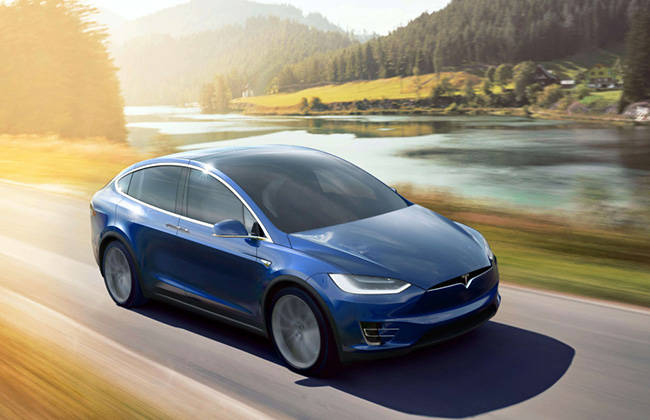 Tesla Motors has finally released the Model X at the Fremont Plant in California, the concept for which was first seen in 2012. Elon Musk, the Founder and CEO for the carmaker, while unveiling the car also gave an insight into some of its innovative features including the trademark 'Falcon Wing' doors which come equipped with ultrasonic sensors to detect nearby objects. A spoiler at the rear can adjust automatically depending on the speed of the car. Another innovative feature is the panoramic roof that merges into windshield.
Strongly Recommended: Tesla Motors – A Generation Ahead
Talking about interiors, X's cabin has got a similar theme to as that of S model. It features the humongous 17-inch touchscreen infotainment system which has become a hallmark of Tesla cars. This model can seat seven with the three seats in the centre row which are independently operable. The two seats in the last row are flat-folding seats, increasing the option for space. Number of boots is two in this new model just like the model S.
Also Read: Modi Visits Tesla Motors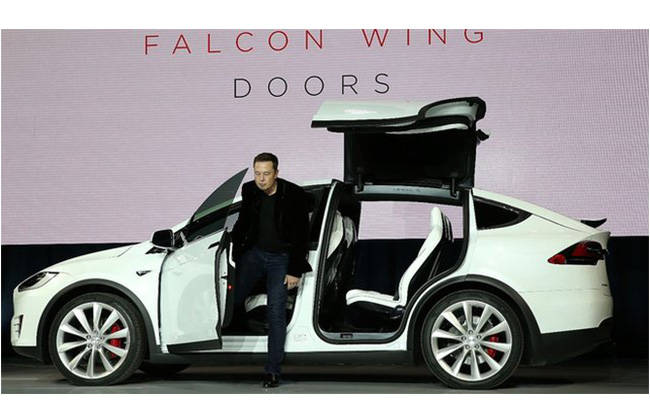 The company claims that the dashboard inherits an integrated HEPA filter system which supplies medical-grade air to the matter irrespective of what is going outside. The dual-electric motor mechanism has the front motor delivering 255bhp and the rear motor producing 496bhp – giving a total output of 751bhp and 98.57kgm of torque.
The vehicle claims to reach a speed of 100 kmph from 0 kmph in just a time span of 3.2 seconds with a top speed of 250 kmph. Once fully charged, driver can enjoy a ride of up to 400 kms. With out-of-the-world safety features like autonomous emergency braking, side collision detection system, forward-facing camera, radar and sonar sensors, automaker is expecting five stars in safety rating.
Although the car is priced at a spectacular amount of $132,000 (Rs. 86,48,000 approx), features of the car are likely to compel the buyer to bear the pain. The top end P90D model is priced at $142,000 (Rs. 93,00,000 approx)
["source-cardekho"]