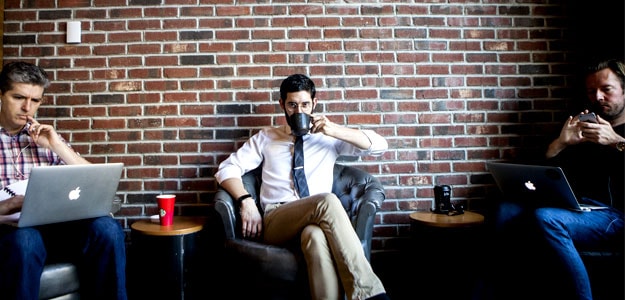 Angus Maxwell, 27, works in Williamsburg, Brooklyn. He describes himself as an "installation and performance artist" and is a member of the Boom! Theater Company. He grew up in Seattle and wears a beard and wire-rim glasses.
He's also a barista for what must be among the most discerning coffee clientele in the country, where boutique roasters like Blue Bottle and Toby's Estate dominate the neighborhood. This week he brewed me a cup of "small lot" coffee – Nicaragua El Suyatal ("notes of hazelnut and caramel with a malty sweetness") – while describing the distinctive flavor profiles of beans from Tanzania to Hawaii.
Maxwell doesn't work for another artisanal upstart, but Starbucks. He's the assistant store manager at the chain's spacious year-old location on Williamsburg's Seventh Street, and has worked for the company for nearly five years.
Howard D. Schultz, Starbucks's chief executive, told me this week that it's people like Maxwell who explain the company's success, which has dazzled investors. In a year in which the Standard & Poor's 500 index has been flat, Starbucks shares have surged more than 50 percent, making it one of the market's best performers. Last month, Starbucks reported record revenue of $4.9 billion and earnings of just under $1 billion for the fourth quarter of fiscal 2015, both double-digit percentage gains over the previous year.
"Our brand equity is built on our customers' experience, and that depends on the quality of our people," Schultz said. Starbucks prides itself on its care for "partners," the noun it prefers to employees. It pays higher wages, offers health insurance even to part-time workers and pays college tuition for thousands of eligible employees. Starbucks employee turnover is relatively low, yielding benefits in efficiency and morale.
Still, the company's labor practices have come under scrutiny for its inconsistent and inconvenient work hours. The Starbucks Workers Union mounts periodic protests, and in September some workers demonstrated over scheduling practices.
Schultz has also been criticized for his broader utopian ambitions. Earlier this year, Starbucks was derided for encouraging baristas to write the phrase "Race Together" on customers' coffee cups to stir a discussion of racial issues.
Schultz makes no apologies for speaking out on political and social issues. "From the beginning, we set out to build a company designed to balance profit with conscience, benevolence and social impact," he told me.
Starbucks' strong financial performance seems all the more remarkable considering that the retail sector is struggling, and that the company had seemed to have lost its way when Schultz rejoined it in 2008. But last year, same-store comparable sales grew 8 percent, not just in growth markets like China and Japan, but in the United States.
"They've defied everyone's expectations, especially for a business this mature," said Sara Senatore, who covers Starbucks as an analyst at Sanford C. Bernstein.
And rather than cede the high end to competitors like Stumptown, Blue Bottle or Intelligentsia, Starbucks took them on. It unveiled last year the Roastery & Tasting Room, a 15,000-square-foot showplace in Seattle, which Schultz described as "a magic carpet ride of coffee, theater and romance."
Starbucks is developing the Roastery as a separate premium brand, and it is no less than "the future of the company," Schultz said.
It's too soon to know if the rest of the world is ready for what several reviewers described as the Disneyland of coffee, where single cups brewed from rare beans can top $10 and baristas lead groups through "flights" of small-lot coffees, much like a wine tasting. But he said results had exceeded expectations and the company plans to roll out Roasteries in a few major markets, with New York high on its list.
Starbucks has also been a pioneer in mobile payments, something that many retailers are just beginning to adopt. With 16 million users and a generous rewards-loyalty program, the company's phone app – which was unveiled just two years ago in some test markets – accounts for about 21 percent of all transactions at company-owned stores in the United States.
Starbucks has begun enabling its app users to order and pay in advance, and will also start offering delivery service. "For a company where people are put off by long lines or don't have time to wait, this is a game changer," said Senatore.
(McDonald's, by comparison, introduced its mobile app just this summer. And notably, Starbucks' stock market value is fast approaching that of McDonald's – the burger giant's market capitalization is $105 billion; Starbucks's is $91 billion.)
Wall Street analysts say that the fruits of both the Roastery concept and the enhanced mobile payments strategy could soon start to show up in the company's financial results.
"You can come up with a pretty compelling argument for continued growth through 2020," said Karen Holthouse, an analyst who covers fast food and casual restaurants for Goldman Sachs. "I don't think there's another company this size where you can say they're going to grow earnings by 15 percent a year and be this confident about it."
["source-ndtv"]