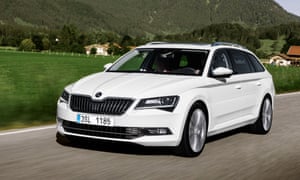 "What's the best car you've driven?" It's a question I am often asked and I know the answer I am supposed to give. Something like: "Oh, that DBS from Casino Royale wasn't too bad" or "Well, the 1956 Le Mans D-Type, now valued at £3m, was pretty cool…" And yes, these are truly extraordinary cars to drive. But they are not cars you can actually use in the ordinary sense of, you know, a car… So, to stir things up, I like to say: "It's a Skoda!" I pause for the baffled head shake and then I add: "Actually, it's the Skoda Superb estate."
It's fun winding people up, but it is also true. Since 2001, when Skoda first introduced its Superb, the Czech firm's flagship model has been a shopwindow for the company's huge strides in quality, safety, economy and comfort. It's been blanketed in good reviews and endless gongs, some quite unexpected – last year, for instance, it was named the UK's Luxury Car of the Year. A Skoda! Who knew? There are still a few benighted souls out there who think Skodas are a joke, but not many. And with the launch of this third-generation Superb, the only people now laughing will be Skoda.
This Superb is the firm's most sophisticated car ever. It's been designed to offer the refinement of a large car, but with canny Skoda value thrown in, too. For me, the estate version is all the family car a family could possibly want. It's an aesthetic mix of crisp lines and sharp creases. The fold which runs the length of the car, from front lens to rear lamp, gives it poise and purpose. Step in and you are immediately impressed by the quality of materials. And it feels enormous – the space between front and back seats is limo-like. That "knee gap", in fact, is so large it's become the Superb's calling card.
Advertisement
The car is brimming with pleasing touches – they call them "surprise and delight" details in the industry. There's an umbrella concealed in the door, for instance, and an ice scraper hidden in the petrol cap. And all necessary driver aids are present and correct, from adaptive cruise control to park assist.
There's a range of petrol and diesel engines on offer; the most efficient is the 1.6 TDI, which does an overdraft-soothing 76.4 miles to the gallon – well, as much as we can believe figures these days. To drive it is, as the name suggests, superb: smooth, eager, unfailing. Miles evaporate more quickly than sanity at a 14-year-old's birthday party. Believe me, we've just had one.
But, and this is why it's the best car I've driven, within seconds of sitting at the wheel you feel it has been built with you in mind. It feels as if it's been made just for you. And you can't say that about a James Bond car…
["source-theguardian"]