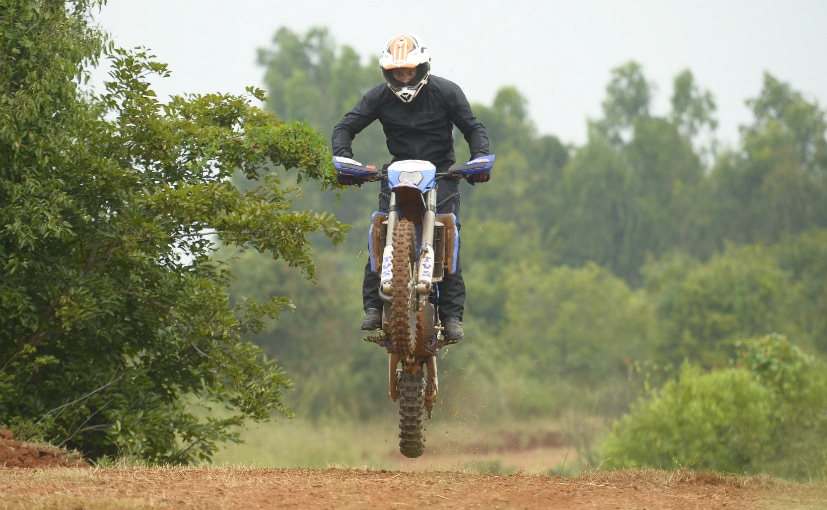 "Holy mother of … *#@#!" I muttered with trepidation, together with a silent prayer, as I realised I'm airborne astride an enduro bike, the first of its kind I've ever ridden. I'm not what you'd call a particularly religious person, but this morning I needed divine intervention, more than riding skills, waiting for the bike to hit terra firma. The motorcycle I'm riding is the Sherco TVS RTR 450 FX. It's the rally bike used by the TVS Racing Team and it's a one-off opportunity to ride it at TVS Racing's home ground – the supercross test track near Hosur. Thankfully though, things don't get out of hand, and I manage the landing nearly quite up to my satisfaction.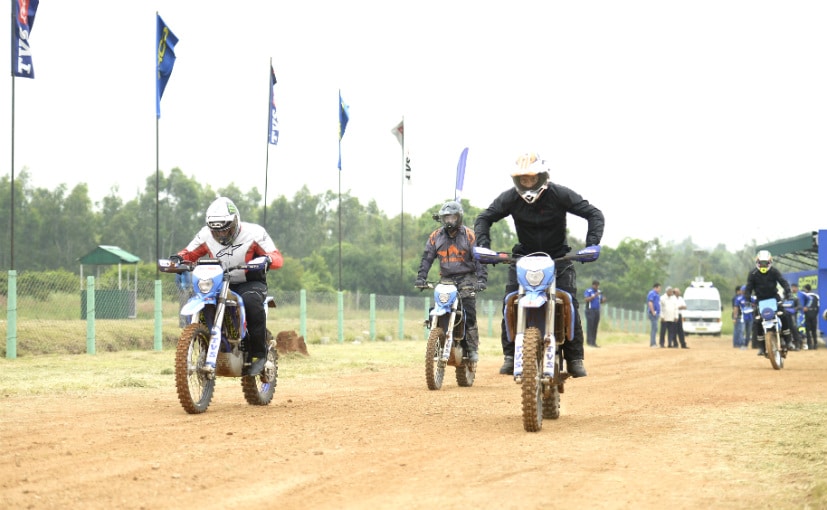 Earlier that morning, my former colleague and friend, and now TVS Racing and TVS Motor Company official, Bala had told the motley group of motorcycle journalists at the test track that we're up for some interesting "track time" with the Sherco TVS bikes. But he assured everyone that considering the varied off-road experience and skills of the riders, we were only to be given the "easy" course with "very small" jumps. Of course, there's an ambulance on the ready in case of contingencies, he added. Around the far end of the track I realised that this is more than just the "easy" two feet jumps Bala promised!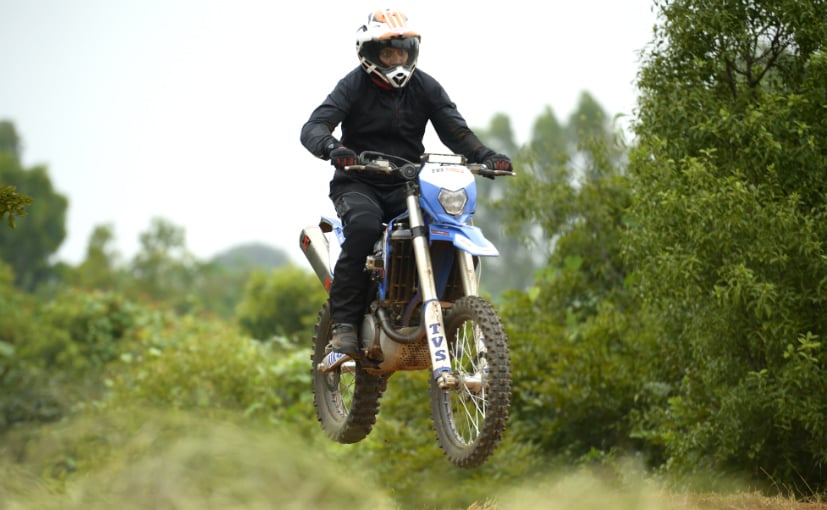 "You're on your own," I told myself, so may as well enjoy it, and go with the flow. A lap or two later, the bike started feeling familiar, although my off-road riding technique was anything close to the skills of some of the better riders. But we have expert help at hand from the trio of Sherco TVS Rally team members – Joan Pedrero, Adrien Metge and Aravind KP. Today is a unique opportunity for us, and we are being given actual riding lessons – on the correct body position, the right technique and riding tips, by the best in the business. And as the sessions went on, I began to get more comfortable with the bike.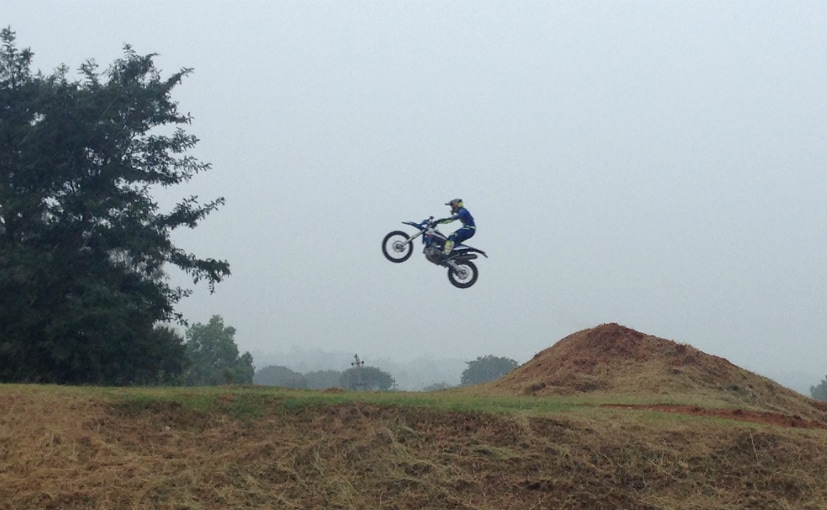 The RTR 450 FX Enduro is not exactly the Sherco-TVS rally team's Dakar bike, but that bike is based on the RTR 450 FX, powered by a single-cylinder four-stroke engine and similar components – like the perimeter frame, high-spec WP suspension and large 21-inch front and 18-inch rear wheels shod with proper knobby tyres. That, together with the light weight of the bike (at just 120 kg), makes the RTR 450 a hoot around a motocross track and will be fun to explore some off-road trails if one has regular access to a motorcycle like this. And the track we are riding on is a proper supercross circuit after all.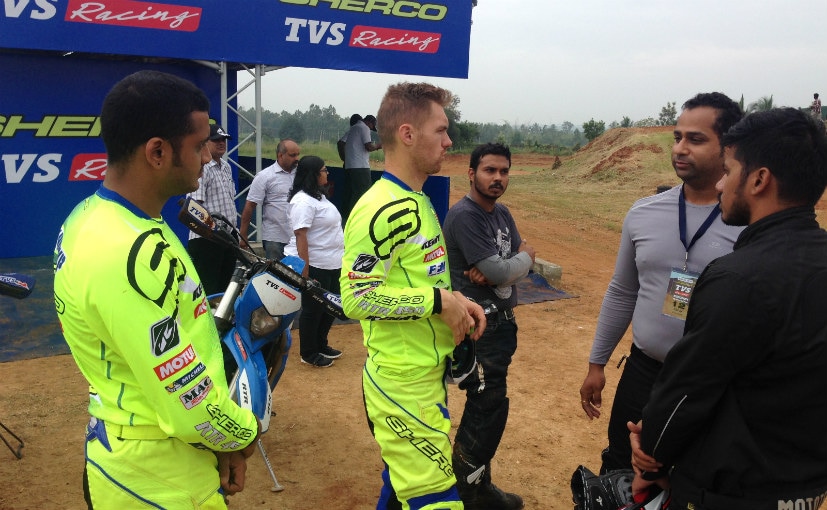 Between sessions, we were briefed by the Sherco TVS Rally Team on what were our mistakes, and how to correct our riding position to make life easier astride an off-road motorcycle. It indeed is the stuff of dreams, to be coached by heroes like Pedrero, Metge and KP. "The secret to look good on the bike is to enjoy," said Pedrero. Well, enjoyable it certainly was, and after an intense morning of going around the track, I realised off-road riding is no pushover. My 40-something body was protesting, in ways I could never imagine, but once astride the bike, the mind shed two decades in an instant, and despite the aching muscles, the sweat and the slush, it was difficult to say goodbye when the session finally did come to an end.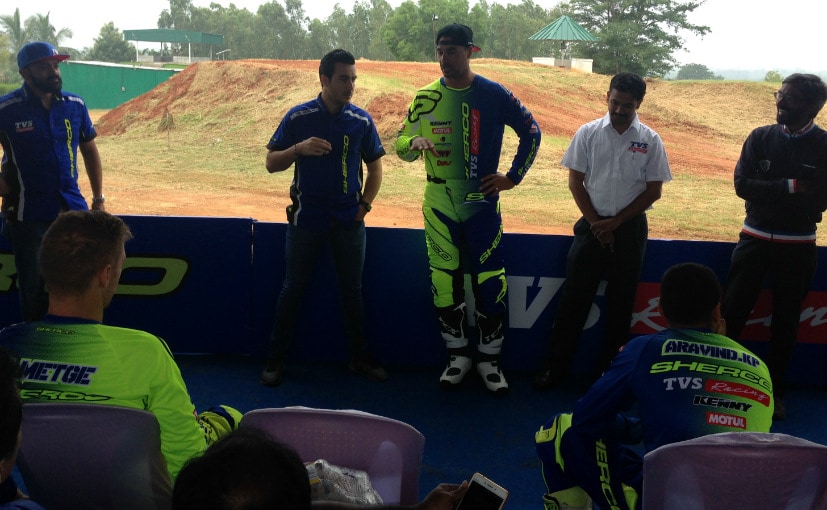 The RTR 450 FX is almost street-legal, since it's used in motorsport events on public roads like the Raid de Himalaya. But sadly, the bike isn't offered on sale. It's no adventure touring bike, it's a proper off-road, enduro machine. It's light, it's fast, and has more than enough power for most everything – including the occasional rally raid and a dash across the mountains on gravel backroads if you're so inclined. Most of all, it's the perfect tool to learn and hone some off-road riding skills as a rider, and that's where it becomes oh-so-tempting.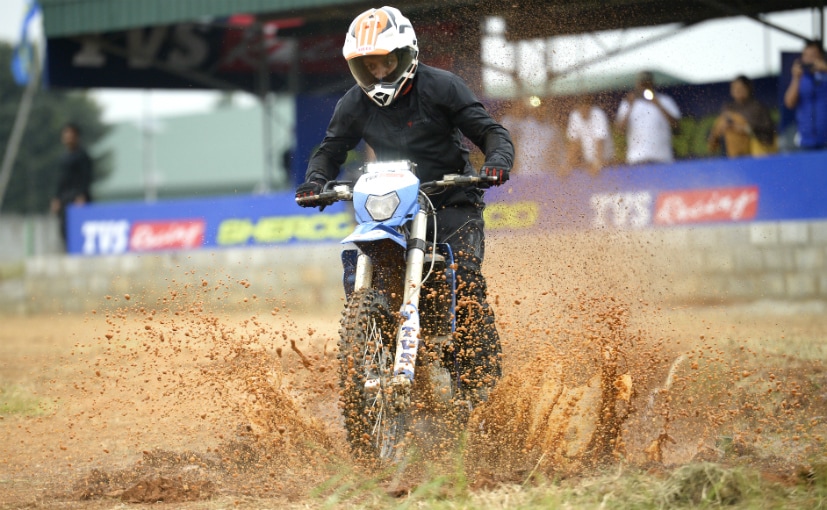 Road riding and track riding is fine, but off-road riding is a whole new ball game, with different riding technique, a completely different body position and gives you a completely new sense of perspective, a different sense of adrenaline rush. With the rear sliding out and kicking up some dust or dirt around a bend, and that sense of accomplishment when you land smoothly on the rear wheel and use your body to cushion the impact, it becomes highly addictive! I can't wait to go on the next off-road session soon, and I so wish I could have a go at this bike again, at least once a month! What say, TVS? And while you consider my request, can we please also have a production model? I'm sure I'd love to have one in my garage – weekends will never be the same again!
["source=auto.ndtv"]