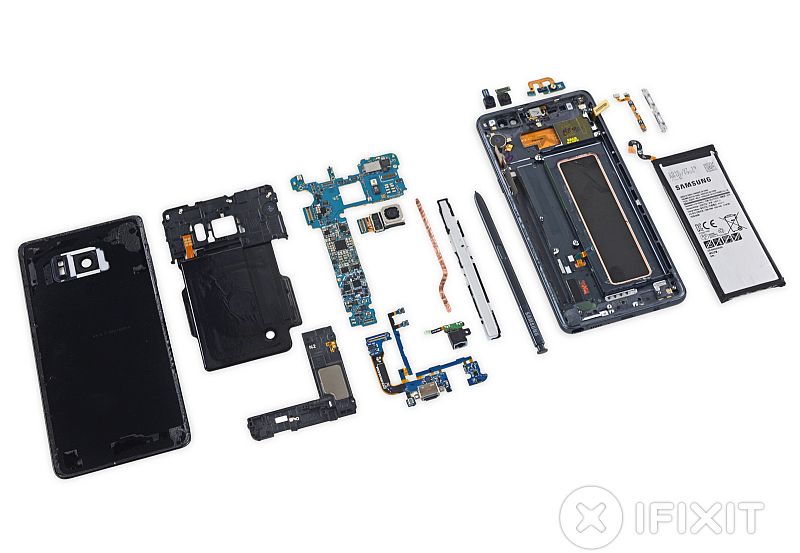 Samsung's latest Galaxy Note 7 phablet has undergone its first proper teardown, and the smartphone scores poorly due to difficult repairability. Teardown experts at iFixit cracked open the Samsung Galaxy Note 7 to reveal its innards as well as to see how easy was it to repair the handset.
The Galaxy Note 7 scored 4 out of 10 which was slightly better than the flagship Samsung Galaxy S7 which received an even lower score of 3 out of 10. The teardown suggested that replacing the front glass was "probably impossible" without destroying the display because of its curved nature. iFixit also pointed that the tough adhesive and a glued-on rear panel made replacement very difficult.
"Front and back glass make for double the crackability, and strong adhesive on the rear glass makes it very difficult to gain entry into the device," noted iFixit. The teardown experts claimed that the S Pen stylus stacked well against Microsoft's Surface Pen and Apple's Pencil.
The teardown found few similarities in the innards of the Galaxy Note 7 to the Samsung Galaxy S7 and S7 Edge including the Sony IMX260-based main camera sensor and a tiny heat pipe which serves the same purpose as the liquid cooling copper heat dispersal apparatus. iFixit claimed that the battery was "fortified by walls" which gave it extra structural integrity as well as possibly some water protection.
The teardown found that the Galaxy Note 7's iris scanner was a two-part system, "a nearby infrared blaster invisibly lights up your eye, while the sensor captures an image that's said to be more secure than a fingerprint." iFixit added that the iris scanning sensor provided the infrared illumination to "make eyes pop." The teardown also found that many "components were modular and could be replaced independently."
["source-gadgets.ndtv"]