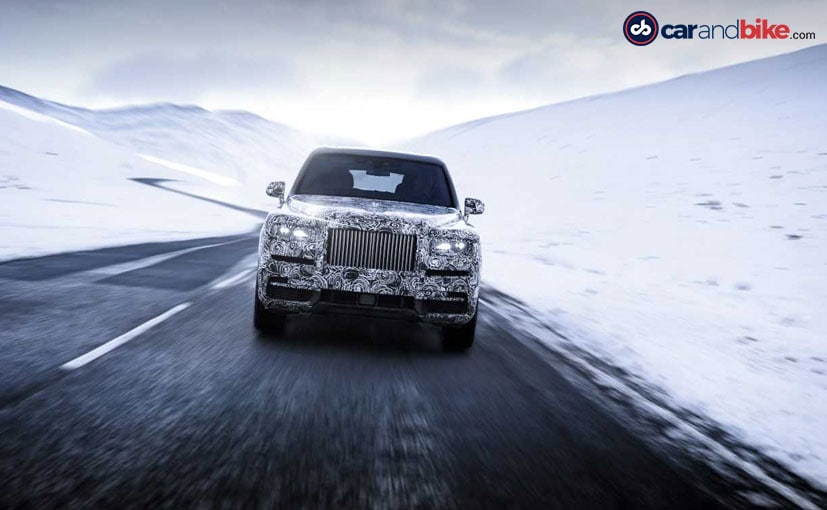 We'd told you long back that Rolls-Royce is all set to get into the SUV space and we had updated you that it will be called the Cullinan and of course we waited for the company to reveal the car. The moment has finally come. The Rolls-Royce Cullinan SUV will be revealed on May 10, 2018 and it will be an exclusive online reveal only. The Cullinan is the first all-terrain vehicle from the iconic British luxury car manufacturer and so is a big deal.
As the folks at Rolls-Royce say, the Cullinan SUV is an "all-terrain, high-sided vehicle" and will be offered with all-wheel Drive, more for performance needs than serious off-roading. The styling is in-line with the Phantom, but is a lot more aggressive and is obviously more imposing as well, given the dimensions. The trademark grille with vertical chrome slats stay true to the Rolls-Royce family, while the raised hood and sharp fenders add to the stance of the SUV. The overall design remains angular on the Cullinan while the rear does see a slightly receding roof-line in a bid to give the luxury SUV a less boxy appearance.
The Cullinan is not only is it the company's first SUV, ever; but is also based on the newly developed aluminium spaceframe platform that will underpin the next generation Phantom and all models that are introduced further on. Power options will include a revised version of the 6.75-litre V12 on the Cullinan when it goes on sale in 2018, while reports also suggest that a hybrid and all-electric version are also set to join the powertrain line-up in the future.
That said, the Cullinan will be a true Rolls-Royce featuring a host of bespoke customisation options, not to mention some very expensive accessories as well. Expect the ride quality to be as pliant as that on the Phantom and a lot of that will be courtesy of the all-wheel drive suspension system that will feature on the model. Of course an India launch is on the cards and we will tell you more about it soon.
["source=auto.ndtv"]