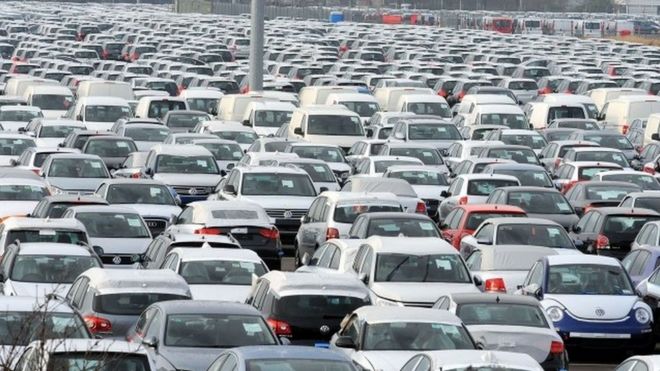 Sales of new cars in Wales have fallen by more than any other nation or region of the UK in the past year.
The decline in sales in Wales was nearly 8% compared with a drop of 2.2% across the UK.
That is three times as steeply as the rest of the UK, according to the Society for Motor Manufacturers and Traders (SMMT).
July was the fourth consecutive month that fewer new cars were sold in the UK, despite low interest rates.
Figures also showed that across the UK, business sales fell most steeply in the month of July – by 23.8% – followed by fleet car sales dropping 10% while private sales fell by 6.8%.
There have been 50,608 new cars sold in Wales in the year to date – compared to 54,991 in the same period in 2016.
Although new car sales in the traditional new registration month of March were up for a second successive year, the months since have all showed a decline.
The July figure is 12.5% below the same month last year.
Ford models take the top three places in the Wales top 10, with the Fiesta accounting for 3,463 of new cars sold this year.
Car sales are often seen by economists as an important indicator of confidence in the economy.
Mike Hawes, chief executive of the SMMT, said: "The fall in consumer and business confidence is having a knock-on effect on demand in the new car market and government must act quickly to provide concrete plans regarding Brexit."
Car sales matter to the Welsh economy and a decline can have an impact.
Prof Peter Wells, director of the Centre for Automotive Industry Research at Cardiff Business School said: "Over the last couple of years with low interest rates, retail consumers have been reasonably strong but historically the corporate sector has been the underlying strength of the UK new car market.
"What this tells me now is that companies are perhaps looking at Brexit, perhaps at the uncertainty around where we will be over the next couple of years and are asking their own financial people to rein in a bit, looking at their company car policies and holding onto their cars for longer."
Automotive industry in Wales
In figures
18,000 

people directly employed

40

 international components firms including Ford and Toyota

100+ 

other business in the supply chain, many small and medium-sized

£3.2bn 

sales generated annually

£500m

 paid in staff salaries a year
Getty
Altogether, 18,000 people are employed in more than 100 companies in Wales making components, a high proportion of which go into cars which are exported.
It also now faces the challenge of new technology and the long term death knell for new petrol and diesel cars being built.
Prof Wells said big German components companies were already moving into electric vehicles and other alternatives.
"It can be done and engineers love a challenge, it's having the money, the investment and government support which can make a difference."
Source:-BBC