FORT LAUDERDALE, Fla. (WSVN) — A man is in critical condition after he was gunned down outside a Fort Lauderdale car dealership.
A bloody Lexus now serves as a clue to what happened outside of D&S Pre-owned Auto, located at 4420 Peters Rd., just after 3 p.m., Tuesday.
The unidentified victim was transported to Broward Health Medical Center with a number of gunshot wounds, but he is expected to survive.
It is unclear why the man was targeted, however, officials said, there was some sort of altercation inside the business. "Detectives have said that there was some type of confrontation that resulted in the shooting," said Mike Jachles of the Broward Sheriff's Office.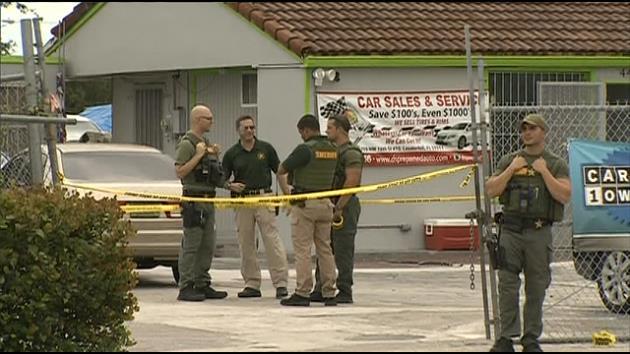 "It seemed like a bunch of young guys just starting out. They seemed to be OK as far as what I know," said David Jeffrey, a nearby business owner. "Three, four or five shots, but you don't know if it's fire crackers, car backfiring. I mean it wasn't obvious, as that's where it was going on."
Detectives interviewed everyone who was inside the business at the time of the shooting. "Right now we have more questions than we do answers, but the detectives will sort it out," said Jachles.
Officials waited several hours for a search warrant, so they could go in and search the used car lot. Authorities will also be looking into footage from surveillance cameras outside the business for more clues.
["source-wsvn"]