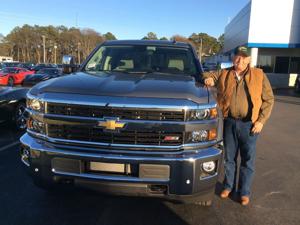 Glenn and Carla Brooks had to wait to buy a new pickup until they could recover from a tornado that struck near Clements last year.
Their wait ended last week when they bought a 2015 Chevrolet Silverado 2500 from Lynn Layton Chevrolet.
The Brookses could fall into the pent-up-demand category Mike Minor, general sales manager at Lynn Layton, cited as a factor for this year's sales increase at the dealership.
"My old one's about worn out," Glenn Brooks said of his 2006 Silverado 2500 Duramax.
The Brooks' purchase contributed to what many industry analysts are predicting will be a record-breaking year for auto sales. About 15.83 million new cars and trucks were sold through November, according to Autodata Corp. That's a 5.4 percent increase from the same period last year and is on pace to top the record 17.35 million vehicles sold in 2000.
"It's been phenomenal," Michael McLeod, general manager of Serra Toyota of Decatur, said about the dealership's business this year.
McLeod said consumer confidence is up and product quality is attracting car buyers. Low interest rates and low gasoline prices contribute to more sales, he said, and the buying experience is better and easier.
And don't forget the never-ending sales promotions.
"We all run the same specials," said Kody Petruna, sales manager at University Hyundai of Decatur. "Zero percent is the biggest. They pick up the phone and want to buy a car when they hear that."
Petruna called sales at the dealership this year "great. I have no complaints."
Serra sells half of its vehicles during Toyotathon, when the automaker offers no interest for five years and a $500 rebate, McLeod said.
"They're literally paying you to take the car," he said.
Year-end sales, Black Friday promotions and the fall debut of new models are other strong sales periods, Minor said.
The slow but steady recovery from the recent recession led to a more stable economy and increased consumer confidence. McLeod said customers who come into the Toyota showroom are no longer worried about keeping their jobs.
Minor said there is no doubt the auto industry suffered the past six or seven years.
"I think people have just been putting it off for a number of years," he said. "When we look back at the recession of '08 and '09, sales really went down at the time. Since then, each year has gotten a little better and a little better."
Auto dealers have been helped by the Federal Reserve's insistence on keeping interest rates low to help boost the economy.
Buying a car is the second-largest purchase most people make, McLeod said, and interest rates factor into buyers' decisions. He doesn't think an interest rate hike by the Fed, which many experts are predicting will happen as early as next week, will stop people from buying a car. Higher interest rates might "limit how much car you buy" or turn the buyer to the used car market, he said.
Glenn Brooks considered buying a used truck but chose the new Silverado because the used truck had 28,000 miles on it and was only $3,000 less than the new truck, he said.
"I like the way it drives," Brooks said about his new truck. "It's got plenty of power."
Receiving a $5,000 rebate by buying the 2015 Silverado didn't hurt.
"That made this a lot more attractive," Brooks said.
["source-decaturdaily"]