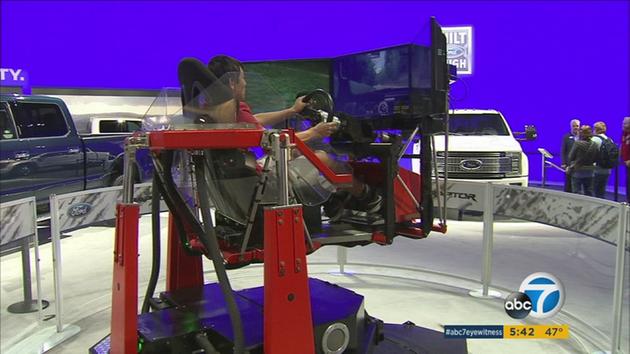 LOS ANGELES (KABC) –At one downtown Los Angeles location that was teeming with people, there are 720,000 square feet of floor space to walk off that Thanksgiving meal. But it isn't a shopping mall, it's the L. A. Auto Show.
"There's so much to do here all over the place, that really you can't even do it all in one day. It's like a four-hour excursion," said Brendan Flynn, spokesman for the L.A. Auto Show.
As in the past, the show's final four days take place on Thanksgiving weekend, so coming here is an alternative to celebrating Black Friday. Vaughn Michael from Granada Hills was there with his young son while his wife was shopping.
"She left around 5 a.m., so I figured, you know, just grabbed the kid and came down," he said.
There were lots of things to look at and lots of things to do. High-definition simulators are everywhere, putting people in a virtual driver's seat.
The young ones are indeed welcome here, and with that extra day off from school, it's a perfect time for families to spend together. Diana Amador was shopping with her son and her father. The three generations are all in the market for new vehicles.
"Actually, we're looking – all three of us. My dad's looking for a truck, (my son's) looking for a car, and I'm also looking for one," she said.
We found some kids home from college dreaming big.
"I'm hoping for the 2015 Subaru WRX, but he hasn't gotten the hint yet," said Emilio Aguirre, jokingly referring to his father, who was standing right beside him.
Some younger kids were starting small, on an ultimate hot wheels track set up in the lobby of the L.A. Convention Center's South Hall. Car's whizzed down the famous orange track from a high platform structure.
There are always four-wheeled stars at the auto show that everyone wants to see. One example is the exotic Acura NSX, which goes on sale next year. But seated right near it was Dodger pitcher Clayton Kershaw, who was handing out t-shirts with his number and name, courtesy of Acura. The line to get them stretched completely around the Acura exhibit.
And while baseball season may be over, car season is in full swing. Which makes the timing of the L.A. auto show perfect, as people are shopping for that next ride. And they all seem to be coming here to make their choices.
"Attendance is definitely up, it kind of mirrors car sales," said the auto show's Brendan Flynn. "The big news is that the North American car sale market is breaking all records."
["source-abc7"]