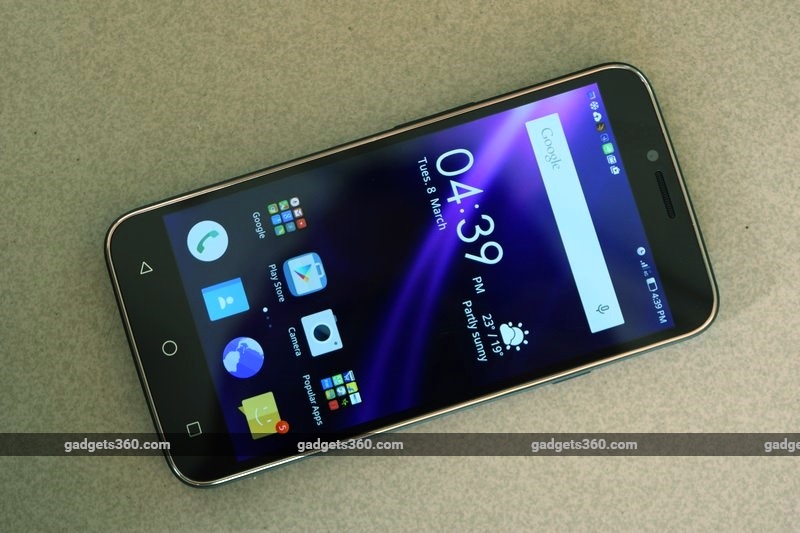 One of the earliest Indian companies to jump into the low-cost Android smartphones game, Karbonn has been somewhat quiet of late, what with nearly a dozen new competitors to fend off. Things can't be easy – you can't keep doing the same old thing when everyone else is offering fantastic specs, great cameras, metal bodies, fingerprint readers, quick charging, and all sorts of other modern touches at lower and lower prices.
The Quattro L50 HD, which we're reviewing today, doesn't look too shabby on paper. We're eager to see how well Karbonn has been able to adapt, and whether or not this phone has what it takes to compete in a market that has become a lot more sophisticated since this company started out.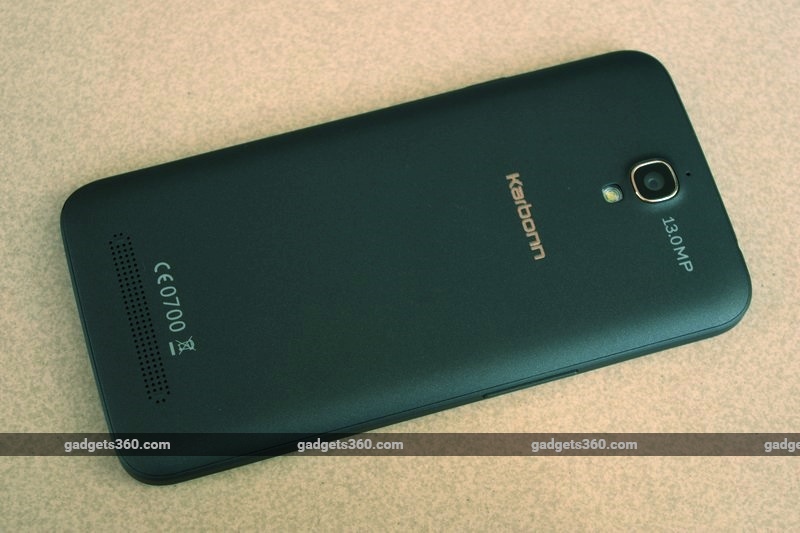 Look and feel
The Karbonn Quattro L50 HD has a fairly bold style, and is available in three colours. Our review unit was the grey version, which has a black front with a copperish trim running around it. It's probably meant to look like rose gold (arguably this year's most-copied iPhone attribute) and it does seem like it under some kinds of light. You'll also see big icons for the capacitive Android navigation buttons below the screen. Up top there's a front camera and a tiny status LED that you'll only see when it's active.
The same trim runs around the rear camera bump, protecting the lens from scratches. Sadly, it started to wear off within just a few days of using the phone. An embossed Karbonn logo is centred below the flash, and the phone's main speaker is towards the bottom. The power button is on the right, the volume rocker is on the left, and both the Micro-USB port and the 3.5mm audio socket are on top. The bottom is blank other than a tiny mic hole.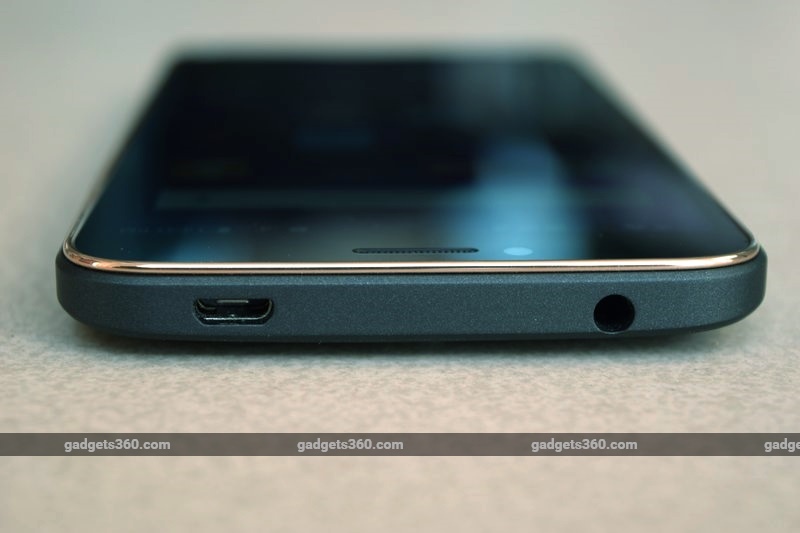 The rear has a pleasant matte texture which is very easy to grip but also easy to smudge with sweat. There are gentle curves at the edges which make the phone even easier to hold. It's becoming increasingly rare to see removable batteries, but the Quattro L50 HD lets you peel off the rear panel and dive right in. You'll also find two individual Micro-SIM slots and a microSD slot underneath.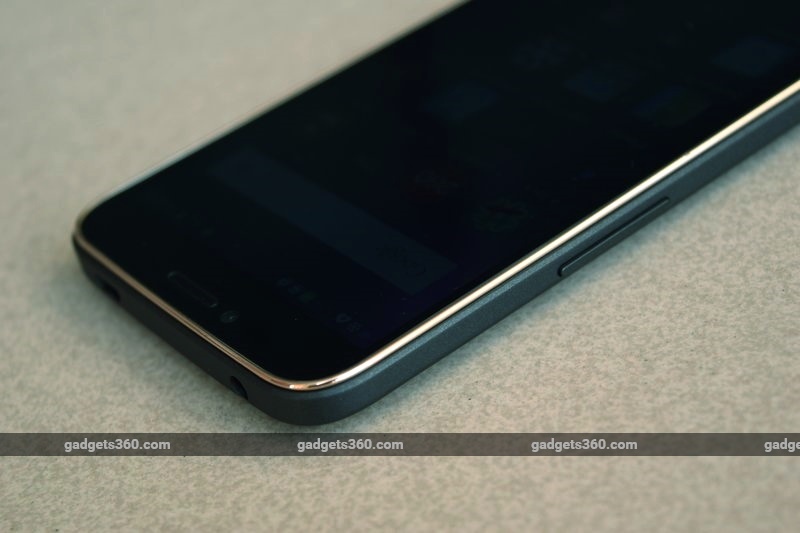 Specifications
The Quattro L50 HD is built around the trusty old quad-core MediaTek MT6735 processor, which means graphics are taken care of by an integrated Mali T-720 GPU. There's 2GB of RAM and 16GB of storage, of which roughly 10.75GB is available for use. The 5-inch display has a resolution of 720×1280. There's a 13-megapixel rear camera plus a 5-megapixel front camera.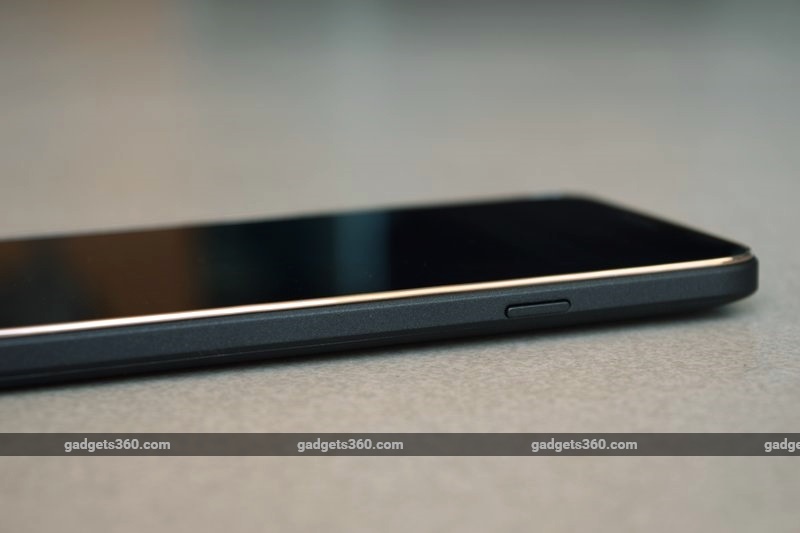 You get a 2600mAh battery which is removable. The microSD slot can be used with cards of up to 32GB. What's interesting is that while the phone claims to support 4G, it does so only for the SIM in slot 1. Even with slot 1 empty, a 4G SIM in Slot 2 will not work on 4G networks. In fact, we only ever saw EDGE speeds with our 4G SIM in slot 2. Wi-Fi, Bluetooth, and FM radio are standard, and even USB-OTG is supported. However, don't expect anything modern like a fingerprint reader.
Software
Sadly, there's only one way to describe Karbonn's Kandy UI, which runs on top of Android 5.1: crude. Things have been changed just for the sake of changing them, with little thought put into actual user experience design. The default app icons look ugly to us, and they're all crammed into folders in an effort to declutter the homescreens. There isn't an app drawer, so that's probably necessary given the number of preloaded apps there are to deal with.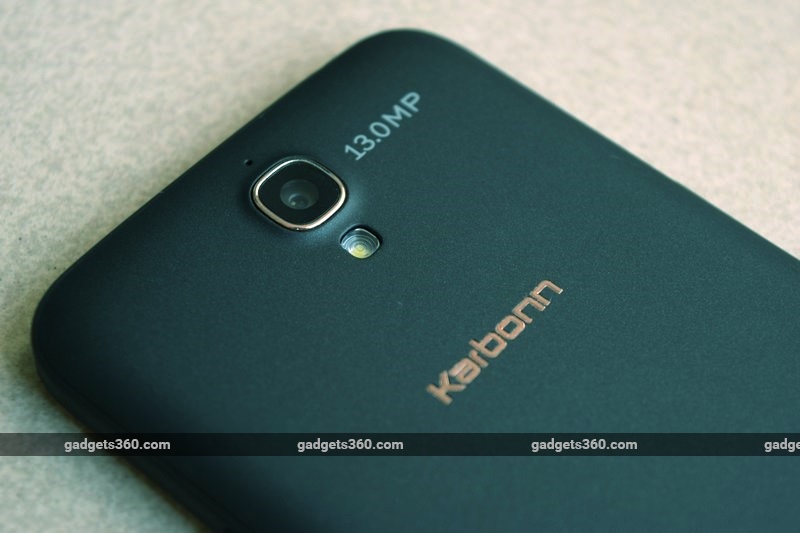 Karbonn has saddled us with Amazon, Flipkart, Paytm, Saavn, OLX, Hotstar, Truecaller, Clean Master, Opera Mini, and Snapdeal, There's also Karbonn's own Games Hub which is an app store for extremely low quality games, and Fun Zone, which offers more games, photos, songs and video clips for sale. Videos cost Rs. 15 each and photos cost Rs. 10 each, and range from religious iconography to soft porn. Data Meter, System Cleaner, Security Center and Power+ are additional little utilities that seem to do what their names suggest. Thankfully, most of these apps can be uninstalled.
The notification shade has a row of quick toggles at the bottom. You can swipe upwards to reveal more, which isn't exactly intuitive. The Settings app has a few extra options for things like customising status bar icons (though a battery level percentage indicator seems to be missing altogether) and configuring gesture shortcuts.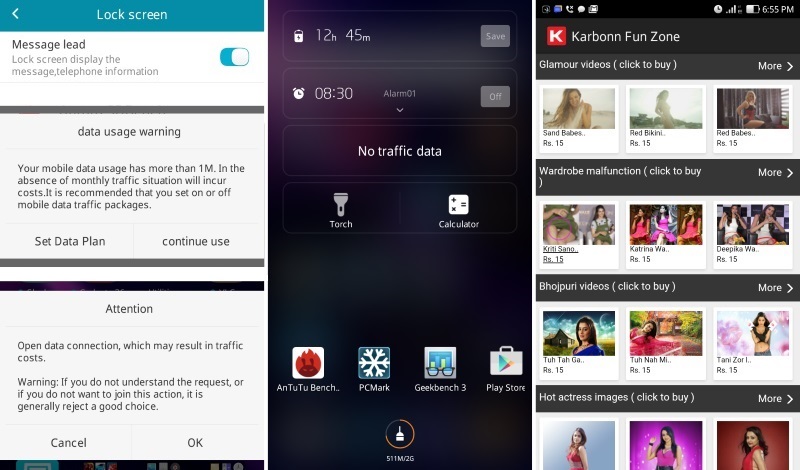 Moreover, pretty much every notification you can expect the UI to display, from missed call alerts to battery level warnings, is written in horrifically mangled English – some of them are barely legible. Whether due to poor translations or just a lack of quality control, it's amazing that Karbonn ever let this software ship.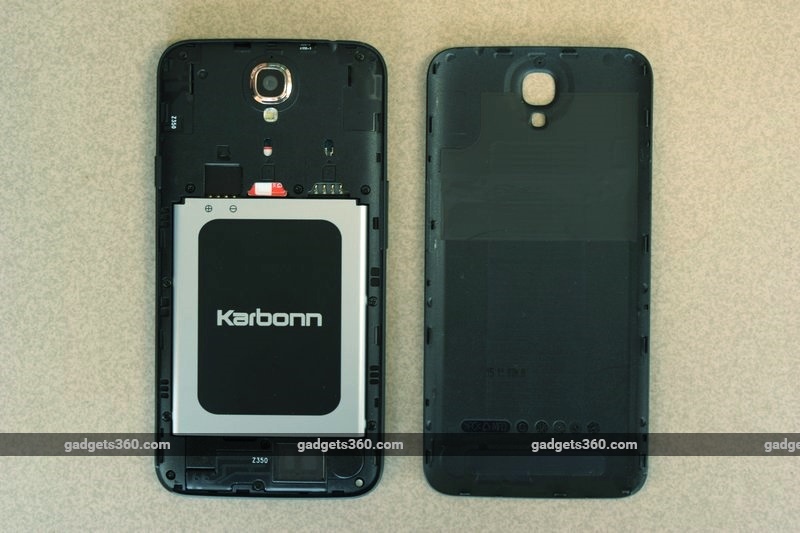 Performance
720×1280 is a perfectly acceptable screen resolution for phones in this price bracket. Sharpness and colour reproduction are also good. However, we've seen better when it comes to viewing angles and sunlight legibility. It's also worth noting that touch response isn't very good, and its surface is not smooth enough to allow for easy swiping.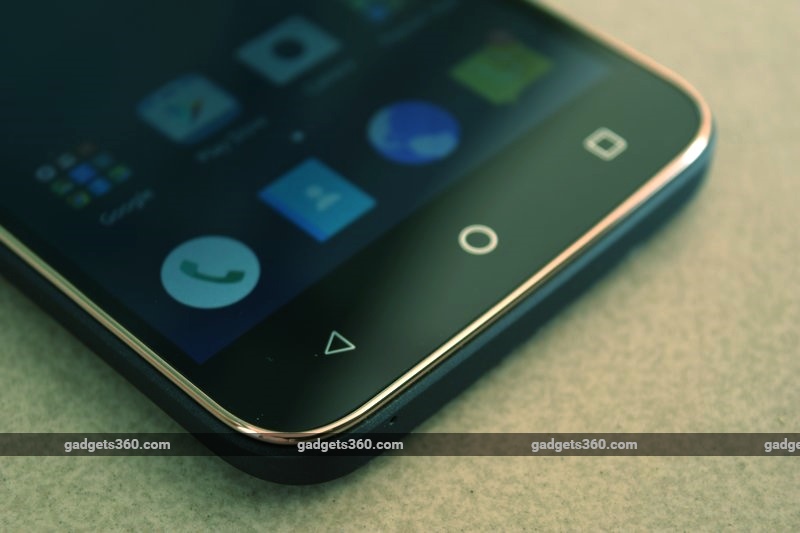 The capacitive buttons below the screen are not backlit and also don't vibrate when touched. This lack of feedback coupled with system lag makes it difficult to know whether you've actually hit them or not. The icons reflect the modern Android layout but for some reason the software is tuned to recognise the Recents button as a useless Menu button; behaviour which was deprecated years ago. You have to double-tap Home to launch the app switcher. Here again, Kandy UI diminishes the functionality of stock Android by replacing app previews with static icons – though you can do things like turn on the flashlight and set alarms from this screen instead.
We ran our usual benchmark suite, and found that the phone's performance was perfectly average for its segment. Quadrant and AnTuTu gave us 31,834 and 12,459 points respectively, while GFXbench managed 14fps and 3DMark's Ice Storm Extreme test showed a result of 3199 points. This is more than enough for everyday usage. The battery lasted 8 hours, 53 minutes in our video loop test, which isn't all that great. We also noticed that charging took a really long time.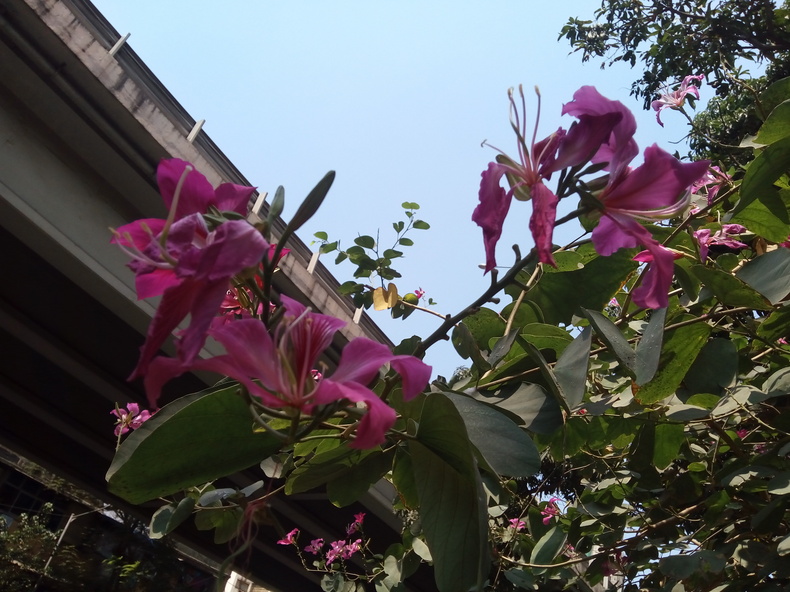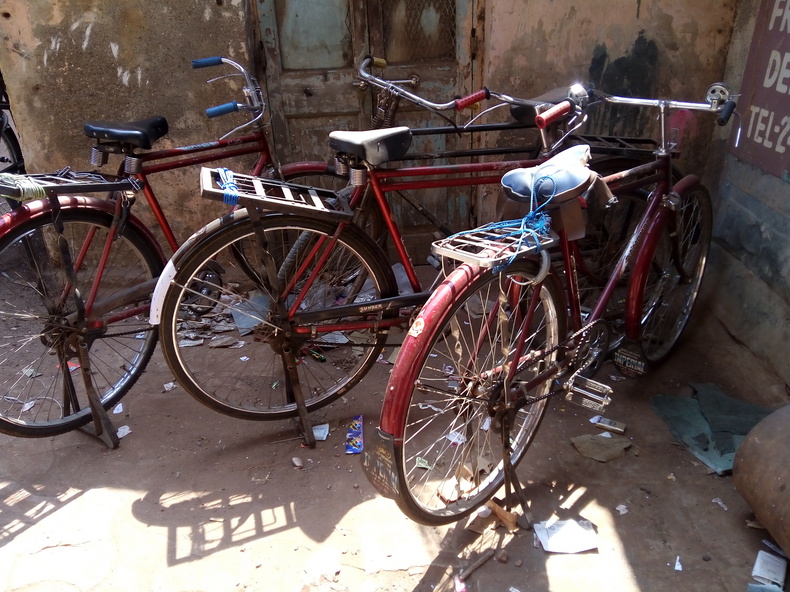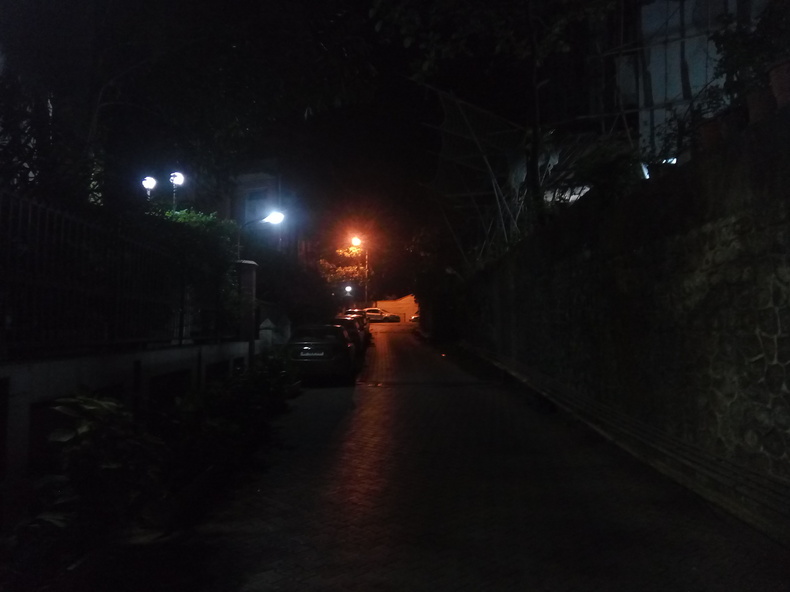 (Tap to see full-sized camera samples)Photos taken with the rear camera didn't come out all that great. Details were highly compressed and textures were lacking. Moreover, the camera seemed to have trouble with the exposure in brightly lit situations. It only did really well with extreme close-up shots which allow the background to get defocused, masking such issues. Photos taken at night varied greatly in quality, with ambient light making a huge difference. It took longer to focus and there was a greater chance of shots coming out blurry due to hand motion, but they weren't all bad. The camera app does offer a manual mode and things like face detection, which are nice touches.
Verdict
A year or two ago, we would have begrudgingly said that phones like the L50 HD, priced at Rs. 7990, might not be the best in terms of performance and usability, but at least they're dirt cheap. Today, that argument doesn't hold water anymore. The bar has been raised to such an extent that you can get the Asus ZenFone 2 Laser (Review | Pictures) and Xiaomi Redmi Note Prime for around the same amount, and a variety of interesting options for just a little more.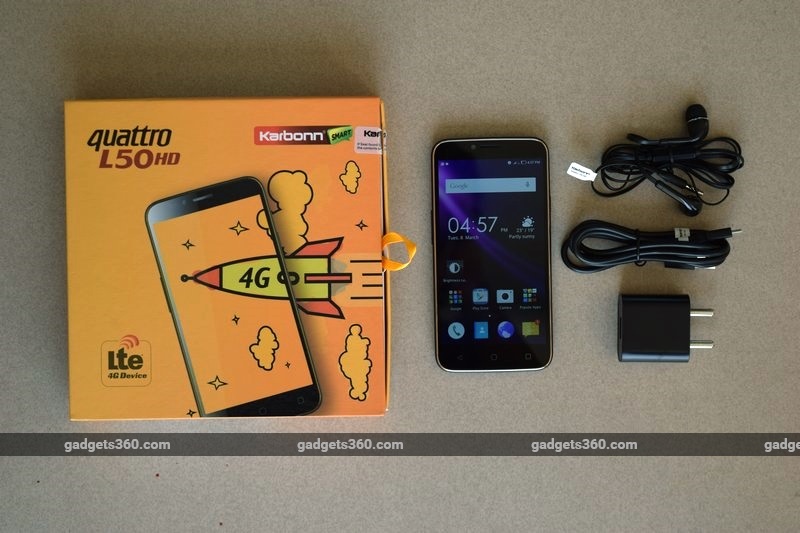 Competition is a wonderful thing, and it means that people with tight budgets no longer have to settle for average products. Based on what we've seen of the Quattro L50 HD, Karbonn will really need to step it up if it wants to remain relevant in the market segment it once took for granted.
["source-ndtv"]