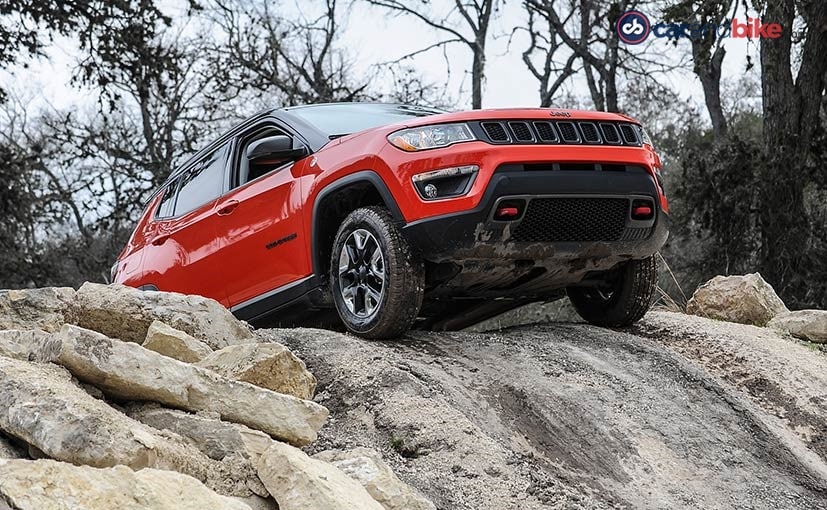 The Jeep Compass is being touted as a major new model for not just Jeep worldwide, but also the Indian automobile industry. And what a great name for an SUV, right? With the new Compass, Jeep has taken a leap. And it is most definitely the make or break model for the brand in India. But given everything we know about it so far, and also the expectation on how aggressively Jeep is going to position it, the interest in the Compass is reaching fever pitch. No surprise then that it was with great anticipation that I got off the train and walked out of Grand Central station into the bustling streets of Manhattan – already teeming with people even before 8am!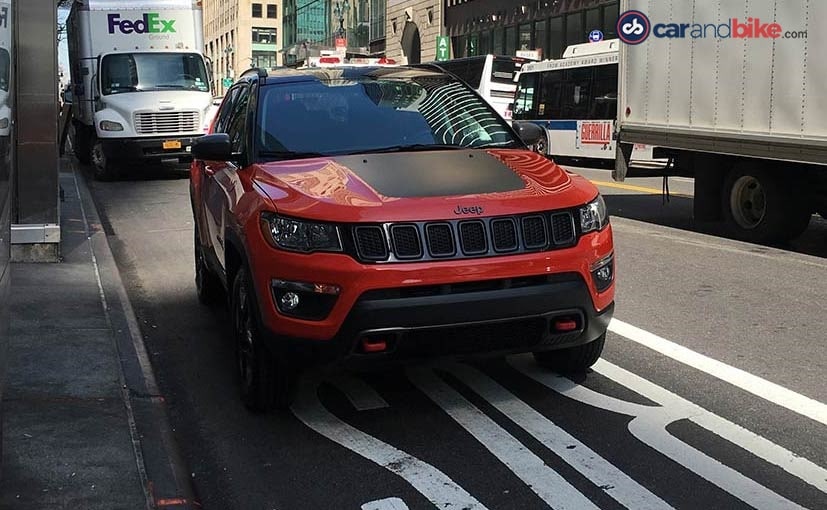 It was a quick walk to the corner of 48th Street and 6th Avenue – with a detour to grab a cup of joe! And I saw it from almost a block away – frankly I think everyone in a two-block radius must have! Dressed in Spitfire Orange – the signature Trailhawk trim paint shade – who wouldn't? The contrast black roof and the black bulge on the hood compliment that blazing orange very well. The car has instant road presence and turns heads, despite its compact dimensions. And yes as we have all now seen it's very much the baby Grand Cherokee! As a result it is that shape which exudes a bigger appearance than the car's actual dimensions – which frankly is a good thing considering the really compact SUV spot already belongs to the Renegade. The Compass shares its platform with that smaller sibling – as also cousins Fiat 500x and 500L. Before you can ask, the Jeep Renegade is also now being touted for India to sit just below the Compass in our market too. But let me not digress!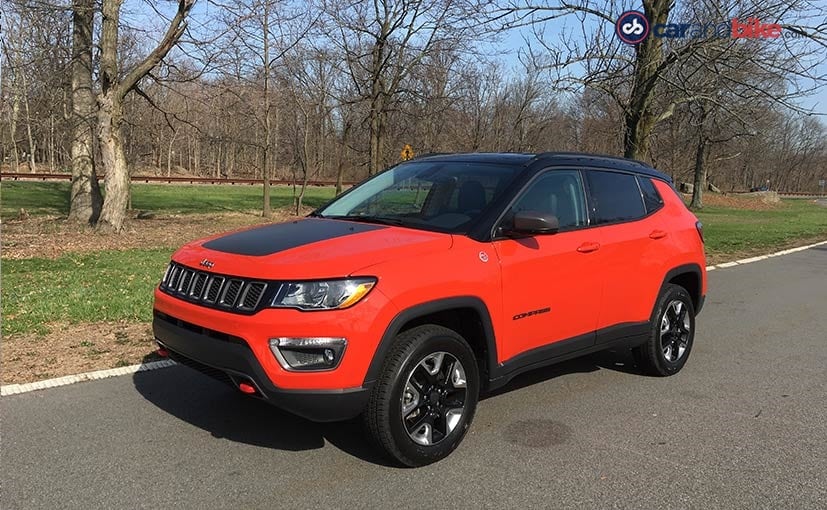 The car I am driving today is the Compass with the Trailhawk trim – which means it has also got the all-wheel drive. It is powered by the 2.4 litre Tigershark I-4 engine with MultiAir2 valve-actuation. That gasoline engine is mated to the new ZF nine-speed gearbox that also goes into the Cherokee and Renegade. All 4X4 models of the Compass will likely have the 9-Speed as standard, except the diesels which may get a 7-Speed. This Tigershark engine is pretty much reserved for the US market and is primarily being plonked into the made-in-Mexico Compass only. The front-wheel drive Compass has a choice of a 6-Speed manual or an Aisin-supplied 6-Speed Automatic. Globally the Compass will sport 5 different engine options, and so there are 17 possible drivetrain combinations! In India we care about the 1.4 multiair petrol and 2.0 multijet diesel to be honest! I am encouraged by the announcement that we will have the all wheel drive at launch, though I hope Jeep India is wise about also offering a well specced front wheel drive variant.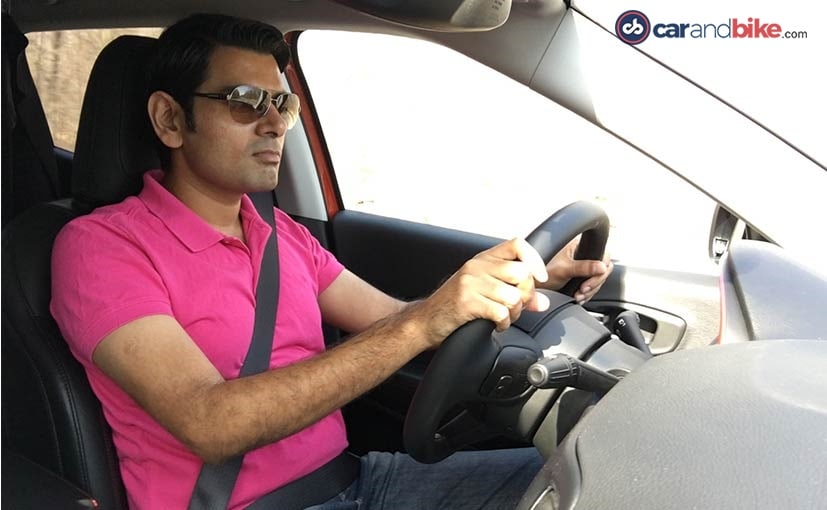 But for now let me get on with my drive review! Luckily I have managed a relatively quick exit out of Manhattan and across the George Washington Bridge to New Jersey. A right turn on to the picturesque Palisades Parkway and finally I am truly getting a good feel of this car. In the very impression I have to tell you I am glad this engine is not for India! It comes across as wheezy and leaves you wanting. Its also not terribly well mated to the 9-Speed gearbox, which tends to hold gear even when there is no real power coming! Given my prior experience with other Jeep engines on the Cherokee and Renegade in the recent past, I am encouraged that the versions we will get are actually going to be a whole lot more fun! But now – it's on to the very good news. The thing I'm picking up on instantly is the terrific ride quality this car has. Despite its compactness the Compass is planted and very controlled, and doesn't bounce around. The upper body structure and frame are engineered as a single unit and that gives you a stiffer feel. Jeep says the Compass "is designed and built with an extensive use of high-strength steel and liberal use of structural adhesives. More than 65 per cent high-strength steel is used for maximising vehicle dynamics and crash performance while optimising weight efficiency." And that comes across for sure – honestly not something I was expecting!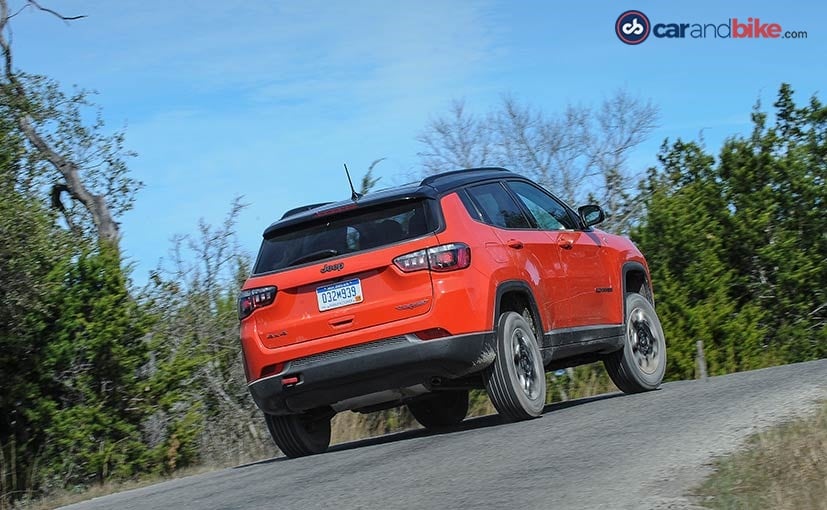 The new 2017 Jeep Compass has a MacPherson front-suspension with 170 mm of articulation. There's a new front cross member that gives you way more rigidity and also increases the car's crash-worthiness with improved impact absorption. What's interesting is a new split-type shock absorber mounting that splits and sends road undulations and bumps to the chassis so you have less road noise and better ride quality. At the rear, the Chapman suspension features high-mounted strut-type shock absorbers and coil springs, which helps cut roll rather effectively despite the slightly exaggerated ride height of the car. The Compass has a standard ground clearance of 198 mm for the 4X2, 208 mm for the 4X4. On the Trailhawk trim that is raised to 216 mm. To put that in perspective the Mahindra XUV has 200 mm and the Hyundai Tucson has 195 mm ground clearance, so while the Compass does well to match up, my worry is that smaller tyre sizes, and a differing suspension setup in India may drop the figure by 10-15 mm. The Compass also gives you up to 208 mm of rear-wheel articulation for off-roading. Frequency selective damping on the Compass also adds to the very satisfactory handling and ride comfort. Again I reiterate – it's rather a pleasure, and altogether a surprise here.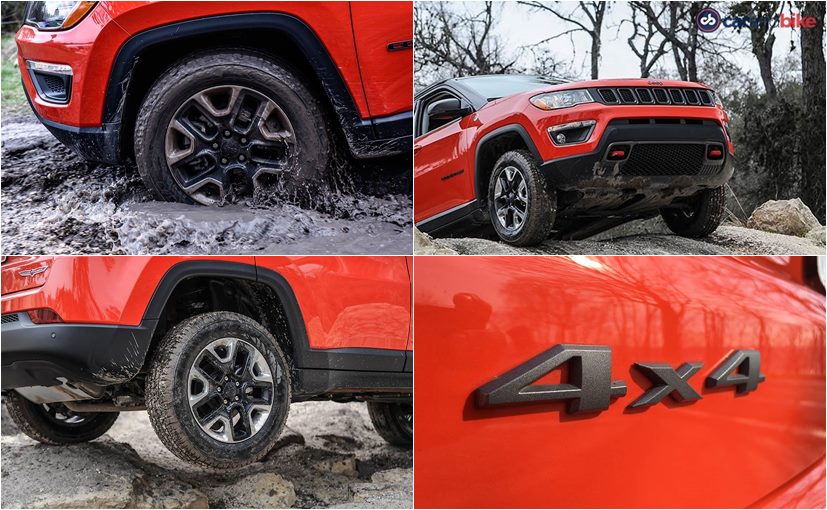 Jeep Compass Trailhawk gets a ground clearance of 208 mm for the 4X4 trim
The all-time 4X4 system that Jeep calls Active Drive is effective and can send almost all of the engine's torque to the rear wheels when needed. That helps provide more grip of course, and not just when off-road. The car is surprisingly capable off-road despite its size. It has a great approach and departure angle, though as I said already, I suspect the Indian spec may not have as much articulation or ride height as this car's. The Active Drive Low on the Trailhawk makes things even more extreme and you can do more hard-core off-roading on this version for sure. I am finding the Selec-Terrain dial easy to operate as it switches to different modes – Auto, Snow, Sand/Mud and on the Trailhawk you also get the Rock crawl option! I wish I had a more challenging terrain ahead of me to throw at this tyke. But for now New York State's flat and mildly hilly countryside will have to do!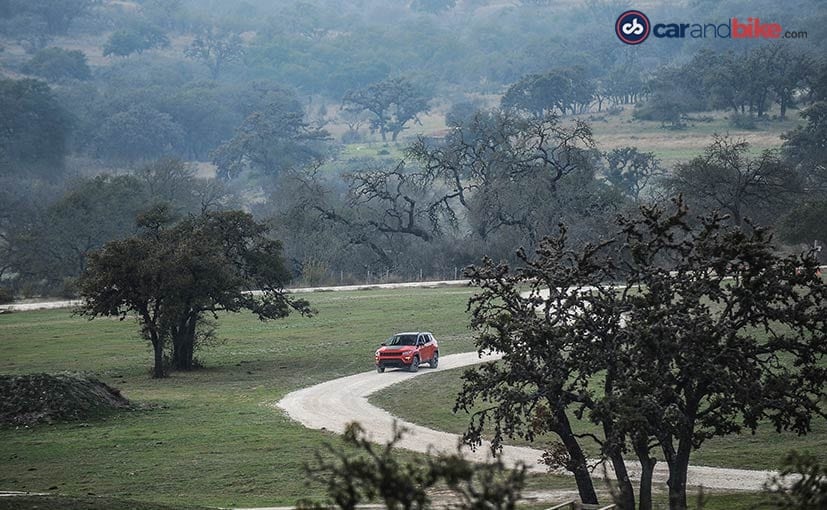 Back on the road now, and I can tell you the Compass' electric power steering is quite precise and effective, with minimal input required. The car is driving well enough to put a smile on my face. Though I suspect me getting my hands on it ahead of the competition may be playing a small part to the devilish grin on my mug too! Wow, did I just say that?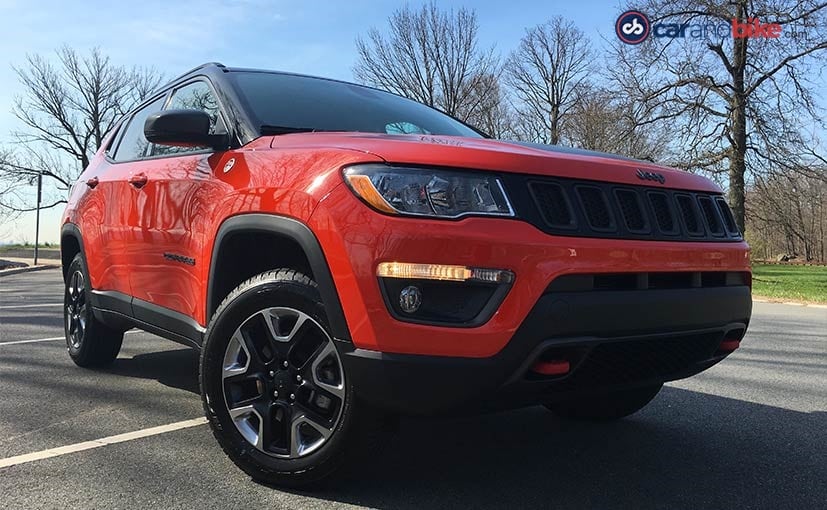 The Jeep Compass Trailhawk comes with a dual tone paint scheme which looks brilliant!
The car is also fun in terms of how its been styled. Unlike the last Compass, which was a 'meh' car in pretty much every department, the new generation is striking. It has great proportions, and the styling belies its compact size. The two-tone looks really sexy, but even in a single paint it is a good-looking car. I have to say the Compass will attract a lot of attention for its handsome, rugged, yet urbane looks. The daytime running lights are not LED, but in their own way create a yellow signature unlike the competition. Jeep designers have hidden some 'easter eggs' – these are some small mischievous little styling features around the car for you to discover. I won't ruin it by telling you about them all, but the Jeep trademark grille hidden inside the headlamp, Nessie – the Loch Ness monster along the base of the rear windscreen, or the lizard hiding near the wiper blades are just three examples I will share! Its fun, especially when you chance upon them!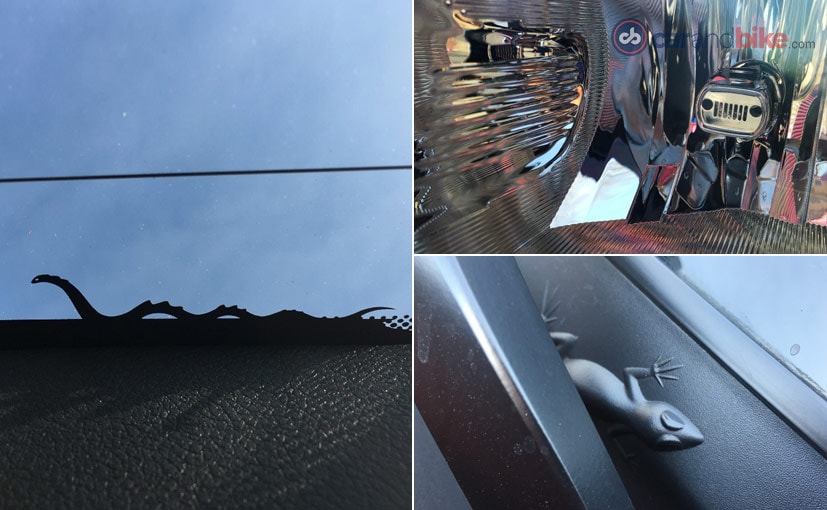 These are some small mischievous little styling features around the car for you to discover
Inside the cabin too things are well appointed. It does not have the material, fit or equipment of cars like the BMW X1 or Audi Q3 – since Jeep claims premium status. But you will still not be left wanting. I'm enjoying satellite radio on this test car – a perk of driving a fully loaded press car in the United States! And given the car's ruggedly dark interior the stations of choice are purely Rock!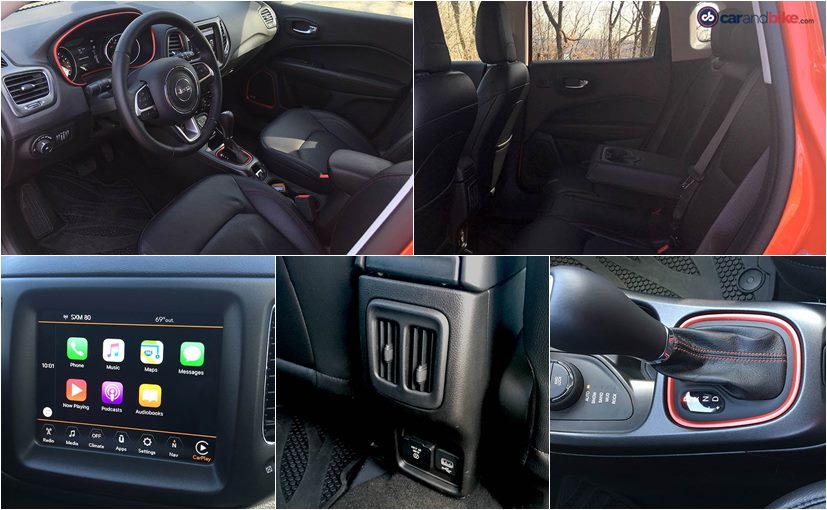 Jeep Compass Trailhawk gets a well-designed cabin with a host of features
The interior plastics aren't the best in terms of texture and also because they look a bit dull. But plastic quality, feel and fit is pretty good. The central stack is attractively designed with a trapezoidal shape. The touchscreen is flanked by smartly designed AC vents. The screen itself has an easy to use interface. Connectivity options abound including Apple CarPlay. It's still not clear what all will be offered on the India spec though I do expect CarPlay, Android Auto and navigation at the top end. The Trailhawk trim is definitely very stylish and attractive. And I hope we get that in India too, though the standard cars will have a beige and black two-tone palette!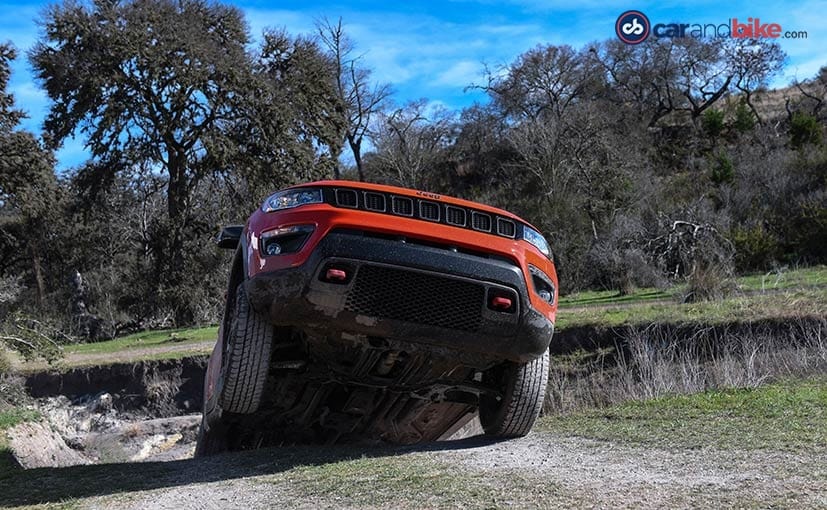 The Compass has a good sized boot. It has a 770 litre volume with the rear seats up, and that expands to a generous 1690 litres with seats folded flat. Of course these are official figures for the US spec car I'm driving. And Indian spec figures may differ slightly.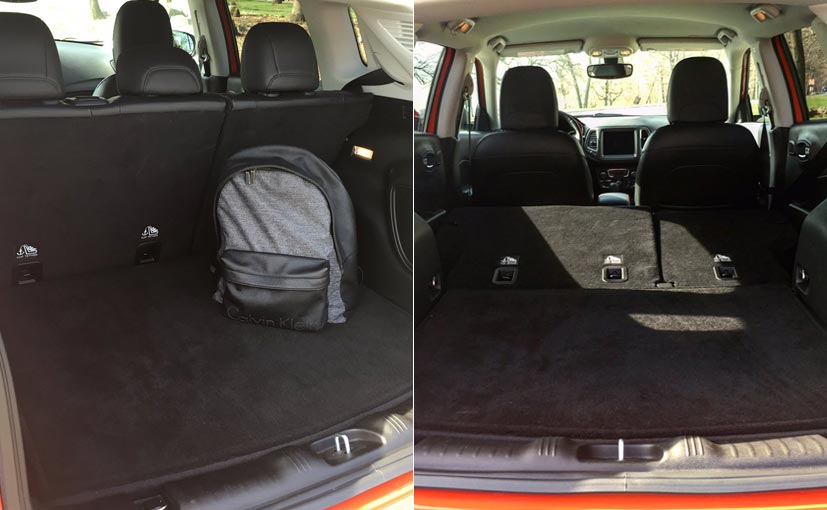 The Compass gets a generous boot space
So it looks like the company has a winner on its hands. The new Compass is a far cry from the first generation that sold from around from 2006-2017 in the US. Sure we don't have any connection to it, but it was a largely uninspiring product so that is just as well; though it sold well for Jeep. By comparison the new Compass is agile, engaging, spirited and rather fun. It's also surprisingly nimble and capable off-road. If priced nearly as attractively in India as it is in here in America, well then lets just go ahead and congratulate FCA India right now! What would I deem attractive? ₹ 18-22 lakh for the entire range. So now here's hoping for that, and looking forward to the arrival of the new Jeep Compass into the market.
["source-ndtv"]