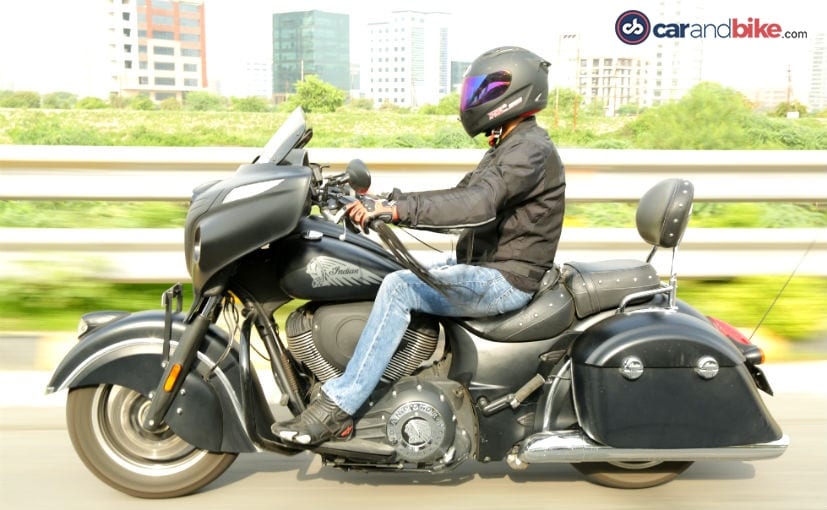 Meet the new Indian Chieftain Dark Horse – this massive mass of black metal with a name that promises a lot of character and stamina, quite like a thoroughbred black stallion. Technically though, the only thing new is the blacked out look. The Chieftain Dark Horse shares the same engine and mechanicals with the standard Indian Chieftain, but the difference is in the name, and as it suggests, a blacked-out look to appeal to a wider audience of cruiser lovers. So, unlike the chrome-laden standard Chieftain, the Dark Horse gets a matte black finish, with limited chrome finishes on the exhaust mufflers, wheels and a thin chrome strip on the trademark valenced front fender.
What the Chieftain Dark Horse has, is lots of road presence; it attracts attention, a lot of it, whether it's parked, or on the move. Motorists will slow down to take a good look at it, and during our time with the bike, crowds of admirers materialised out of nowhere at our suburban shoot location. Yes, the Dark Horse has the power and personality to make heads turn, and its long muscular body and massive appearance certainly lends it an aura of awe and admiration.
Its massive size and over 400 kg kerb weight may be a slight inconvenience in bumper-to-bumper traffic, but this is not where the Chieftain Dark Horse is at home really. If inter-state highway distances are what you have in mind, the Chieftain Dark Horse is an able long-distance companion. This bagger can accommodate 24 kg of luggage in its remote lockable saddlebags, and it offers all the amenities of a modern motorcycle – there's keyless ignition, cruise control, standard ABS, a push-button adjustable windshield and even a tyre pressure monitoring system.
The best part though is the brilliant 1811 cc v-twin. The engine makes 73 bhp of power at around 5,000 rpm, but it's the massive torque of 138.9 Nm that is responsible for pulling this huge mass of metal. All that torque is available from as low as 1,000 rpm and the Dark Horse just pulls with a reassuring rumble from the v-twin. The engine isn't exactly free revving, but there's no vibration, no protest as the revs climb and you settle into a comfortable cruising speed. Sixth gear is an overdrive, for easy highway cruising, and will pull cleanly from as low as 70 kmph, to unmentionable triple digit speeds. Overtakes are a breeze with just a downshift propelling this gigantic motorcycle straight ahead, when some extra thrust is required. The cruise control does help out on a long, open road and the 100 watt, fairing-mounted stereo has enough power to make you enjoy your favourite music at highway speeds.
Its size may be overwhelming at first, but the Indian Chieftain Dark Horse is easy as it gets, once on the move. The weight isn't felt at all, and despite its massive size and length, it's quite easy to manoeuvre within the city and is surprisingly well-behaved round a long, sweeping corner. Then there's the ride quality – it's got a supple and plush ride, and during our test ride, we were happy to note that it sailed over broken patches and road undulations with admirable composure. Of course, turning it around takes some planning and space, and tight parking spots aren't where you'd want to be on the Dark Horse, and the heat from the engine can get bothersome in rush hour traffic.
But if you're in the market for an all-American cruiser, you want to make a statement with your ride, and you want a bike with smooth, refined performance, great ride quality and plenty of low-end grunt, the Indian Chieftain Dark Horse has all those qualities and more. There are few other options in the cruiser market which can give you the feeling of a better-built, better engineered motorcycle than the Chieftain Dark Horse. The only thing left then, is your budget; so, if you have over ₹ 32 lakh to spare for your ride, by all means take a look at this bagger. We're certain the long road won't feel the same with any other steel horse.
["source-auto.ndtv"]