So much can be said with a GIF. It can be an exaggerated reaction, a visual analogy to something said in a conversation, or simply a non sequitur to punctuate online communication. But usually it's just a funny animation.
Giphy made life easier for everyone on the internet in 2013 when they launched a a search engine just for GIFs. Need a GIF of a cat driving a car? Or a dog on a skateboard? Giphy has you covered.
As chief operating officer at Giphy, Adam Leibsohn's aspirations for the company lay beyond a simple search engine. He's passionate about the future of communication and he and his team are making animated GIFs available wherever you might need them, from Slack to Gmail to Facebook Messenger. I'm not sure if an abundance of GIFs helps or hurts my productivity, but I certainly use Giphy every day because it's fun. We caught up with Adam to learn a little about why GIFs remain relevant and how he works.
---
Location: Home = Brooklyn, Giphy = SoHo
Current Gig: Chief Operating Officer, Giphy
One word that best describes how you work: Strategically.
Giphy's a pretty unique place: we're creating new methods of communication, redefining content consumption and distribution, and inventing and advancing tech… all while working with some of the biggest media and technology partners in the world. At the same time, we have an uncanny ability to see into the future and then make that future a reality. So, it's really important to be able to keep track of what we're doing in the context of what we want to achieve today and tomorrow. As a result, what we do and why we do it is always purposeful and deliberate. It also happens to be a hell of a lot of fun.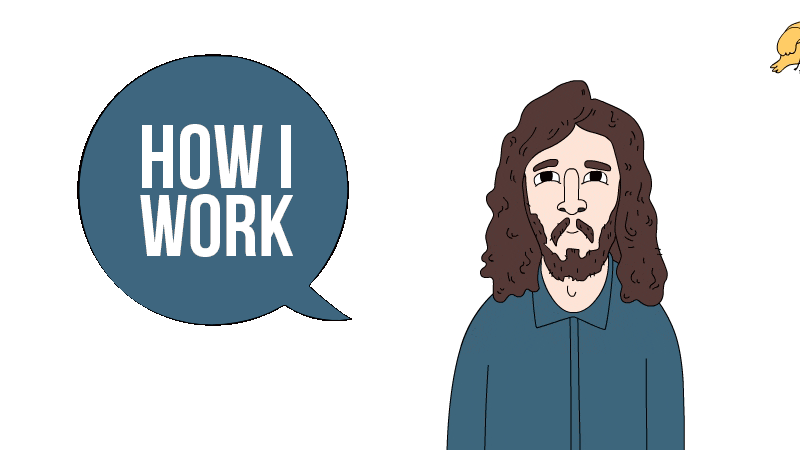 Current mobile device: iPhone 6, but looking to get on a 6s for the 3D touch features.
Current computer: MacBook 13", maxed out. Ultimately, I'm a MacBook Air devotee (home computer), but needed more processor + memory + Retina.
What apps, software, or tools can't you live without?
I'm on the phone a lot in my day-to-day. It might seem funny, but I really love the comfort of being able to wedge my phone between my shoulder and my ear. But that's not so easy to do with an iPhone. It used to be a more common behavior when landlines were more prevalent. So, I've got this great attachment for my iPhone that mimics a classic landline handset. It keeps my phone in my pocket (away from my brain) and lets me do the shoulder-ear-wedge-thing all day. It's also bedazzled in pink diamante; facts only.
Also: Dark Sky. Best $5 I've ever spent.
What's your workspace setup like?
Giphy has a great office with some of the most creative and smartest people on the planet. We're building the future of GIF tech and search; so there's plenty of energy and activity to keep me going and engaged. Our office space is open and everyone has the same basic setup with a clean aesthetic. We've all got the same white desks, black Aeron chairs, and some version of an Apple workstation.
My workspace at the office is relatively minimalist so I can stay focused. I have my laptop and monitor, the standard peripherals, and a few knick knacks from travels, partners, etc.
I'm on the move a lot for work, so when I get back to my workstation, I need to GSD. To that end, I have my laptop dialed in pretty tightly with specific apps, systems settings, and window arrangements to try and be the most productive.
What's your best time-saving shortcut or life hack?
We only ship products that we love and want to use. Case in point: it used to be extremely annoying to share GIFs in conversation, whether in email or text, in Facebook and Twitter or in Slack where we do the bulk of our internal communication. So, in a sense, my best time-saving shortcuts are simply using the products that we've spent the last few years building. For example, I use Giphy for Gmail constantly, and you would struggle to find three consecutive Slack messages I send that don't employ the "/giphy" command.
I also set up a bunch of custom keyboard shortcuts on my iPhone and double tap the screen to unlock my Mac using Knock. It's the little things.
What's your favorite to-do list manager?
Even though we work in tech and are pushing a lot of boundaries, I still think the best thing on earth to manage to-do's and basic day-to-day needs is a notebook. Also, I love the act of writing; there's something grounding and thoughtful in it. It's much more deliberate and considered than tapping things out on a keyboard. And it creates a lot of freedom and efficiency to capture your thoughts in the forms that might suit them best: sketches, wireframes, graphs, diagrams, etc…. not just words.
Although I'm still trying to find the absolute perfect notebook (I've tried dozens), I'm closing in on perfection (for me) with Moleskine's squared soft notebook. I run my life and plan the future from these things. And the pen is just as important as the paper. Simple as it is, I've become partial to my matte black Space Pen because it's so easily pocketable. And because it was invented to go to outer space! OUTER SPACE!
["source-lifehacker"]