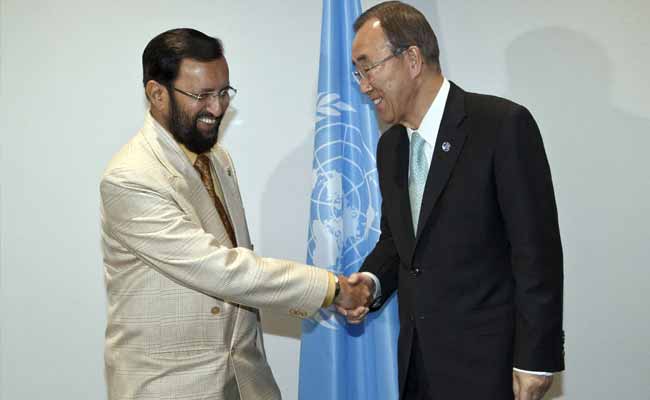 PARIS:  India on Saturday hailed the adoption of a landmark climate change deal as a "historic day" which promises a "better future" and creates a "chapter of hope" in the lives of seven billion people.
Noting that the agreement acknowledges and recognises the development imperatives of India and other developing countries, Environment Minister Prakash Javadekar said the accord also supported their right to development and their efforts to harmonise development with environment, while protecting the interests of the most vulnerable.
"Today is a historic day. What we have adopted is not only an agreement but a new 'chapter of hope' in the lives of 7 billion people. Mahatma Gandhiji used to say that 'we have not inherited earth from our ancestors, but we have it on loan from future generations," Mr Javadekar said.
"We have today reassured our future generation that we all together will mitigate the challenge posed by climate change and we will give them a better future," he said at the plenary session after the agreement was adopted.
Mr Javadekar, however also said the agreement could have been more ambitious as the actions of developed nations are "far below" than their historical responsibilities and fair shares.
"The actions of developed countries are far below their historical responsibilities and fair shares. We have in the spirit of compromise agreed on a number of phrases in the agreement," he said.
Mr Javadekar said the conference also witnessed the launch of the historic International Solar Alliance under the leadership of Prime Minister Narendra Modi which he termed as "path breaking" in providing unprecedented boost to solar energy development.
He said that India was happy that the agreement has "unequivocally" acknowledged the imperative of climate justice, which reflects common sentiment and has based itself on the principles of equity and common but differentiated responsibilities.
"The agreement also acknowledges the importance of sustainable lifestyles and sustainable consumption patterns.
We are also happy that the agreement differentiates between the actions of developed and developing countries across its elements," Mr Javadekar said.
Noting that India has consistently said that the path to climate ambition must be paved with equity, he said that the accord has recognised it.
"While give and take is normal in negotiations, we are of the opinion that the agreement could have been more ambitious.
We share the concern of several friends that this agreement does not put us on the path to prevent temperature rise below 2 degrees," Mr Javadekar said.
India was engaged constructively and in good faith throughout the course of the negotiations while it was also a part of several groupings of developing countries, including BASIC, LMDCs and G-77 and China and support their statements.
"For us, this agreement is yet another step in a journey we have already started. I hope that Paris will mark the new beginning, where commitments made will be fulfilled," Mr Javadekar said.
"It is India's hope that the Paris Agreement will fulfil the wishes of Mahatma Gandhi who said 'We should care for a world we will not see'," he said while thanking as well as congratulating French Presidency for vision and patience.
Later, Mr Javadekar told reporters that it is a historic day because it gives a new hope to the future generation that the world will act collectively and give them a better earth for
their future.
"Today I hope that the commitments made are fulfilled. This will be new beginning. Paris has succeeded. It was under terror attack last month. This month Paris has proved that world comes together and that is the answer to mitigate the challenge posed by climate change," Mr Javadekar said.
"This is historic because it was not easy that all countries will agree to a reasonable ambitious deal. This has given a new hope, a new lease of life," he said.
Asked if compromises were done, Mr Javadekar said the need was to be "accommodative" without changing the thrust of the agreement.
"To achieve big things as there are languages and many issues, when 196 countries are putting their efforts together, you need to be accommodative without changing the thrust of the agreement. We have done everything to maintain that thrust," he said.
It will be continuous work from here till 2020 to have new mechanisms. At the same time, all nations are bound by indc
and they will be reporting.
He said that there were no obligations for developing countries as the agreement has differentiated treatment which is logical.
"Paris is an absolute success. It is a great victory for humanity. We have been successful to keep our national interest alive, at the same time to arrive at a compromise, we proactively engaged with the world and ensured that on small differences, we worked together and now there is this
agreement," he said.
An official statement said that the Paris Agreement for the first time brings all nations into a common cause based on their historic, current and future responsibilities.
The universal agreement's main aim is to keep a global temperature rise this century well below 2 degrees Celsius and to drive efforts to limit the temperature increase even further to 1.5 degrees Celsius above pre-industrial levels.
On the crucial financing issue, developed countries agreed to muster at least USD 100 billion a year from 2020 to help developing nations.
To reach these ambitious and important goals, appropriate financial flows will be put in place, thus making stronger action by developing countries and the most vulnerable possible, in line with their own national objectives, it said.
["source-ndtv"]