HIGH POINT —Contestant No. 5 takes the bus to work.
No. 1 tries not to think about being a finalist to win a new car: "I think I would jinx it," the retired bank president said of his chance.
If her key works, No. 7's husband will get an early Christmas gift to replace the old truck he drives.
In all, 10 people — including two elementary school teachers — who pledged their "fair share" or more to the United Way of Greater High Point's annual fundraising campaign, will get the chance to pick a key on Tuesday in the order in which their names were drawn.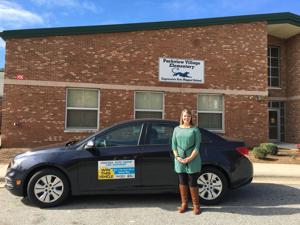 A fair share is .6 percent of their yearly salary or one hour's pay or more per month.
"Honestly, the car was the last thing that was on my mind when I was giving," said No. 7, Dani Chandler, a third-grade teacher at Parkview Elementary.
"I saw how many of the organizations they work with help children and their parents in our community," she said of the United Way.
The agency's BackPack Program, which works with community partners, for example, provides nutritious, kid-friendly weekend meals for 447 elementary school students in the area. It costs about $5 per child per weekend.
"I just tell them to use it wherever they need to use it," Chandler said of her United Way gift.
The 10 contestants' names were pulled each week over the past couple of months by Myers and Associates, a certified public accounting firm that volunteers its time to oversee the drawing. Each contestant gets the chance to start a designated vehicle donated by the hometown-owned Vann York Auto Group.
Contestants try their keys in front of a crowd that includes co-workers, friends and families.
"The right person always wins," said Paula Barkley, who works at Vann York and each year watches the drama unfold. A recent winner had been driving a car with a hole in the floor and no heat.
"There was not a dry eye in the room," Barkley recalled.
The winner gets to choose from a 2015 Honda Fit, Nissan Frontier, Chevy Cruze or Scion XD, and must pay for taxes and tag fees.
"No one has ever been able to pick it out that night," said company president Greg York. "They aren't thinking straight."
Organizers wanted to provide an extra incentive during challenging economic times.
Donations trickle down to other nonprofits and initiatives that act as community safety nets.
"Our numbers show they impact two of every three people in our community directly," said Bobby Smith, the president of the High Point United Way.
More than a decade ago, High Point was the first United Way in the state to give away a vehicle as part of the annual campaign. About half a dozen of North Carolina's 60-some United Ways now do so. But don't discount human kindness, Smith said, in the agency meeting its goals year to year.
While the Triad area ranks among the highest in poverty and hunger, in per capita giving to United Way agencies Forsyth County ranks first, High Point second and Greensboro third across the state.
"We have the biggest hearts — the facts show it, it's not bragging," Smith said.
Midway through the 2015-16 campaign, the High Point chapter has raised 70 percent of its $4.9 million goal.
The fair share is a percentage of a worker's salary, and this year nearly 4,000 people were eligible for the drawing. The last name for this year was drawn Nov. 20 — Patricia Alford, a kindergarten teacher at Fairview Elementary School.
Others have had weeks to contemplate this chance that might not come again.
"I have never won anything in my life," said Ramona Hill-Rushing, whose name was pulled fourth. She works for the city's Fleet Maintenance Division.
The city employee designates her money to specific agencies, including the Carl Chavis YMCA and Hospice of the Piedmont. She also checks off a category of agencies providing support to single parents and children.
"I give in hopes that I help another single mother out who is trying to make it," she said.
Those agencies includes Family Service of the Piedmont.
"Even though it's not a huge amount, I know the money that I do donate is put to good use," Hill-Rushing said.
The other contestants: No. 2 Meredith McPherson works at Old Dominion Freight Line; No. 3 Denita Lynch works for the city's fire department; and No. 5 Anthony Pendergrass works at Target.
"It would also open up a lot of opportunities as far as my job goes," Pendergrass said of depending on the bus to get to work most days. "I'm fairly limited to when I go to work and when I have to leave from work."
No. 6, Johnnie Atkins, works for North State. No. 7, Denzel Hedrick, works for the city. No. 9, Barry Hanes, also works at Old Dominion Freight Line.
Bill McGuinn, who was pulled first and is a retired banker, was chairman of the United Way campaign in the 1970s and is a former city council member. When he was notified that his name had been drawn, he asked Smith to remove him from consideration.
"I went to see Bobby to ask him to take my name off the list because I had been closely associated with the United Way at one time," said McGuinn, who wanted another name to be drawn. "He asked me to reconsider."
McGuinn has given his fair share for 57 years, ever since he returned to High Point from serving in the Air Force. And he is not in the category of people who cannot participate, including staff, board members, and their immediate families. Smith thought it only fair as other contestants also have volunteered their time and committed their dollars to the United Way.
"When you look at the diversity of all the finalists in the jobs they hold, it validates that anybody can win," Smith said.
Now if McGuinn doesn't keep the new vehicle to drive himself, he says — with a wink of sorts — then he has the option of playing Santa with someone with a need in his family.
["source-greensboro"]