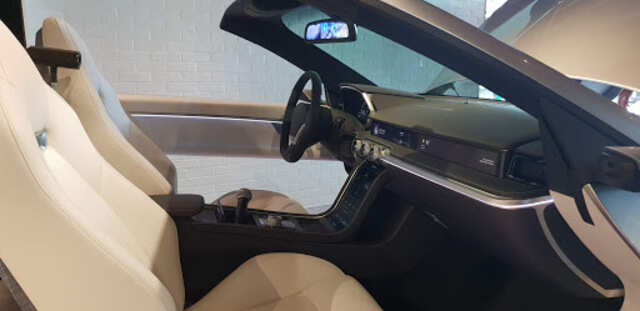 NEW DELHI: When it comes to making machines truly personal and smart, after mobiles phones it is cars that technology giants are eyeing. Of course, the Germans have showcased what modern day cars are capable of in terms of safety, power, design and luxury. But the traditional automobile industry is yet to deliver something we can call truly 'internet smart'. Also, the industry's stubborness to embrace electric vehicles wholeheartedly is making way for the 'nerds' to take a lead.
While Tesla is at the front front of the electric self-driving car revolution, giants like Google, Apple and in fact, even Uber have ambitious plans in the coming five years. In the eastern part of the globe, South Korean technology giant Samsung is silently nurturing their dream of a 'Galaxy' future car.
First showcased at CES 2018, the Samsung future car keeps popping out every now and then, despite the fact that Samsung hasn't shared much information officially. In the sidelines of the recently concluded 'Galaxy Unpacked 2018' event, Samsung's communication team made journalists visit a flagship Samsung experience centre and store in New York. And right at the entrance, the Samsung's future car was stationed to welcome visitors.
A wheel-less levitating Galaxy car?
The Samsung's car is quite a show and will impress any first-time visitor because there are no wheels. Without wheels, people tend to believe that may be Samsung is planning a wheel-less levitating future car that can be on roads, fly in the air or even float on water. After all, having a flying car is something that totally gels with the 'Galaxy' brand. But a closer look will reveal that Samsung is not even interested in building a car from scratch. Samsung has not even given it an officially name. This is because Samsung is not keen on the mechanics of the car or making it fly. It is the software and dashboard of the car that interests Samsung.
Enabling Bixby in luxury cars
Samsung has clearly mentioned that it open to work with partners like BMW, Audi and others to create a Bixby-powered luxury car. While the car maker gets to choose the mechanics of the car, Samsung will provide Bixby as a service and accessory to connect to other Samsung devices like smartphones, ACs, TVs, washing machine or fridge. And not to forget, Samsung aims to deck the dashboard and instrument cluster on the side with Samsung's connected AMOLED touch display which can be even curved.
So, what can a Bixby-powered luxury car do?
Samsung's idea of a connected car is simple– you should be able to have a dashboard view of what's inside your fridge inside your car by just saying 'Hey Bixby'. Samsung intends to add Bixby to the car, so, that you can control your Samsung smart home device and appliances by just talking to your car while you are driving.
For example, you are driving a Bixby-powered car from your office to home. The car should automatically signal your Samsung air conditioner to switch on when you are near your home, so, that when you enter your house, you get the desired cooling. Considering another example, you are driving and wish to cook a recipe for dinner. You just talk to your car by saying 'Hey Bixby how to make a chocolate cake." Bixby will immediately read out the recipe and ingredients that you need for making the chocolate cake. Now, before you reach your home to make the chocolate cake, you can tell Bixby to show you what's inside your fridge on the car's dashboard. This will help you know what ingredients you would actually need, so, you can just stop by a grocery store to buy them before get home. What's more you can even instruct Bixby to order those ingredients for you online and get them delivered before you reach home.
This is just a figment of Samsung's Bixby imagination and we can expect to hear more about the Samsung 'Galaxy Car' in the near future.
["Source-gadgetsnow"]