A handful of entry-level bikes can give you the kind of confidence the Giant Revel does. The Giant Revel 2014 disc came for a review and we decided to test it out in the MTB Himalaya, touted as the world's third toughest mountain bike race. At first, the 7-day multistage endurance race seemed like a mammoth task for a bicycle that explicitly warns "No freeride, downhill or any hard riding".
But I did all of this and much more!
Initially, I was slightly apprehensive about the bicycle, more so because the race document mentioned that 70 per cent of the race route involves off road, dirt road, jeep tracks, gravel, sand. However, going by my past experience with the Giant Rincon, sans disc brakes, in MTB Shimla 2014, I was convinced that if the Rincon can take on an unforgiving terrain with aplomb, the revel will thrive in treacherous conditions.
Here is the review:
DRIVETRAIN
The Revel 2 is a hardtail cross-country mountain bike that is fitted with the basic-level groupset called Shimano Tourney. The Tourney is the cheapest Shimano groupset that's usually found on children's bicycles and some of the most basic mountain bikes. Ideally, the Tourney is not designed to be ridden off-road.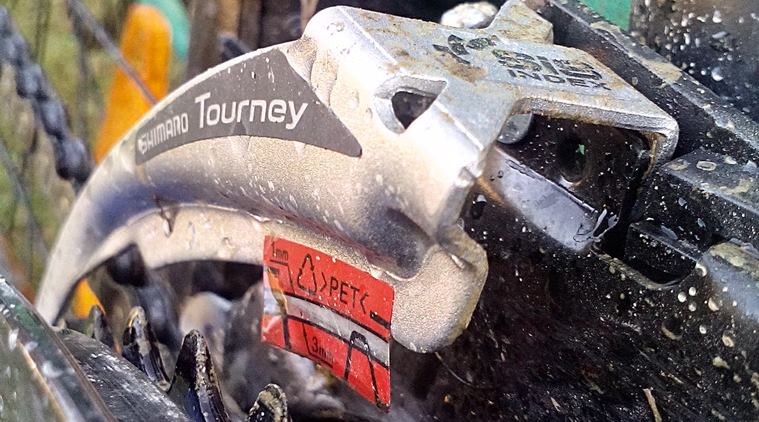 But much to my surprise, this basic ecosystem of components on the Revel will not only get the job done, it will be great while doing it. The bike with its basic 'everything' took on the terrain with gusto. In essence, the race pit two extremes against each other, an unforgiving terrain and a mild off-road MTB. The most surprising bit is that even though I got the review bike just a day before the race, getting used to it took me a few hassle-free hours. There isn't any complicated tech that you won't understand. You might need to get used to applying the disc brakes on rocky terrains though. I found gear shifting slightly notchy, especially on steep climbs.
When you quickly downshift to a lower gear, the chain in some situations either came off or got stuck in the front derailleur. But be advised, that knowing the mechanics behind gearing ratios will be of great help and help reduce wear and tear. When you're racing in an event like the MTB quick shifting and the correct ratio of gearing should be kept in mind. In this case, the Revel's gearing ratio will allow you to pick up speed on flatter terrain with ease. Long climbs and steep ascents will be just about doable. Oil your chainset once after the race and once before to maintain the right amount of play.
CHASSIS
Cross country bicycles such as the Revel 2 are designed to be lighter and more agile than usual mountain bikes. That's because they are designed to handle a mix of climbing and descending over moderately technical terrain with emphasis on easy uphills and smooth trails. The bike's chassis is made of ALUXX-grade aluminium, which is lighter, stronger and stiffer. While conventional wisdom states that aluminium bicycles are heavier, you'd be surprised with the lightness and the sturdiness of the frame. Remember that if you are participating in multistage endurance cycling races, you have to bear in mind that some of the sections will require you to walk up, down and haul the bike on your shoulders.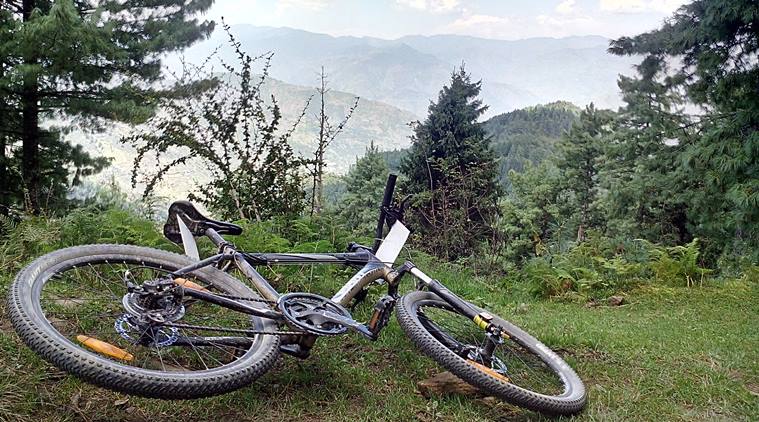 In MTB Himalaya, although some single tracks were rideable, others were slightly technical where I had to walk/carry the bike on my shoulders for a few minutes. My experience carrying the bike has been decent enough given that it still uses a lightweight aluminium frame (would have loved a carbon frame though!). Equally important was how the frame withstood the shocks and vibrations thrown by the terrain. I possibly went over some of the worst roads in Himachal Pradesh and the bike came out unscathed. In fact, I remember there was one carbon frame bike in the race that broke from the stem after just a few hours of hard riding. And here I was, in my 5th day of the 7-day race just admiring how this bike pulled it off!
RIDE QUALITY
The ride was flawless for most part of the race. But as I previously mentioned, don't base your judgment purely on saddle comfort. If you're not used to sitting on a saddle for longer duration, you will start feeling uncomfortable after 30 km of rough riding. The saddle is purposely designed to be aerodynamic using lightweight components to shave some much needed weight off the bike, so we aren't complaining. If anything, I would suggest you compensate for the less cushion on the saddle with well padded cycling shorts.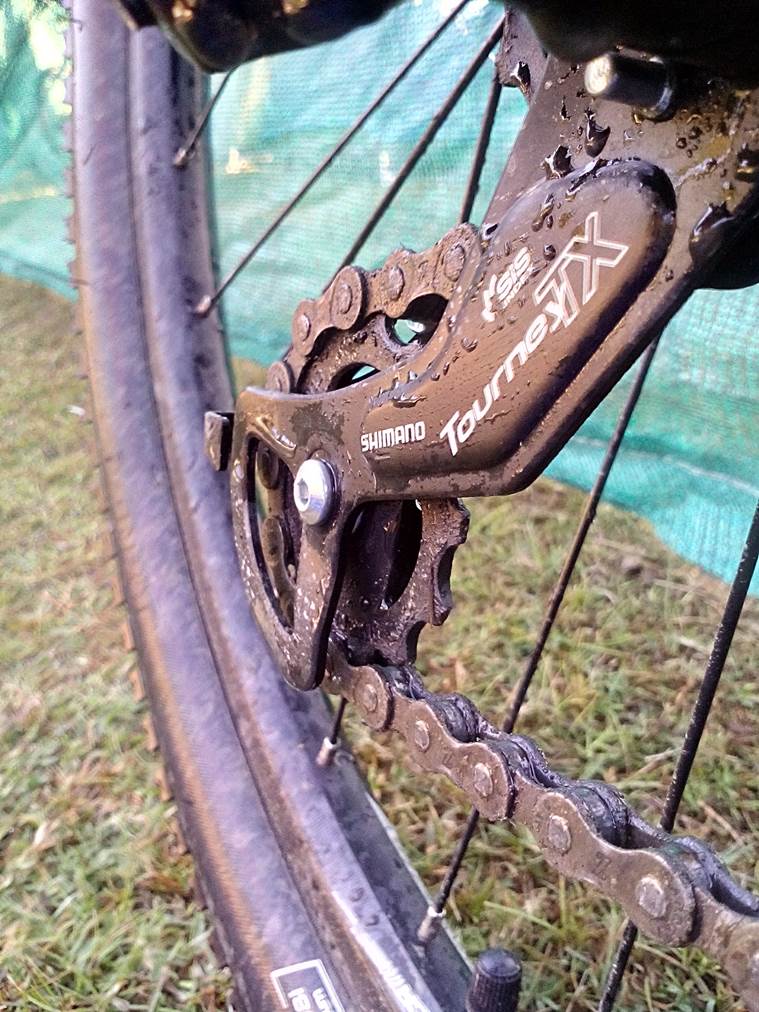 Another crucial aspect is the suspension. It's a front suspension bike, so it will obviously not handle the terrain like a full suspension downhill bike. The reason I keep comparing the Revel with a downhill bike is because people will pin too many expectations on this bike reading hundreds of other reviews. Let me tell you that both front and full suspension bikes have their own merits and demerits. In this case, Revel's front travel is only about 100 mm (non-adjustable) as compared to a usual 180-200 mm of a full suspension bike. (Front travel refers to the distance the front suspension will move before it is fully compressed.)
For a cross-country bike such as the Revel, the short travel suspension works best for smooth trails and easy uphills as it aims at giving an all-round riding performance. Downhill bikes with longer travel suspension will emphasise more on descending over rough terrain at high speeds. And I repeat again, even though this bicycle survived the onslaught, it is not suited for hard riding or extreme downhills.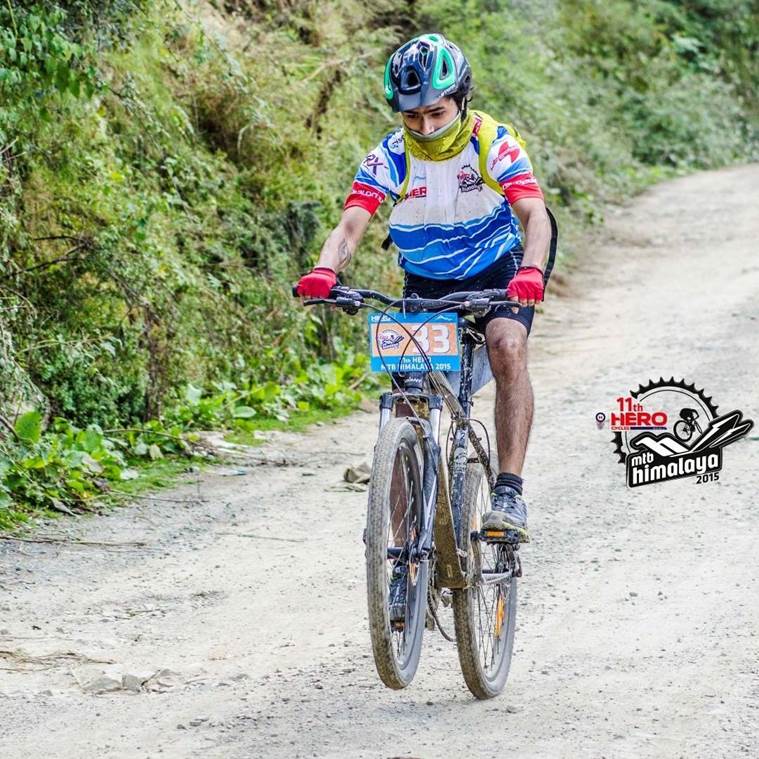 The writer on a Giant Revel at the MTB Himalaya 2015. (Source: HASTPA)
The place where Revel feels at home is the ease of maneuverability. A short-travel bike like this one is decidedly more responsive to steering inputs. This means it's easy to navigate the bike around tight spaces, but it will register twitchiness going downhill.
TIRES
The review bike had 26-inch wheels which is still the most common. Yes, they are stiffer, lighter and more robust than 27.5 or 29 inch ones. They're also more agile and accelerate better on flat surfaces, but the smaller size results in an overall bumpier ride over rocky terrain. It's also prone to less traction as compared to larger wheels. My advice: if at all you choose the 26-inch wheel, change the stock tires for something with more grip.
VERDICT
The Revel is a versatile cross-country bicycle that can handle a mix of off-road, moderately technical terrain and smooth trails with ease. The components on the bike are very durable, and lightweight, especially the frame that Giant is globally well known for. At Rs 32,000 you possibly can't get a better deal with an entry-level MTB with highly durable components. But here's the thing: If you're looking at precise, crisp shifting and a bike that will blaze downhill trails, the Revel is not for you. People looking to engage in moderate off-road and trail riding  will thoroughly enjoy the ride.
["source-indianexpress"]