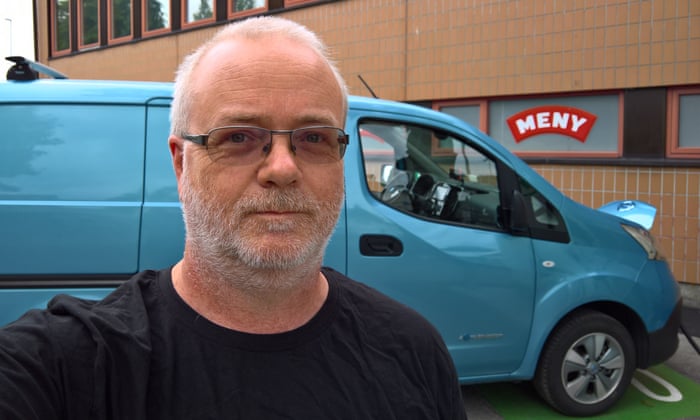 Øivind Johansen with his e-NV200 charging at Teie, Nøtterøy in Vestfold county. Photograph: Øivind Johansen
Amid fears that rising levels of nitrogen oxides pose a major risk to public health, Britain plans to ban all new petrol and diesel cars and vans from 2040. As part of the government's much-anticipated clean air plan it has said the move is needed because of the unnecessary and avoidable impact that poor air quality was having on people's health.
With the inevitable demise of diesel and petrol vehicles we asked electric car drivers to tell us what it's like to drive one, and why they are the future.
Christine Burns, 64, retired, Manchester: 'The UK government's policy isn't really a policy – the market will get there before'
Drives a Nissan Leaf
In an electric car you glide around in virtual silence like a limousine, but it can also out-accelerate the boy racers at the traffic lights! A scheme where I live in Manchester, means I only have to pay £20 a year to have free access to chargers across the city. There are almost a dozen kerbside and car park chargers inside a 1-2 mile radius of my home, plus I can charge from empty to full in around four hours for less than £3 on domestic electricity.
Benefits of electric cars include a low-cost mileage, no road tax, no congestion charge and low servicing costs. They're also easy to drive with just one pedal, and there's no smelly flammable refuelling involved. People tend to be curious when they find out I have an electric car and want to know more especially as there are a lot of myths like low acceleration. However, charging infrastructure could definitely be improved in the UK.
The UK government's policy isn't really a policy. Saying you'll ban internal combustion engine car sales in 23 years from now doesn't make sense, as the market will get there long before that. Norway plan the same by 2025 so why can't we?
Øivind Johansen, 52, craftsman, Vestfold, Norway: 'Electricity is much cheaper'
Drives a Nissan Leaf and e-NV200
It's beautiful to drive. And with just forward and reverse they are not difficult to drive. There is no clutch or shifting of gears. They are peaceful, without any noise and there are no stinking fuels. I just plug it in at home. It's pre-warmed in the winter and pre-cooled in the summer which is wonderful when going to work. They're fun. I'll never go back to fossil fuel cars.
Where I live in Norway, most people have their own houses which makes it easy to install chargers outside. There are normally charging stations every 50km with most places having at least two. What it comes down to though is money. It's expensive to pay for diesel and electricity is much cheaper. I can drive 10km for around 10p. They're also so much cheaper, both in parts and repair. We save around £6,000-7,000 a year by not using a diesel car.
I think the UK government's plan is too little too late. It's crazy when you think about how much oil is burnt every day by internal combustion engine cars. I'm just glad to be able to do my bit for the environment.
Atlant Schmidt, 61, software architect, Nashua, New Hampshire, US: 'Like driving any compact car except that it's usually quieter'
Drives a Chevy Volt 
Driving the Volt is like driving any compact car except that it's usually quieter. The car has good acceleration and terrific handling. Regenerative braking means you hardly ever need to use the foot brake except to hold the car at a complete stop. When the battery is exhausted, it seamlessly transitions to gasoline (petrol) power. This allows for the occasional unplanned evening side-trip that would otherwise exceed the vehicle's battery range. That said, the next car I buy will definitely be exclusively electric.
I received a one-off federal tax credit of $7,500 to buy the car which was helpful but I don't think America will be very proactive in promoting electric cars in the future. At the moment, the relative costs of electricity and gasoline where I live mean that it's actually cheaper to run the Volt 100% on gasoline than on electricity. This comparison gets much worse in the winter owing to the car being electrically heated. But because of the environmental benefits of running on electricity, I don't do that; I still run on electricity as much as I can.
Some people might think an electric might not be good for a long range journey, however I think the ones with larger batteries could manage it. Also, you can still rent an internal combustion engine car when necessary. Perhaps as a result of having bought one, there are now several Chevy Volts at work – which has made it much harder to access the at-work charging station!
Rob Allpress, 30, car parts manager, Taunton: 'I've always been an early technological adapter'
Drives a Nissan Leaf
The government cut 75% off the cost of my home charger, which meant I only had to pay around £100. It's great as it means I can charge the car at home and use it for future vehicles too. Overall it only costs just over 1p a mile to run, which is much cheaper than petrol.
The conversation I've had about the electric cars this morning has been phenomenal. With the government's plans more people will realise how viable they are. I feel 2040 is too far into the future though. I willing to bet that the last petrol car will be sold around 2035.My wife and I fight over who gets to take it to work. It's very fast off the line too,but we don't do too many long journeys as the charging infrastructure in Somerset is limited. Some of my colleagues in the car industry find it a bit strange but I've always been an early technological adapter.
Cameron Caldwell, 22, graduate, Aberdeen: 'You don't have to worry about stopping at petrol stations'
Drives a Renault Zoe
I rent my electric car through a car club as my university offers free access. There's a one-off joining fee and a minimum spend of £5 each month but it's still cheaper than other alternatives. You don't have to worry about stopping at petrol stations and there's no bad feeling about adding to localised pollution. The only problems I have had at charging points is when fossil fuel car drivers have parked in EV spaces which is pretty frustrating.
My friends think it's a bit exciting taking part in what is likely to be the future of motor travel. My family are kind of the same about it finding it cool that I care enough about the environment to drive an EV. My dad was especially surprised with the acceleration of the Zoe as it isn't nearly as sporty as a Tesla. I think the government's plan is a great initiative but more could be done to subsidise electric vehicle purchase and improve car testing schemes. I feel that once loads of people get to try them they will change their mind.
Driving the car is basically like driving a big go-kart with instant acceleration and an automatic gearbox. I honestly cannot recommend it enough.
["Source-theguardian"]