As I got into my car to drive south to Italy to test the new Ferrari GTC4Lusso, I had just one thought on my mind. The name Ferrari will give anyone goosebumps, and getting to drive one will give you even more! For all the Ferraris I have been lucky enough to drive, trust me it never gets old! Sure you can argue with me about several others, but the allure and excitement around the Prancing Horse is like no other. And that is why when this niche sports car specialist does a new model the whole world sits up and takes notice. The GTC4Lusso is the latest model from the Maranello stable, and replaces the FF in the Ferrari lineup. In many ways this car is the model that picks up from where the predecessor left off, rather than driving in a whole new direction.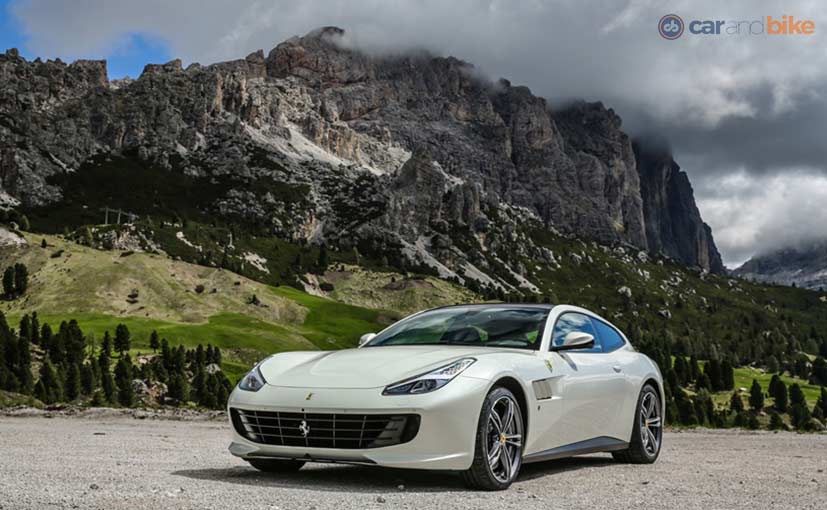 So what should I tell you first up? That the GTC4Lusso is a touch faster on the track than the FF? Or that its engine produces more power? Well guess what – as staple as that kind of information is for a new Ferrari, neither of those topics is what the company wants to really position as the headline for the new car. The GTC4Lusso is instead trying to become a true GT car (Gran Turismo) that the FF somehow never really was. The nameplate is typical of Ferrari, to derive a name from a new car's different attributes.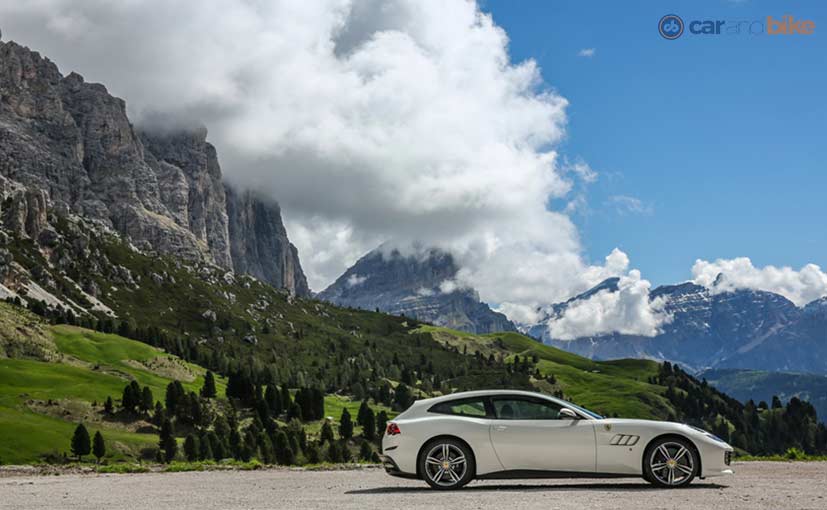 Ferrari GTC4Lusso Side
You can say that Ferrari Four or FF did the same, but with its replacement the attempt is truer to tradition. GTC is Gran Turismo Coupe – which tells you the car's shape and raison d'etre – and draws on past Ferraris like the 330 GTC/GT and the 250 GT Berlinetta. 4 stands for the FF's 4 and adds a new one – i.e. it is four-wheel drive, a four-seater and also has 4-wheel steering – but no it still isn't a 4 door! And Lusso? Italian for Luxury – because the idea was to make the new model way more plush and comfortable than the FF was. And let's face it – Italian sounds so much better than plain old English to us doesn't it? And no I am not trying to be facetious!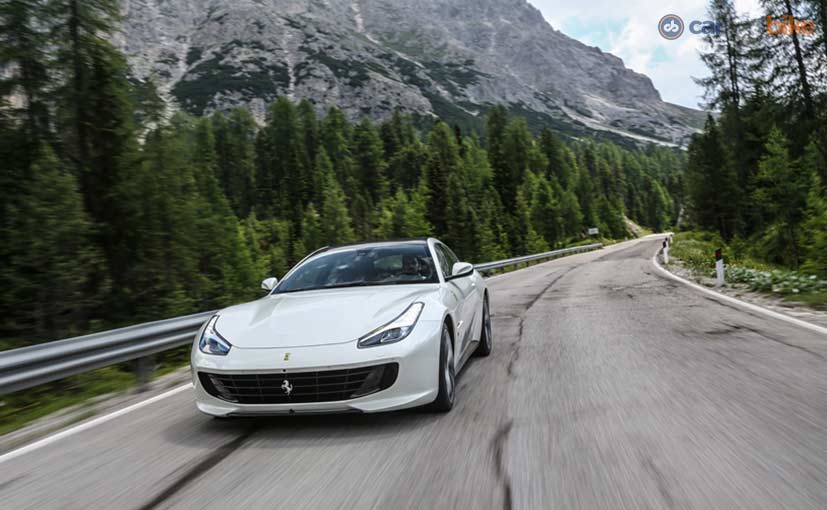 The GTC4Lusso is a car meant to be enjoyed over long distances, through twisty mountain roads and deserted highways, without tiring the driver or passengers. And so let me tell you that claim is mostly true. The car doesn't make you work hard, yet gives you blistering performance. It doesn't take away any of the bits you expect a Ferrari to have – the manettino, F1-style steering wheel, etc. – and yet gives you handcrafted leather and more legroom at the rear. And I have to say the spot picked by Ferrari to amply display all of that was pretty well chosen to show off the new car's new attributes. I drove in to Italy's north-eastern region of Sudtirol that borders the Tyrol regions in Austria to the north and east. As I drove south to get to the drive event, I started to see how the landscape was changing – and on entering the Dolomites (craggy, rocky section of the Italian Alps) the setting became just about perfect.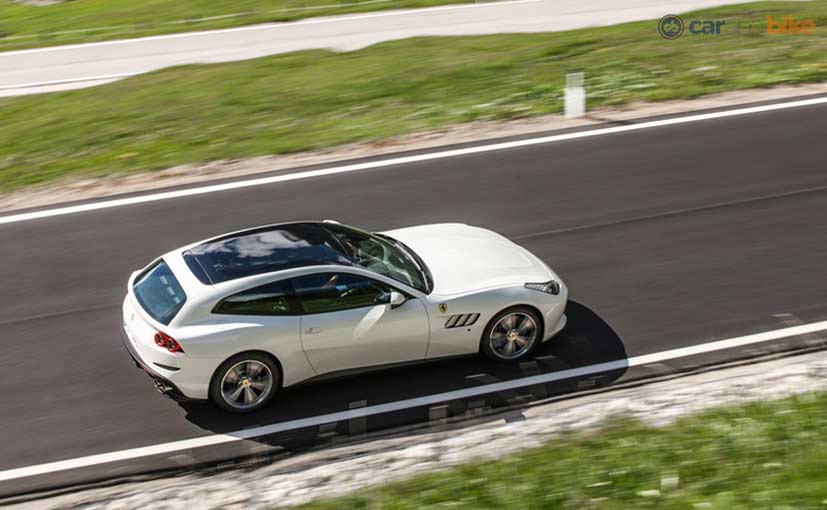 We were in rustic Riscone, close to the bigger town of Brunico. As I headed to a briefing about the GTC4Lusso on the eve of the drive, I continued to think it was rather uncharacteristic of Ferrari not to have a drive in and around Maranello. A quick drive to Brunico, and we were taken on a gondola up the steep slope of Mt Kronplatz that sits 2275 metres tall. On the top you get spectacular views, the celebrated Messner Mountain Museum designed by Zaha Hadid – and I was surprised to find a GTC4Lusso there too. It then dawned on me that this was the same mountain top that Ferrari had presented its then new FF 6 years ago – although that was in the winter and amidst much snow. We were explained then how Ferrari had wanted to derive more of that GT character into the new model, while still maintaining the mechanical prowess of the FF. It was also made amply clear that while the GTC4Lusso is also a shooting brake (read station wagon) body style and looked kind of like the FF – it is still a brand new design. In fact except for the windscreen – there is no carry-over from the FF. The car gets more cabin space, more legroom for rear passengers, appears shorter and wider (especially at the rear) – and yet maintains the same dimensions as the FF.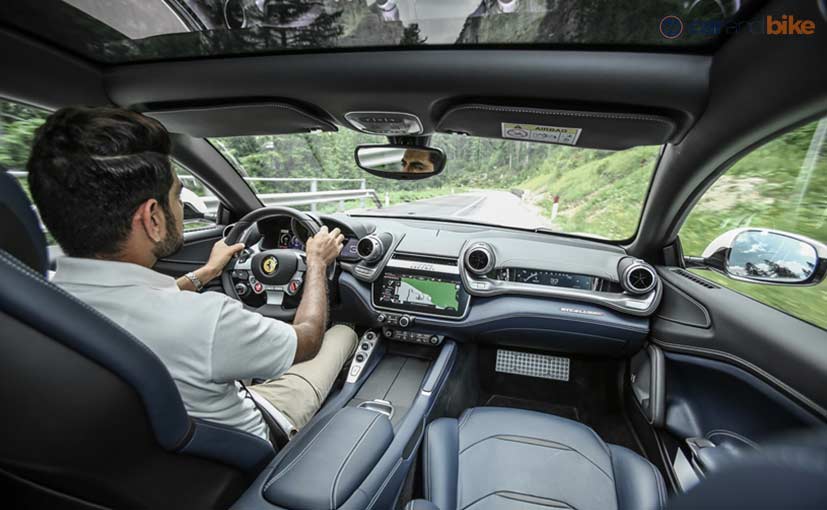 The decision to stay with a naturally-aspirated V12 was more a function of responding to feedback from FF customers than a business led one says Ferrari. I suspect economics may have played a role too, but I was not complaining. The sound of 12 cylinders of raw, pulsating power – oh wait a minute – they say they've made it quieter! Did I hear that right? It seems FF customers also felt the car was too noisy to drop the kids off at school or pull into the supermarket, or indeed get back to their neighbourhood after a late night out. Really? Isn't that part of the reason you buy a Ferrari, I asked? Well you see when you want it you can still get the symphonic twelve to light up, but not so at lower speeds or at start up. They have achieved that by adding a new 6-in-1 exhaust manifold with equal length pipes, which gives you this oh-so-sweet sound – only at higher RPMs. But lower down, a software tweak makes a new electronic bypass valve keep the car more silent. The other big change is of course that four-wheel steering – something borrowed from last year's F12tdf.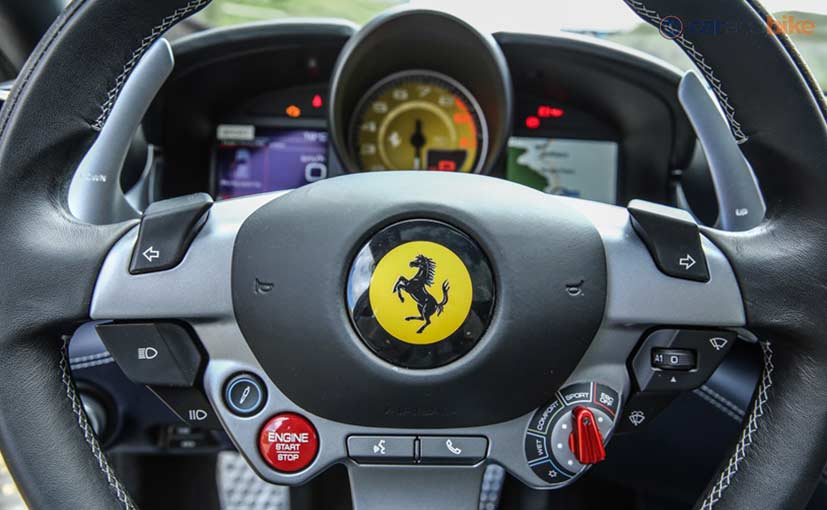 When I got to the central piazza in Brunico the next morning, the cars were all lined up and ready to go. The options before us were a deep red, dark blue, grey and metallic white. It was rather unlike me – but I side-stepped the blue and went for the white car. I have to say the GTC4Lusso looks really regal and very sexy in white. The thing is you do know there's something different about the car when you start to drive it, and it immediately starts to give you a better sense of confidence as you drive it more – almost urging you to push it harder. It also gives you the sense that you are driving a smaller, tauter car even though in reality the GTC4Lusso is almost as long as an S-Class! All of this is mainly thanks to the four-wheel steering. Depending on the driving situation, the rear wheels will either turn with the front ones or away from them – thus countering both oversteer and understeer. This gives you an impression of almost a shortened wheelbase that results in really precise and accurate handling and shorter steering. The GTC4Lusso corners beautifully, and on these mountain roads I really could have more fun with this large car than I had expected to – especially on the many tight hairpin bends I encountered.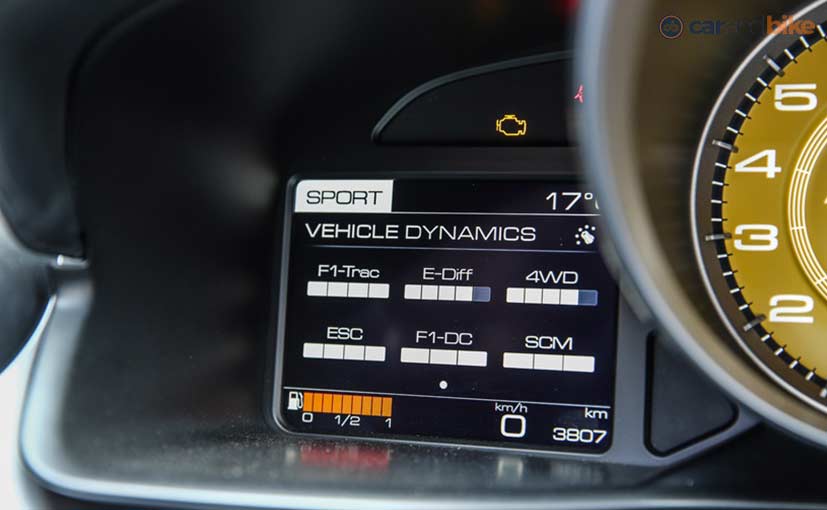 Now believe it or not this car has a 'bumpy road mode'! Now isn't that rather apt for our market? Working in conjunction with the 4RM-S (Ferrari's patented four-wheel drive, four-wheel steering system), the SSC4 (side slip control system in its 4th generation) slackens off the dampers. This in turn controls the SCM-e magnaride damper controls and gives you a supple and smooth ride even on – you guessed it – bumpy roads! It doesn't just give you ride comfort but also helps the car hold its line. Ride quality on the GTC4Lusso is exceptional when compared to previous GTs and especially the FF. As for the gearbox while it is fun and fairly precise in auto mode, there is immense satisfaction in using the paddle shifters which give you instant response, shattering performance and therefore a lot more driving pleasure! Driving up and down the curvy and narrow mountain roads gave me a sense of just how quick and energetic this car is. The steering is also extremely fast and that just enhances its sporty quotient.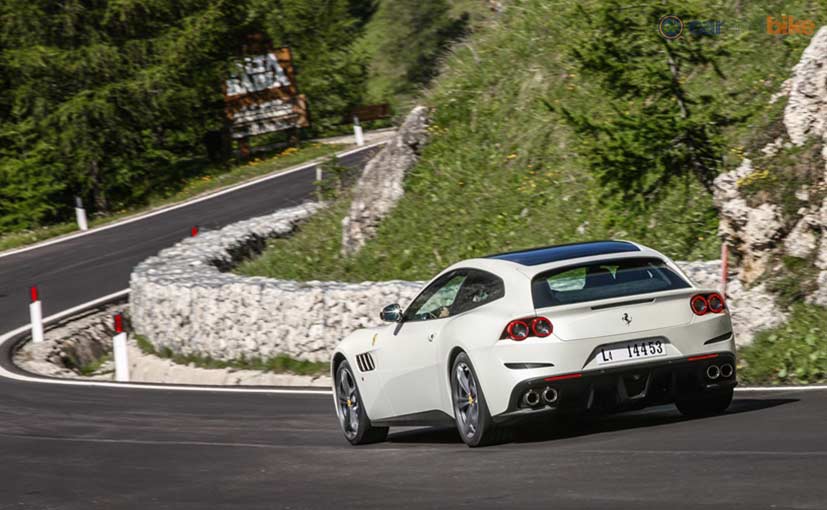 All through the drive briefing and conversations with Ferrari engineers and designers, there seemed to be an overt attempt to impress upon us just how luxurious and comfortable the car now is for all occupants. In fact there was a lot of stress on the dual-cockpit design (which I will come to in a moment) and also the ride comfort at the rear. So I figured I will take the advice from the Ferrari press team, and will get somebody else to drive so I could jump in the back seat. So I really considered that, and after much thought decided to ask the locals with us for the correct Italian word to express my thoughts on this matter. Scordatvelo! And yes that translates to – Forget About It! I decided I was not getting off the driver's seat until they had to pry me off!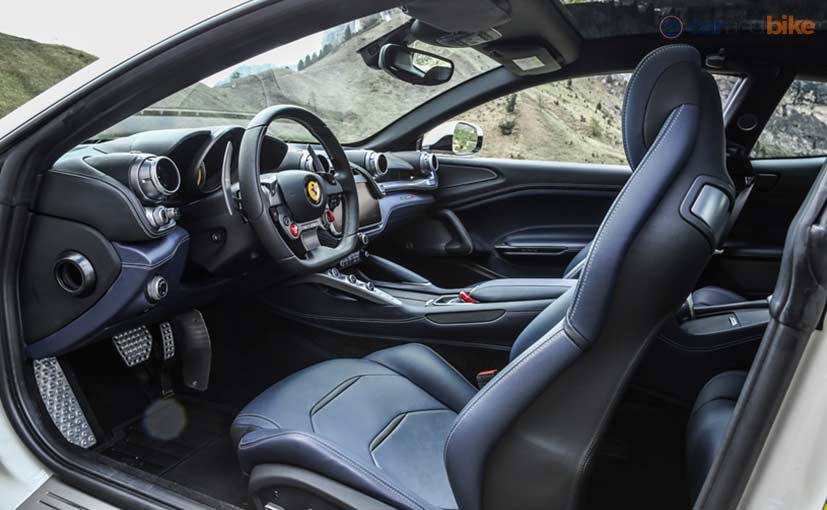 Well I will pause enough to tell you about that much talked off new cabin. You see besides being luxurious with better materials (leather everywhere in every conceivable colour you can possibly want), enhanced comfort and space, the GTC4Lusso has the first-ever dual cockpit. This means that the front passenger also gets the feeling of being more involved in the drive. Or so Ferrari would have us believe! So as a 'co-pilot' if you will, you get your own controls and dynamic display. And this is something very different and new alright. On the dash in front of the co-passenger is a slim LCD touchscreen that lets you manipulate navigation and music, and view the car's real-time performance. It also allows you to see what mode the manettino is set to.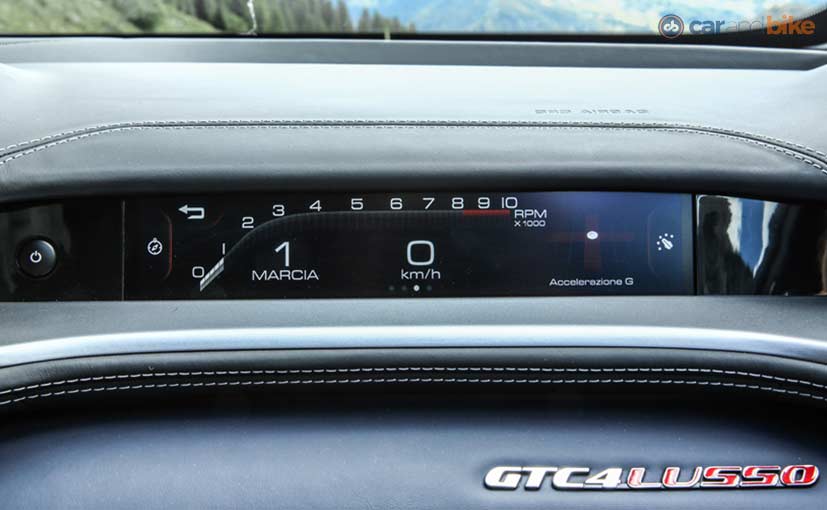 Ferrari GTC4Lusso Dual Cockpit Design
A gimmick? Perhaps – but still it works! The cabin layout does still remain very driver oriented though, but the effort has been for the car to be overall more sensitive towards passengers too. And yes it gets more storage bins and cup holders than the FF had! The 10.25 inch touchscreen at the centre of the dash is quite advanced and also includes Apple CarPlay. The GTC4Lusso has a 450 litre boot which can be expanded to an unbelievable 800 litres with the rear seats folded down. So who cares if Ferrari says it will never make an SUV right? This one has 4X4 and an 800 litre boot! The GTC4Lusso will be brought to India, but it will only arrive next year and is expected to be priced at well over 4.5 crore This price though is not confirmed and will be locked in closer to the 2017 launch. Now if you will excuse me I plan to spend more time driving this beast before I really must give it back to the Ferrari engineers.

["source-ndtv"]