Over twelve months on, DriveClub is quite a different beast, one that delivers far more of its original promise, with a functioning online set-up, mid-race challenges from other players and even more content. Surprise released during Paris Games Week,DriveClub Bikes now adds motorbikes into the mix, replete with a new handling model to master. And by god, is it fun.Once familiar tracks require different approaches. You'll need to think about your rider's weight on the bike, take tighter lines into corners and brake in the perfect sweet spot to maximise your exit speed, with no chance to turn an overcooked turn into a drift – bikes will send you sailing in the barriers. DriveClub had you deal with corners as you got to them, but here you need to think about track positioning well in advance, making sure you clip the apex each time.
Don't think this is any more realistic than DriveClub, though. You're glued to the bike, with wipe outs instead resetting you to the track. And while it might not be possible to drift on a bike, the base game's skill trials instead have you pulling wheelies and stoppies (think the former on the front wheel). They work really well, and pulling off a decent length trick is surprisingly difficult, balancing throttle with gentle pulling of the left stick.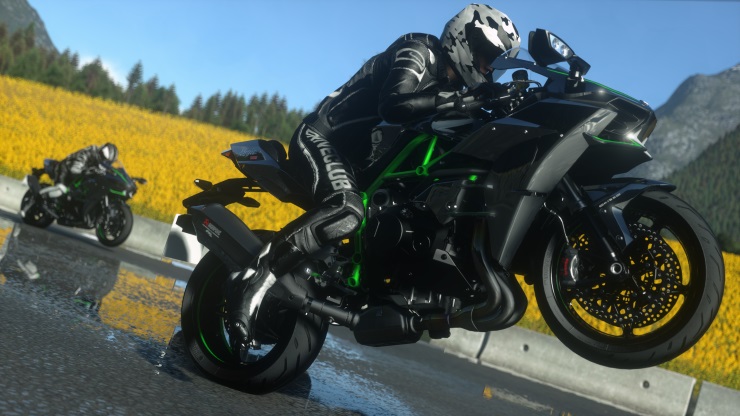 Races, meanwhile, are as fun as ever, with gentle rubber-banding keeping them tight but still allowing skill to shine through. Again the difference bikes make is profound, with a high demand for slipstreaming combining with more room to move about of the track subtly altering how DriveClub plays.
There's a full new Tour mode made up of races, trials and tournaments to make your way through, with each section capped by a tournament in a certain country. It's a gentle learning curve for how bikes handle, and allows you to quickly unlock the 12 new rides on offer.
The original's mid-race challenges are still in place, pushing you to get a high speed or nail a line through a corner for extra points. They act as a nice bit of variation, even if they can get a little distracting during tenser races. A full online presence is here too: the original's list of lobbies with the soonest starting on the left works pretty well at getting you into a game, even if it isn't always a full one.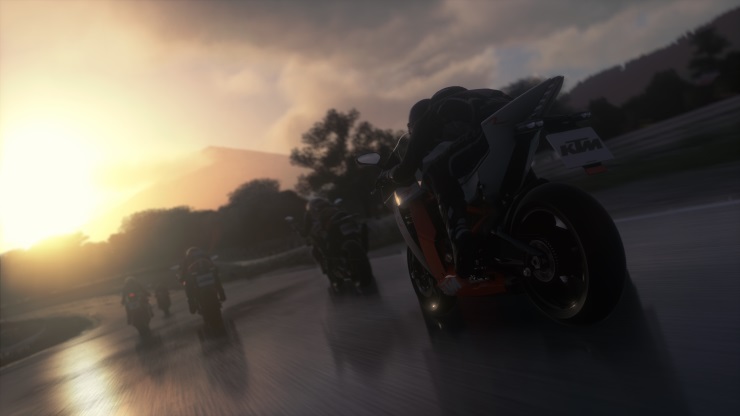 Clubs make a return too, complete with any paint schemes they have from the base game (as do your own designs). Your personal rank also carries over, with the points that go with it, so racing bikes can get you cars and vice-versa if you have the original.
It goes without saying that Bikes looks glorious. DriveClub is still the best looking racer out there, and as much attention as been lavished on the bikes and their riders. Bright and colourful, even in the rain it looks amazing. Third person view is how you'll want to play, but an in-helmet cam has been built in, too. Tight and claustrophobic, it makes Bikes bloody difficult, although it is interesting to try it out.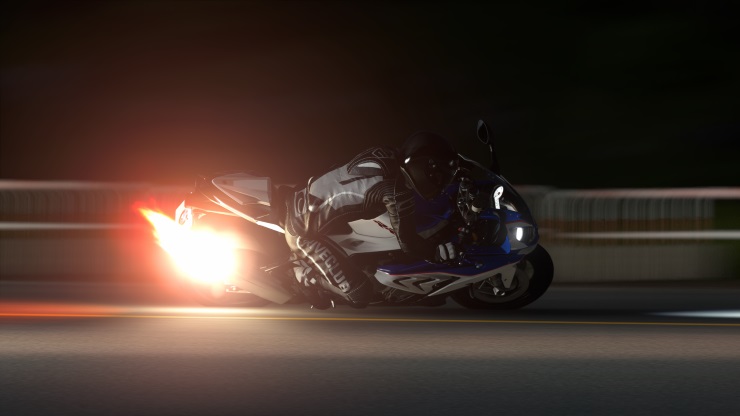 Only the comparatively sparse offering of bikes takes away from a great package – 12 isn't a patch on the amount of Cars available on release. The flip side is that, to neutrals, the bikes largely look the same. Everybody can see the difference between a Ferrari F12 and a Golf, but can you tell the difference between a Ducati 1098 R and a Ducati Panigale 1299 S?
That shouldn't put you off DriveClub Bikes however. Lovers of DriveClub will find it an excellent new challenge in a game they're very familiar with, demanding that they relearn how to play. New players, meanwhile, will find the delights of DriveClub's different social features and looks integrated into a great bike racer.
["source-godisageek"]