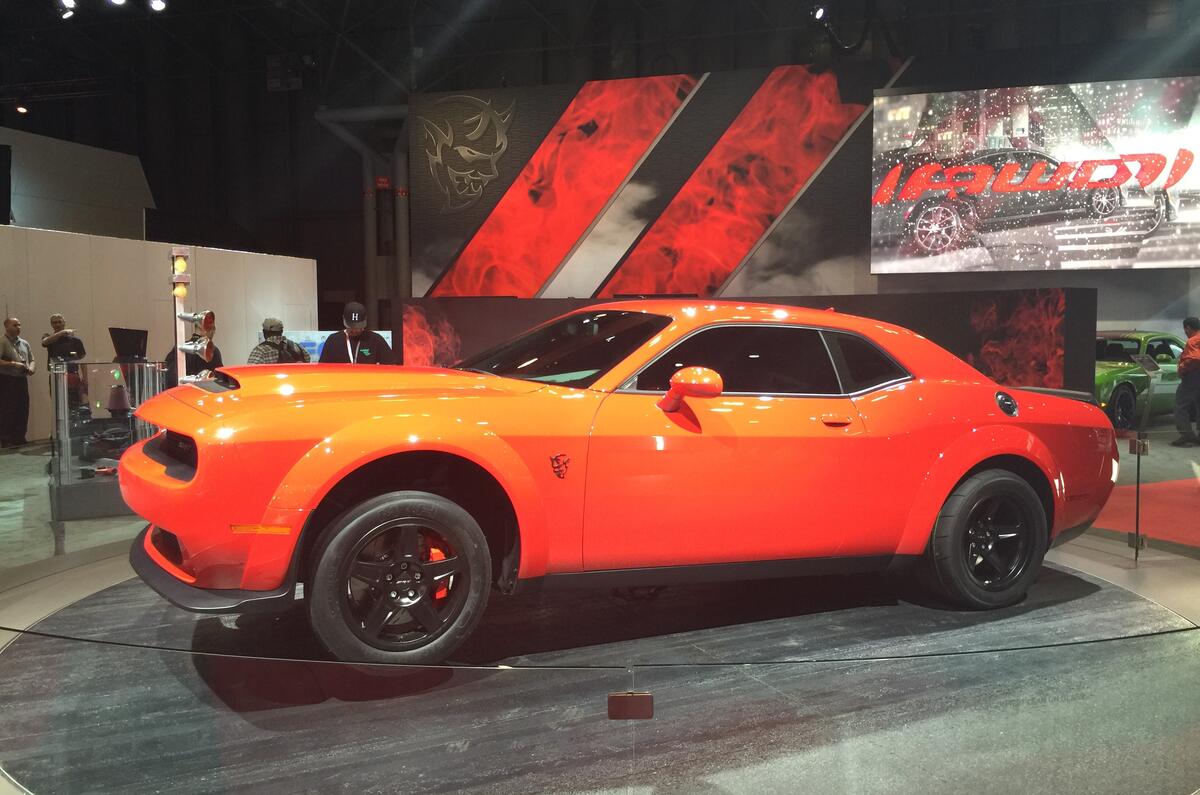 The world's fastest production car right?
That's what the paperwork says, and having experienced what 840bhp does on a drag strip I have no cause to doubt it. 0-60mph in 2.3secs is the claim, with the quarter mile dealt with in 9.65secs at 140.09mph. Now, I'll come on to discuss this further a bit later, because obviously not everyone sets their acceleration times on a super sticky drag strip wearing drag radial tyres, but then not everyone can: differentials would suffer, transmissions would die. But that's the whole point of the Demon. The drag strip is what it was designed for.
What, simple as that?
Absolutely. Cut back to its most basic, the Demon is a Challenger Hellcat prepped for the strip. It has no greater ambition than to race in a straight line, because in its world there can be no greater ambition than that.
I talk to Tim Kuniskis, whose job title (head of passenger car brands, FCA North America) does nothing to convey his passion for his most extreme product. "Our goal from day one was, in street trim with pump gas, to do 9s and pull the wheels". You get that right? The Demon's key development targets were to pull a wheelie and smash the ¼ mile in under ten secs. How brilliantly simple and honest is that?
Pure genius. So what's been done to a Hellcat to make it into a Demon?
Let's start with the engine, which has received 25 major component changes. The supercharger capacity is up from 2.4 to 2.7 litres, boost pressure is up 20 per cent, there are new pistons, conrods and a crankshaft which has allowed the rev limit to edge up from 6,200rpm to 6,500rpm, the valvetrain and fuel injection have been changed, and it processes more air and fuel than any other production car.
This is my favourite stat about the 6.2-litre supercharged Hemi motor: it has the highest fuel flow rate of any production car. Now, name me a European marque that would boast about its car being able to inject fuel into the cylinders at a rate not far off your bathroom tap. None would.
The end result of the Demon having the largest air induction volume of any production car, the largest gasoline supercharger of any production car, the largest functional hood scoop and so on is 840bhp at 6,300rpm and 770lb ft at 4,500rpm.
Wow, what's been done to the chassis to cope with all that?
Well, let's work our way back along the drivetrain first. Although it uses the same eight-speed auto 'box, the torque converter has been modified, the prop shaft is 20 per cent thicker, the rear diff has 30 per cent more torque capacity, the gear sets are new and the half shafts are larger diameter, too.
Elsewhere, the Bilstein adaptive dampers have been retuned so that in Drag mode they deliver as much rearward weight transfer as possible, the springs are softer, the tracks are wider (see the arch extensions) and there's been a concerted effort to lose weight from the front end.
How much lighter is it than a Hellcat Widebody?
Exactly 101kg says Dodge. Removing the rear seats saved 25kg, whipping out 16 speakers saved 11kg, with insulation, smaller brakes, lightweight wheels, parking sensors and trim accounting for much of the rest. It doesn't even come with a passenger seat as standard (that saves 26kg).
Wait, the Demon is a single seater then?
It is, although you can option a lot of this back in. The passenger seat costs one dollar.
Bargain. What else can you spend your money on?
Well the other single dollar that all 3,300 owners are bound to spend buys you 'the crate'. This really is a big wooden box that contains skinny front caster wheels, a new engine controller to make it run on race fuel, a special VIN plate for the dash and all the tools you need. Without it you've still got 808bhp, 717lb ft and the ability, given a perfect start, to pull the giant 315/40 R18 front tyres off the deck, but only with the pack can you use 100 Octane gas and hope to match the near metre-long wheelie that the Guinness Book of World Records verified.
Any other tricks?
There's too much to talk about here. Many of Dodge's engineers that worked on this project are drag racing nuts, so they included many drag features. So there's line lock (although the Ford Mustang has that), the air con can be diverted to help cool intake air, the standard tyres are bespoke Nitto NT05R drag tyres (they come with a warning about driving in the cold and wet) and it has a transmission brake.
So, it's a real drag racing weapon, then?
Absolutely. Inside it doesn't feel too different to a Hellcat – the seats are big and plush for instance, but press the SRT button and the screen brings up a host of new selectable settings. This is where you can change the engine mode to run on 100 octane fuel, engage line lock, set the rpm for launch control, alter the suspension settings and use the trans brake.
This locks up the transmission under load, so that when you release it, you dump torque on the wheels instantly. Neatly, it's electronically controlled, so you pull both paddles to engage then release one, let your foot off the brake, then release the other to launch. Your right foot controls the revs.
Come on then, what's it like?
Massive, massive fun. I mean, come on, what did you expect? It's an 840bhp supercharged V8 that squeals and bellows and snorts, hooked up to a super-sticky set of rear tyres, and a pair of comically weeny fronts. I have never felt anything that goes off the line remotely like the Demon. A Tesla is fairly violent, likewise a 911 Turbo S, but the Demon is apocalyptic.
On the drag strip it explodes off the line with instantaneous violence. The bonnet rears up, I'm shoved back and gasp because that's my natural response to being punched. What's the difference? My chest has compressed, the organs have shifted and my head is reeling. It's nothing less than a blow to the guts. What happened to wheelspin? Because there wasn't any when there should have been masses. Surely what I've just felt isn't a result of wheels turning, but a catapult releasing?
Traction is the Demon's secret. It does 0-30mph in 1.0secs. Superfast 4WD stuff does it about 50 per cent slower than that – about 1.5secs. Dodge claims it pulls 1.8g off the line. That's plain nuts.
Does it sustain that acceleration?
On the whole, yes. At least for the ¼ mile, but it needs the drag strip to perform its best. Once up and running a McLaren 720S is faster, for instance. But that shouldn't detract from the Demon's ability – this is a drag car and given the enthusiasm for drag racing and tuning in America I bet most of them will be modified. A smaller pulley on the supercharger should yield another 150bhp easy, Kuniskis reckons.
But the point is that Dodge warrants the Demon as a drag racer. It's covered for it and designed and engineered to do it. During the development process one car did 5,500 drag starts without a single component being changed (apart, one would assume, from the tyres). A Nissan GT-R manages about three before the diffs call it quits and demand a rest…
True. So how does it cope away from the strip?
Now here's the weird thing. Before I drove it on the road, two things concerned me – the tyres and the power. But those fat Nitto drag radials (315/40 R18s both front and rear) actually grip really well, even on damp roads (I'd park it at the first sign of standing water, mind you), and the engine is a pussycat. Dodge has done a brilliant job with the throttle control, so you can surge between traffic lights with no concern, metering out the power very accurately.
The gearbox, which does kick under full load, is also smooth and benign on road. And it rides well – this was probably the single most surprising thing about the Demon. By switching the Hellcat's 20-inch tyres for 18s with taller sidewalls (drag radials are designed to flex and runkle the sidewalls, so you get a spring from them when they start rotating), the ride quality has improved.
Sure it rolls around corners in Street mode, but switch things to Sport and it actually feels reasonably sporty. Not in a European way, but by muscle car standards it's well enough controlled that you can hustle it about with confidence. Having the adaptive suspension means Dodge can mess around with the set-up: soft for the street and trick for the strip.
What do you mean?
Well, for drag racing, you want the rear firm to cope with the weight transfer, and the front firm in compression (to help lift the wheels off the deck), but soft in rebound (for when it comes back down). If you back out of a run, the rebound firms up instantly to give you more control. Clever stuff.
It's all about weight transfer, which Dodge claims improves tyre grip by 11 per cent, and there's a lot of weight to transfer when you learn the Demon has a 58:42 distribution (that's 1,125kg pressing down on the front wheels normally).
Enough of that, did you pull a wheelie?
Not as far as I'm aware. Turns out that launching a car at a drag strip isn't straightforward – it takes time to dial yourself into the technique, work out the perfect revs, the best way to feed the throttle in. I've always thought drag racing is basic, but when you're searching for tenths I was surprised how much there is to master and how technical it gets.
Besides, it's telling that Dodge set their time last November at the Gainesville drag strip in Florida, practically at sea level, where the air was cool and dense. At the Lucas Oil Raceway near Indianapolis we were at altitude and it was 33 degrees centigrade ambient. That's my excuse for posting a best of 10.6secs at 133mph, anyway.
The actual times were set by top line drag racer Leah Pritchett, with Dodge's chief test driver, Jim Wilder posting a best just a hundredth or two slower. Personally I think his best time of 9.666 seconds suits a car called the Demon better.
Where can I buy one?
Only in America. Dodge is building 3,300 in total, priced at $84,995 each. In order to be eligible to sell them, a Dodge dealer has to have sold a Hellcat within the last 12 months. Kuniskis reckons about 1,400 of Dodge's 2,450 dealers nationwide have got one or more to sell.
Within ten days of it going on sale, 70 per cent were accounted for, with Dodge doing something quite crafty to try and deter speculators. If you pay sticker price for your Demon, your car gets built first, if you pay over, your car gets put to the back of the line. Tricky to police, but Dodge says they've put things in place to keep an eye on people…
So what's your final verdict?
It's a mad car, one that it's a struggle to get your head around from a European perspective because drag racing isn't so culturally entrenched over here. But the car itself strikes a very happy balance between street and strip. It's a perfectly manageable, rumbling, barking 'everyday' muscle car, but stick the skinnys on it, slosh some race fuel in and you can go and dip into the 9s. And then take it from there…
Specs
Drivetrain: 6,166cc supercharged V8, 8spd auto, RWD,
Power: 840bhp @ 6300rpm
Torque: 770lb ft @ 4500rpm,
MPG: NA
CO2: NA
Performance: 0-60mph in 2.3secs, ***mph,
Weight: 1,939kg
Price: $84,995
["Source-topgear"]