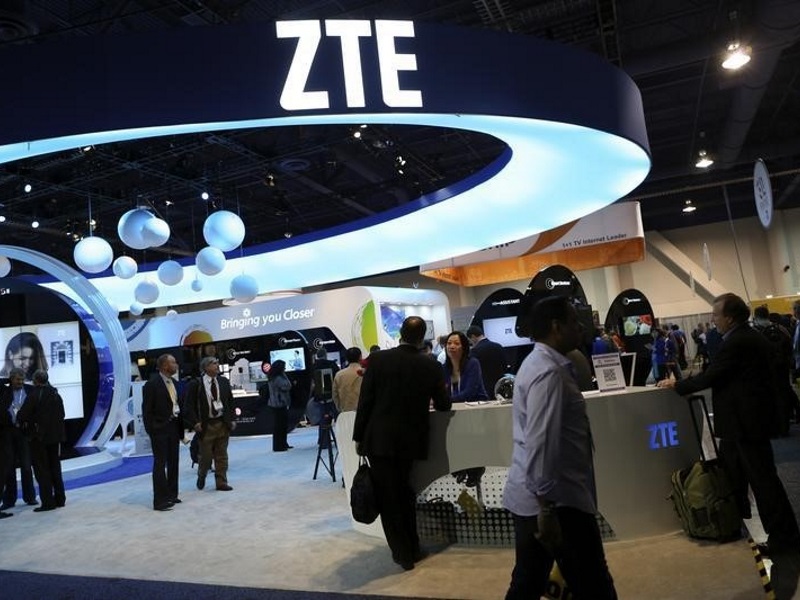 China's ZTE Corp will appeal tough US export restrictions imposed last week, according to a person familiar with the matter, after the telecom equipment maker's costly lobbying effort failed to allay concerns about its business.
The US Commerce Department imposed restrictions on US suppliers providing crucial components to ZTE for alleged Iran sanctions violations, a move likely to disrupt its global supply chain.
"The US Department of Commerce and ZTE Corp are in ongoing discussions," a senior Commerce Department official told Reuters. "These discussions have been constructive, and we will continue to seek a resolution."
How long the appeals process might take remains unclear. It usually takes a year or more for export curbs to be removed for a company, but Washington can act more quickly.
ZTE, also a top smartphone maker, declined to comment on its appeal plans or about its lobbying efforts.
In statements following the imposition of the restrictions, ZTE said it was "actively facilitating communications with the US governmental department to search for a solution."
Lobby spending
Since coming under fire in 2012 for alleged deals with sanctions-hit Iran and possible links to the Chinese government and military, ZTE has ramped up its spending on Washington lobbyists.
It spent $5.1 million (roughly Rs. 34 crores) in the last four years, up from $212,000 in 2011, as it sought to assuage national security concerns, according to publicly available lobbying records maintained by Congress.
That was around $1 million (roughly Rs. 6 crores) more than what Huawei Technologies, a larger Chinese telecom equipment company also under scrutiny in Washington over national security issues, spent over the same period.
ZTE lobbyists contacted lawmakers in both houses of Congress, the Department of Homeland Security, the Department of Commerce, the State Department and the National Security Agency to discuss matters such as cyber security, supply chains and trade relations, according to the lobby documents.
ZTE used at least five lobbying firms, and former US officials such as ex-Nebraska congressman Jon Lynn Christensen.
Acting for ZTE, Christensen met with US Department of Treasury, Department of Commerce and lawmakers to provide "education regarding supply-chain security" and "cyber security issues," the lobby disclosure documents show.
When contacted by Reuters, Christensen said the lobbying was not directly related to the investigations.
"My work was educating members of congress on a smartphone manufacturer and the opportunities (ZTE) provided for a very affordable phone," Christensen said.
In 2013, the telecoms gear maker hired lobbyists from the Podesta Group to encourage the Department of Defense and the State Department to maintain "open and transparent markets in US-China trade relations," the documents show.
ZTE spent $1.44 million with Podesta, an influential firm in Washington that also helps Chinese and other foreign companies navigate mergers with challenging national security implications.
Tony Podesta, the firm's chairman, told Reuters his work for ZTE was not directly related to the investigations.
In an interview with Reuters in January, Lixin Cheng, the chairman and CEO of ZTE USA said the company had worked hard to help US officials and other stakeholders understand its "transparent structure and governance".
But such efforts failed to convince lawmakers.
Shortly before the House Intelligence Committee released its scathing report in 2012, executives from ZTE met with Representative C. A. Ruppersberger of Maryland, the top Democrat on the committee, in Hong Kong, the congressman said.
"I basically said 'you are a Communist Chinese company, the way I see it if your government tells you you have to do something – you have to do it,'" Ruppersberger told Reuters, referring to his concern that the company could assist China's government to hack into American networks.
"Now they have trade violations with Iran," he said. "There's an example of why I don't want to do business with China when it involves national security."
["source-ndtv"]