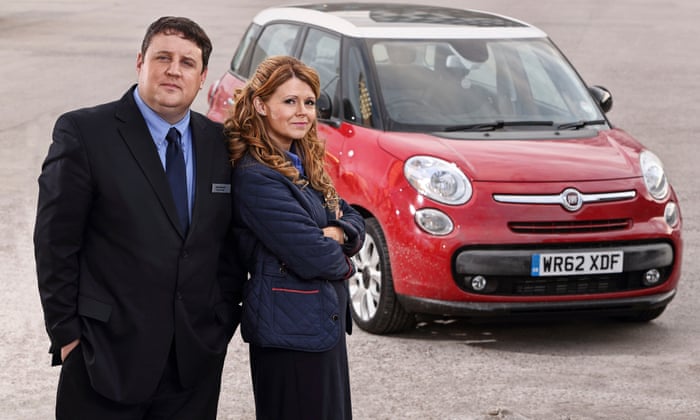 The episode jars with how the previous series ended. Photograph: Matt Squire/BBC/Goodnight Vienna Productions
Before Car Share Unscripted (BBC1), Peter Kay briefly appears on screen to introduce the off-the-cuff half-hour programme, describing it as "Sian and myself, doing some improvisation".
But the best bits of this comedy experiment starring Kay as John, and Sian Gibson as his work colleague Kayleigh, turn out to be the pre-planned elements, often leaving the ad-libbed material stalled at the traffic lights.
Kay's keen eye for a visual gag is in evidence from the start. A hopper bus displays its destination on the front as Vengabus, a huge poster advertises a beef hotdog (not actual size) and there is an already much-tweeted-about cameo from a defecating dog.
Providing this carefully crafted frame for what is essentially two performers trying out some riffs, prompted by the also-scripted chatter drifting out of the car radio struck an odd tone and felt a bit like cheating. It's like chopping and marinating your ingredients before going on Ready Steady Cook. But there are no rules – just creative endeavour for its own sake and I suppose Kay's earned that.
He and Gibson looked like they are having a great time and it's certainly infectious with the two spending much of the 30 minutes sharing a laugh or, more often, Gibson responding generously to Kay's quips. But the heart of the show, their tentative relationship, is missing until they seem to remember it right at the end and she asks him on a date, to his house for a take-away.
There are moments of ticklish amusement, like the two trying to remember the mnemonic for "Act F.A.S.T." – the advice on what to do if you think someone is having a stroke. This is prompted by Edwyn Collins' A Girl Like You on the radio. The springboards are the songs or occasional radio adverts. The prepared scaffolding, on which it all hangs, is too good for something extemporised and I can't help feeling that it would have been put to better use as the under-pinning of a proper episode.
The one moment of real discomfort comes when they're listening to the Your Song segment of a radio show and the DJ reads out a letter from a woman whose husband has come out as transsexual.
At the point where the woman's letter describes coming home to find her husband dressed in her clothes, John makes and then stifles a "puke" face which may be authentic to the character but doesn't sit well in such a good-natured show.
When we hear that the husband was subsequently beaten up in a hate crime because "he couldn't outrun them in his high heels" the laughter stops all together, because it's not 1986 and Kay should know better than to make a transsexual the cheap target of the joke.
"Just be nice," Kayleigh snaps at John as he flicks the Vs at the radio. "Do you ever stop?" she adds as he whinges about an early Christmas advert. We get that he's a misanthrope but just putting that joke into his mouth doesn't make it OK.
The rest of the laughs tend to come from their own enjoyment of the situation; her giggles as she tries to do a Heather Small impression or struggles to remember the words to Martika's Toy Soldiers after announcing she could sing it better.
As their journey nears its end, the conversation turns to sex, if not actual romance. Kayleigh remembers her first boyfriend at the age of 13. "He's in jail now – he stabbed someone in Tenerife," she says flatly. It feels like a line that would end up in the scripted version of the show. It's sometimes frustrating to see the work in progress, knowing, from the evidence of series past, what the finished thing actually could be given an edit and polish.
Then it's back to Kay recycling what sounds like a line from one of his stand-up routines: "Women need love, men need friction," he grins. As you'd expect for a partially improvised comedy, some of it lands and some of it doesn't, but why risk that when your hit rate is usually much higher?
There isn't any attempt to link up with the end of the last series and the dramatic conclusion that saw John and Kayleigh's friendship take a left turn into possible romance. The clutch is very much down, narratively in this episode as it awkwardly bridges the gap between that series and the final outing next week in which viewers wait to see if the two become a couple.
If the question is: what happens if we make it up as we go along? The answer has to be: it's not as good.
["Source-theguardian"]