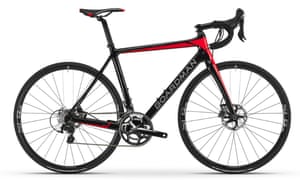 Last week Chris Boardman, the former pro cyclist, unveiled his new-look range. There is a refreshed logo and there was much talk of things like Aero Surface Trip technology and improved aerodynamics. But the real news is that, with Halfords backing his range, Chris has been able to give full vent to his passion for precision-engineered racing bicycles that can be afforded (just about) and ridden by us mere mortals.
Boardman bikes have long had a reputation for being great value – perhaps among the best that you could buy on the high street. This new generation lifts that bar still further. The team has also created a new slogan: "Out there with you" – and looking at the range you get a real sense that Boardman and his gang want you to get the most out of every ride.
There are new frames, at all prices, for everything from the track to trails. This SLR Endurance caught my eye. It's a road bike fitted with disc brakes, which normally only feature on mountain and cyclo-cross bikes. That means instant braking and sure-footed handling on a super-fleet frame – regardless of the time of year, the weather or the terrain. You really don't have any excuses. It's a brilliant ride.
["source-theguardian"]