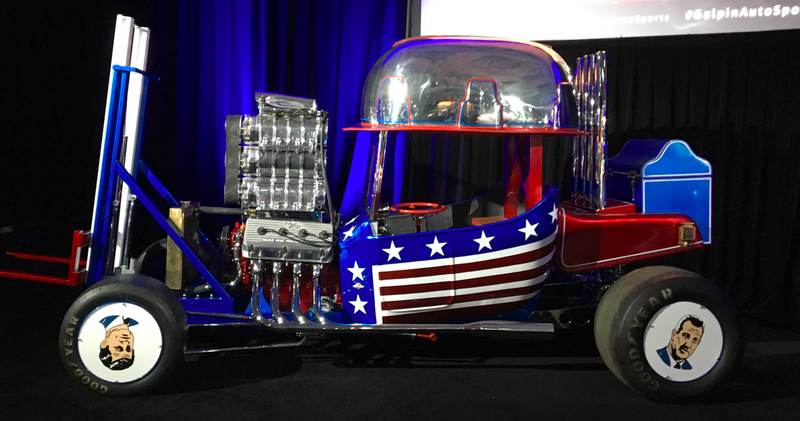 Most of what you see at car shows are new cars from major automakers, or concepts for cars so new they don't even exist yet. That's mostly because those new, available models are ones you can actually buy, for currency, which can then be exchanged by the carmaker for goods and/or services. It's a whole big thing, trust me. But there are a good number of cars and car-like things at the LA Auto Show that don't fit this mold, and I'm going to show you those now, so prepare yourself accordingly.
Honda really rose to the challenge of the Show Something Nobody's Ever Going To Want, Ever game, with this Minnie Mouse-themed pink, polka-dotted Honda Odyssey, complete with a giant bow and oversized novelty cartoon-rodent ears.
Bang-up job, Honda. You've really got your finger on the pulse of America with this one.
Ampere Motors wants to sell these little, fun-looking $9,900 electric three-wheeler sports cars, and they showed their prototype at the show. It's the sketchiest-looking car here, by far—lumpy fiberglass edges, paint drips, and a general pervasive half-assery to the whole construction.
These guys should have put this on a much higher platform or something. Something to keep people at least 20 feet away. Maybe a moat would have been in order.
Galpin Motors usually brings some good stuff to the LA Auto Show, and they didn't disappoint this time. My favorite thing they brought is this, the Hard Hat Hauler, a 1971 show-car/hot rod based on a bonkers 1969 model kit.
The whole concept of this thing is gleefully bonkers: it's a sort of American politics-themed forklift hot rod, with the wheel covers having drawings of Ronald Reagan, Ted Kennedy, Edmund Muskie, and Richard Nixon.
It's got a polished aluminum hard hat for a roof, and I really, really love the triple stack of superchargers—they're all fake, and there's just a humble little carburetor inside.
This thing is batshit. I love it.
Galpin also brought this fantastic Henry J drag car, with the wonderful name Henry Jaded.
This old Jaguar XK120 is a color that you can only describe as Metallic Space Barbie Skin. It's lovely.
Subaru has what may be the most adorable car at the show, this immaculate little Subaru 360. It's so perfect and tiny and friendly I just want to squeeze the crap out of it until the booth people drag me away, screaming.
You're gonna sell a million of these, GMC. Don't let anyone tell you otherwise. I can't wait to see rows of these things parked at Target.
In the rear trunk of the BMW i8, there's what may be the most incredibly misguided warning sticker. It's telling you not to put a suitcase on the upper part of the trunk there, which is all of an inch or so deep. So, if your travel packing consists of a small stack of tortillas or a thin magazine in a very very flat portfolio case, do not stick it here, okay?
The California Highway Patrol always shows up with some fun stuff to the show, like this lovely 1961 Dodge Polara CHP car. Man, that's a concave grille! Criminals, as you know, fear concavity, so these things were a big success.
There's a lovely Nissan Figaro in the basement!
Next to that Figaro is one of my favorite station wagons of all time, a Studebaker Wagonaire. Look at how that roof slides back in the rear, which, along with the lowered rear window, turns the wagon into a kind of delightful high-sided pickup or convertible wagon or whatever. It's wonderful.
I usually prefer these things very stock, but I don't mind the modern wheels or the vivid blue paint.
I'm even okay with the stuffed dog.
There's two Studebakers at the Los Angeles Auto Show! It feels like 1963 up in here! This is a lovely Avanti is absolutely worth your trekking down to the basement to ogle.
If two Studebakers aren't enough for you, there's two DeTomaso Panteras down here, too! One is this stunning and original yellow one, which should make you realize, in case you forgot, that, holy crap, the Pantera is an absolutely lovely car.
The other Pantera is much more modified, but I just want to show you its insane engine bay. I like the evil eyes on the butterfly valves on the intake there, especially.
The category of convertible four-row people-hauler isn't a crowded one, but even if it was I think this GMC would be a standout. It looks like it'd be really great for very very fast tours of cities that are too boring to really merit a long, slow tour.
This little Mazda Rotary-powered drag car is even smaller than the photo makes it appear, and it's pretty damn fun-looking. If it was an animal, it'd be a koala bear with a jetpack and a switchblade, coming right at you.
If your goal is to convince people, wordlessly, that sanity isn't something you've ever been remotely interested in, I think this very very modified Austin-Healey Sprite is the car you've been looking for. I imagine that your life expectancy drops by a solid decade the second you pick up the keys to this amazing thing.
A study in the extremes of vehicular ride heights.
The Rezvani Tank is here! Honestly, this thing is way goofier in person. It's huge and clunky and pretty much the automotive equivalent of a pantsless muscle-guy in an Ed Hardy shirt with his hair on fire, desperately yelling at you to "check this shit out, motherfuckers."
What a lovely Cadillac, right? Best Caddy in the show.
This lowrider Ford LTD should leave you LTDead because this paint is no freaking joke. I'm showing the trunk interior because, holy crap, look at that trunk interior.
Everyone likes Microbuses, right? Of course you do. This one is lovely. And green.
Let's keep up with more green, like this Audi 80. This is a pretty unusual car to see in this context, which makes it even more of a standout. These things are so crisp and sharp and clean, I feel like I just flossed by looking at it.
If you like lowered, vintage trucks, I hope you have your plotzing pants on, because you're gonna plotz. Vigorously.
Did you know Yamaha offers a service to use drones to dust crops? I had no idea. Probably because I don't grow that many crops anymore, not since the damn fusarium head blight took out my entire North field of sorghum.
Too bad no toy cars are for sale here.
Look at this thing. It's like a tetanus fetishist's dream. Especially, look at the shifter:
Daaaaamn.
Let's end our little tour with a big-ass old Bentley. Because that's a good way to end almost anything.
["Source-ndtv"]