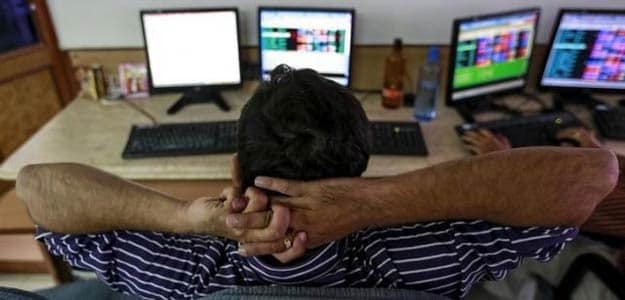 The 50-share blue-chip Nifty index closed at over 20-month low on Wednesday as investors dumped shares of state-run banks. The Nifty PSU Bank – the index of state-run banks – crashed 5.4 per cent today as compared to 1.1 per cent fall in the broader Nifty. The Sensex logged its third straight triple-digit loss and ended at 23,759.
Here are the latest developments: 
1) Traders say global slowdown and China worries have been a drag, but disappointing earnings especially from state-run banks have made things gloomy for domestic markets.
2) Indian Overseas Bank joined a string of other state-run banks that reported losses in Q3 on account of rising bad loans. IOB shares slumped as much as 12 per cent after the state-run lender posted a Rs 1,425 crore loss in the December quarter. The stock closed 6 per cent lower at Rs 23.45. (Read)
3) Lenders that had reported earnings yesterday continued to be hammered down. Punjab National Bank (PNB), which posted an operational loss because provisions for bad loans doubled in Q3, closed nearly 9 per cent lower today. The stock has shed 15 per cent in the previous two sessions. (Read)
4) The selloff was severe in smaller state-run lenders. Central Bank of India shares closed 12 per cent lower, Dena Bank shares ended with 8 per cent losses, while Allahabad Bank shares plunged nearly 10 today. All three banks had reported Q3 losses yesterday.
5) Big state-run lenders that are yet to report numbers also came under selling pressure. SBI, India's biggest lender by assets, closed nearly 5 per cent lower. The lender will report its Q3 numbers on Thursday.
6) Maharashtra Bank bucked the trend by reporting an improvement in asset quality during the December quarter. Shares in the lender closed 8 per cent higher today. (Read)
7) Private sector banks also traded lower, though the intensity of selling was lower as compared to state-run banks. Axis Bank fell 1.6 per cent, while Kotak Bank and ICICI Bank closed 1 to 1.5 per cent lower.
8) The surge in provisions for bad assets comes in the wake of Reserve Bank Governor Raghuram Rajan's call for a clean-up of bank balance sheets by March 2017. Banks have been asked by the RBI to treat some troubled accounts as non-performing even if actual default has yet to happen and make adequate provisions. (Read)
9) Heavy selling from foreign institutional investors has also been weighing on Indian markets since the start of this year. FIIs sold over Rs 11,000 crore of Indian shares in January, the biggest in one month since 2008.
10) Domestic institutional investors have been buying stocks, but the momentum is on the wane. According to the latest data, inflows into equity funds in January 2016 slowed to Rs 2,914 crore, the lowest since PM Narendra Modi won elections in May 2014.
["source-ndtv"]