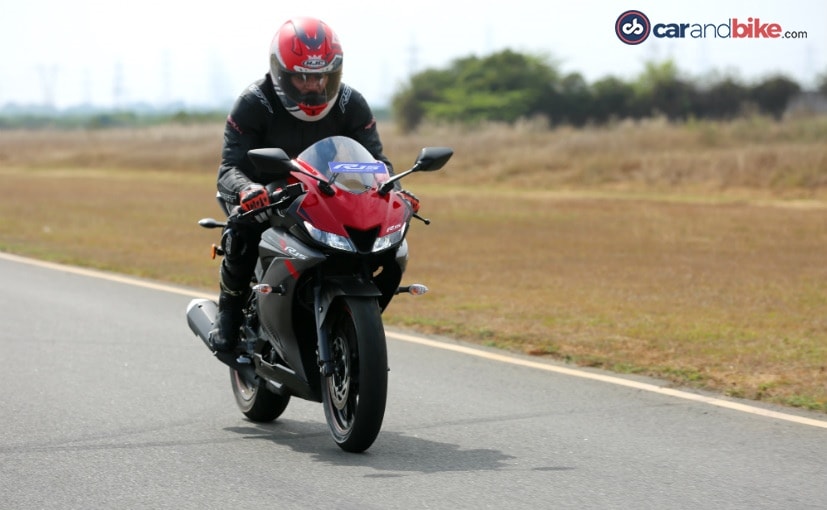 The Yamaha YZF-R15 was first launched in 2008 and has spawned a cult following among performance enthusiasts and a huge fan following of the sporty, entry-level sportbike from Yamaha. Almost a decade later, Yamaha has introduced the latest, third-generation model of the R15, which will replace the existing Yamaha R15 Version 2.0. The 2018 model doesn't only get some styling updates, but significant changes all-round, including a bigger, more powerful and more technology-laden engine, updated deltabox chassis, new swingarm and revised steering geometry. So, is the new Yamaha R15 as good as it sounds? We spend a few laps around the Madras Motor Race Track with the new 2018 Yamaha YZF-R15 Version 3.0.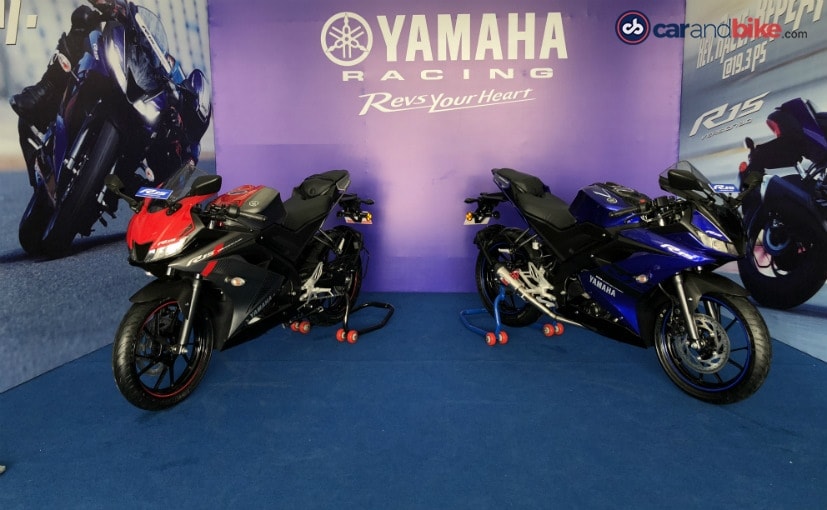 How does it look?
The new generation Yamaha R15 definitely gets a step up in design with sharp styling inspired by the Yamaha YZF-R1, with what are called the 'twin-eye', split dual LED headlights, a R1 styled cockpit with a new multi-function, all-digital instrument console, LED tail lights and a sharp aerodynamic new fairing. The instrument panel features as many as 18 functions, including the standard speedometer, tachometer, odometer, twin trip meters, clock, instantaneous fuel consumption, average fuel consumption, gear position indicator and a programmable shift timing indicator.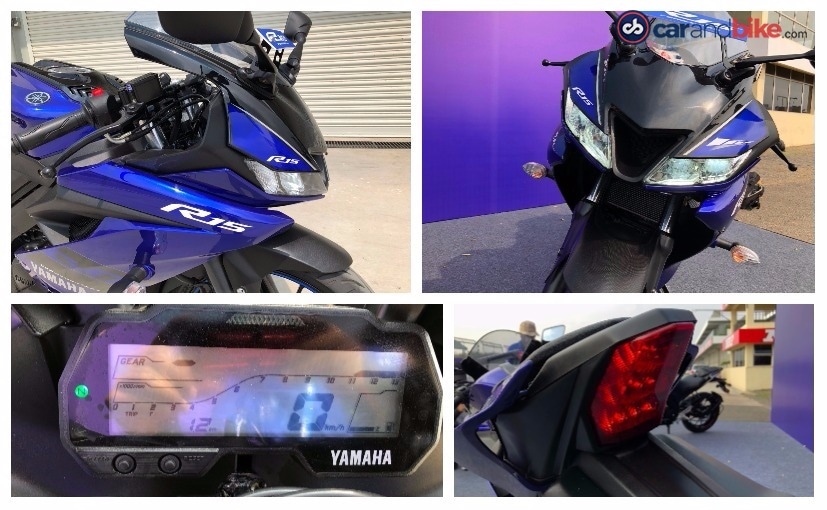 Overall, the bike definitely is a looker, and looks leaner and more proportionate than the outgoing model. In fact, you could be fooled into believing it's actually a bigger bike than what it is, but build quality could have been a notch better, particularly the glaring big weld on the new deltabox frame. The engine gets variable valve actuation (VVA) and there's a VVA indicator on the instrument panel as well; it's a nice touch, but a lap timer instead could have been more practical, considering the racing pedigree and leanings the R15 is designed to address. A sharper tail section with a LED taillamp and wider rear tyre completes the sportbike design language of the new R15.
How does it perform?
The engine gets significant updates on the third generation Yamaha R15. It now gets a displacement bump to 155 cc, claiming a 16.3 per cent increase in horsepower, as well as 4.7 per cent increase in fuel efficiency. The engine also gets a variable valve actuation (VVA) system, which uses a solenoid actuator to switch the high cam profile to increase lift of the inlet valve. It's a system much like the variable valve timing technology available in a lot of modern engines. The VVA system is activated when the engine reaches 7,400 rpm, but now the torque and power is provided over a wider rev range, instead of the torque and pull tapering off towards the high revs. The result is a more eager engine, and it also provides better low- and mid-range pull.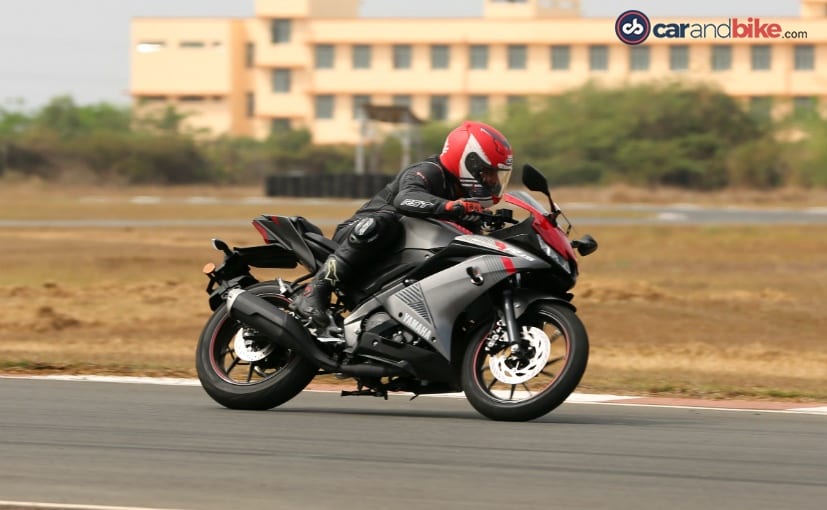 The new engine makes 19 bhp at 10,000 rpm with maximum torque of 15 Nm kicking in at 8,500 rpm. And with the torque spread out over a wider range of engine revs, the new R15 Version 3.0 feels more eager, with more power and torque than the outgoing model. Also new is a newly-designed cooling system, a new large diameter throttle body and a new slipper clutch, which not only makes for a lighter feel at the lever, but also makes gear changes smoother and more precise.
On the move, the bigger bored-out engine definitely feels throatier and more powerful than ever, and in fact, the R15 is now the most powerful bike in its segment, and that is immediately felt when you redline through the gears. It's eager, tractable and feels like a larger bike than it actually is. Yes, there are some vibrations on the footpegs and handlebars, towards the higher revs, but nothing significant to complain about.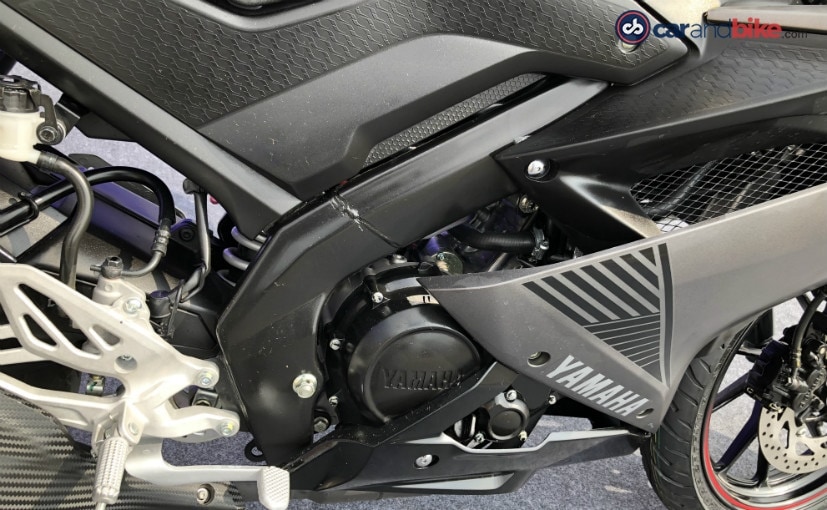 How does it ride?
The 2018 Yamaha R15 Version 3.0 features changes in the chassis and suspension as well. The rear tyre is wider than the previous generation model, and the chassis has been updated too, with a sharper rake but with a wider aluminium swingarm. The result is a bike which has superb manners, both in a straight line and around a corner. The front fork has a larger, 41 mm inner tube and the front disc brake is a larger 282 mm single disc with a two-pot caliper. ABS is still not offered though, and the brakes, at least on our test bike, lacked the bite you would expect from a motorcycle with sporty and racing intent in mind.
Our time with the R15 V3 at the MMRT was brief, but with the few laps we did get to experience around the track, the bike becomes friendlier and familiar and urges the rider to push harder, sharper into corners. For a 150-160 cc entry-level sportbike, this is certainly commendable, and definitely improves the rider's confidence in the machine as well as riding abilities with some seat time. Of course, a more complete ride and handling experience and judgement can only be given once we ride the bike in the real world, on the street and in traffic, over different road surfaces.
Our take
The 2018 Yamaha YZF-R15 Version 3.0 is priced at ₹ 1.25 lakh (ex-showroom). It's around ₹ 6,000 more expensive than the outgoing model, but for the updates it gets, the new R15 V3 certainly makes a very good proposition for riders looking for an entry-level sportbike. It's got great road manners, a very good engine and very likeable handling which will certainly endear it to riders upgrading from smaller commuter motorcycles, or those looking for a bike which looks like a bigger sportbike. And the R15 also has the handling and road manners which make it an entertaining package, be it around a racetrack, or even a twisty mountain road.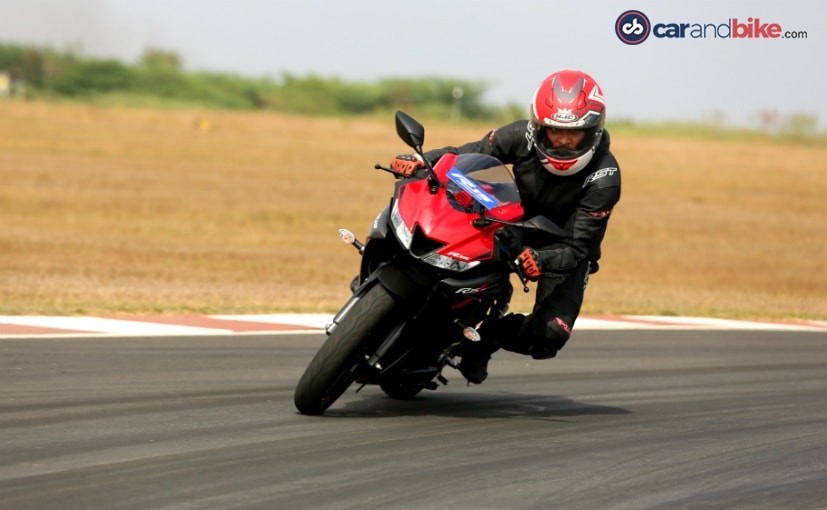 It's still a 19 bhp, 155 cc engine, but that's enough power really for new riders who would be looking to upgrade to a more performance-oriented sportbike in a few years' time with more experience and a set of better riding skills which the R15 can definitely help develop. Yes, it has a few shortcomings – the build quality could have been better (considering it's a Yamaha after all), and the brakes could have done with some more bite (not that they are alarmingly weak in any way).
But at that price point and segment, the 2018 Yamaha YZF-R15 Version 3.0 certainly deserves a commendable mention, and you can't ignore the fact that there's no other motorcycle as powerful, as engaging to ride in that segment, and the new R15 can go a long way in making you a more confident, more experienced, and better rider. That, in itself, is reason enough to take a close look at the new Yamaha R15 Version 3.0.