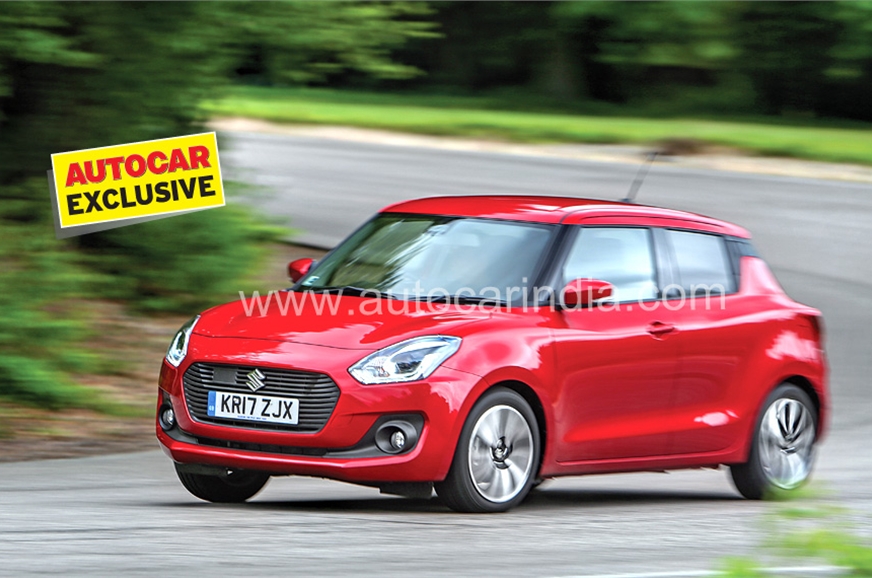 How do you change a car that's a big icon with a massive cult following? How do you change a car that still, even at the end of its life cycle, gets a podium position each month on the bestseller list? How do you change a car that is, in essence, India's quintessential hatchback? In short, how do you change the Suzuki Swift?
There's no simple answer, especially for Suzuki, whose global image was singularly transformed by this distinctive hatch which burst onto the international stage in 2004. The two-box design, the wide stance and sharp styling struck a chord with buyers and the Swift sold in millions. Not surprisingly, the second-gen Swift, which came in 2010 didn't deviate from the original, proven formula and was even accused of looking too similar. But that didn't dent its popularity and it went on to become an even greater success than the previous car.
So, with such big shoes to fill, you would expect Suzuki to adopt the 'if it ain't broke, don't fix it' philosophy with the third-generation Swift, but the Japanese company hasn't played it entirely safe. This all-new model, which went on sale internationally early this year and is slated for an India launch at the 2018 Auto Expo, has bolder styling with several elements that are a design departure from Swifts of old.
The biggest changes are up front but we've been privy to these with the launch of the all-new Dzire compact sedan which has the same nose as the Swift. At the rate the Dzire is selling, the Swift will seem a familiar face even before it's launched, and I'm not sure if that's a good thing. But, like the Dzire, it won't go unnoticed, not with that hexagonal grille which protrudes aggressively and the sharply cut, trapezoidal headlights with full LEDs and daylight running lights (DRLs) integrated into the cluster. The bumper and lower chin are split by a black plastic strip which houses fog lamps that are most likely to be available only on the top-spec models.
No doubt the new car is unmistakably a Swift with its distinct two-box silhouette, blackened pillars and wide haunches. The longer wheelbase and larger 16-inch wheels make the Swift look a class bigger, but it still retains its cheeky character which is central to its appeal. The shoulder line is more pronounced, especially at the rear, and leads into bulging tail-lights that aren't as sharp as before, but more rounded and similar in style to its sibling, the Baleno.
Another interesting detail that's different are the hidden door handles recessed into the C-pillar. It's intended to give a sportier three-door vibe but, quite frankly, in terms of design, it's a bit passé. Also new is the small blackened bit which breaks the C-pillar to give a floating roof effect.
The new Swift feels more grown up with more space on offer just about everywhere. Starting at the rear, Suzuki has addressed what is possibly the Swift's biggest weakness – boot space. The older car had just 204 litres, barely enough for a couple of small soft bags. In fact, the limited boot capacity is what pushed many buyers to the Swift Dzire. There should be no such issues now, as it's at a substantial 265 litres. It's deep enough to take two big bags but, like before, the load lip to lift your bags over is quite high. The seats split 60:40 like before and there's a bigger and more solid parcel shelf too.
Moving ahead and into the back seats, the first thing you notice is how much more legroom there is. The 20mm increase in wheelbase has certainly liberated a good amount of space. Headroom, too, is better, and though there's a 40mm increase in width, sitting three abreast will still be a bit of a squeeze. Also, the thick C-pillar and blanked-out quarter glass panel (which has to accommodate the door latch mechanism) cuts daylight which, along with the dark materials, makes the backseat a bit gloomy.
We've always loved the Swift's front seats and in the new car they are even better, with a bit more generous bolstering all around and a slightly lower position, but visibility even for short drivers is superb all the same.
All the seats will be optimised on the India-spec cars and Maruti is believed to be developing different fabrics and cushioning for added plushness. Storage space in the cabin is fairly generous with large door pockets and a deep cubbyhole at the centre. The overall sense of space you get puts the Swift in a sub-class higher, alongside premium hatchbacks like the Hyundai i20 and its own stablemate, the Baleno. Sadly, the interiors, however, don't feel premium enough.
The quality here isn't a step forward and unlike rival Hyundai, Suzuki has, true to tradition, stinted on expensive materials. There's little in the cabin to suggest that this is a premium hatch and there's an excess of shiny, hard plastic all round. Bottom line; there's too much focus on the bottom line.
Elsewhere, there are interesting bits like the funky (and chunky) climate control knobs, but we fear that this might be pared down to the more basic switchgear that's there in the new Dzire. The instrument cluster is quite lively and gets brightly lit dials and a high-resolution TFT screen in the centre like in the Baleno. But, again, this may be downgraded to the Dzire's simpler-looking dials and dot-matrix screen. The round air-con vents – a Swift trademark – and the flat-bottomed steering wheel (also in the new Dzire) add a touch of sportiness.
What the new Swift also shares with the new Dzire are the underpinnings and that's a good thing because it is based on Suzuki's latest Heartect platform. It's a clever piece of engineering where various chassis components have been hollowed out in the interest of weight. This has resulted in a weight saving of 40kg, despite the chassis being stiffer, longer and wider. In case you're wondering if the lightweight structure has any negative influence on crashworthiness, it's to the contrary. Suzuki's new platform is beefed up where it matters and, though there are no crash test results as yet, the company is confident it will be a lot safer than the outgoing Swift.
WIN SOME, LOSE SOME
Engines are carried over from the previous Swift and India will get two options, the familiar 1.2 K-series motor and the tried-and-tested-but-ageing Fiat-sourced 1.3 Multijet diesel. There's also a 111hp, 1.0 turbo-petrol but that's unlikely to make it to India initially.
The car I'm driving isn't to India specs. It's got AllGrip or all-wheel drive and the Dualjet (twin injectors) version of the 1.2 K-series mated to an SHVS (micro-hybrid system). All this adds around 60kg to the car's weight but, overall, it's still considerably lighter than the previous car and this highlights the weight savings achieved with the new platform. And no, Maruti won't be launching the AllGrip in India; the reason I'm driving it is because Suzuki didn't have the standard front-wheel-drive version in its press fleet.
Suzuki's 1.2 K-series is one of my favourite small-capacity petrol engines (yes, even better than Honda's) which loves to be revved. Those characteristics are immediately apparent in the new Swift too, and off the line, it's quite responsive and happily cuts through traffic.
The mid-range is a bit flat but get beyond 4,000rpm and it gets a second wind, revving strongly until its 6,300rpm redline. What I love about this engine is how sweet and well balanced it is, and though it gets audible at max revs, it doesn't feel harsh or strained. You do need to use the gears to get a move on. Sure, the Indian Swift will come with a less powerful engine (probably the Dzire's 83hp unit) but, then again, it will be lighter too (without AllGrip) and this would kind of equate to the same power-to-weight ratio of the car I'm driving.
The light controls and slick gearshift make the Swift easy to punt around town but the C-pillar does throw up a fat blind spot, which is an issue, especially while parking.
The Swift may feel grown up in size but not in the way it rides. It doesn't absorb sharp ridges and bumps as maturely as some of its European- (and Korean) built rivals and the suspension has a hollow sound over the odd rough bit. The grip from the 185/55 R16 tyres (India will most probably get 15-inch wheels) is pretty strong and the car is quite stable and predictable while cornering hard. Again, it doesn't quite dart into corners like the older car and that's partly because of the lifeless steering which lacks on-centre feel. The longer wheelbase makes the Swift feel a bit more planted at highway speeds; but it has a tendency to wander if you're not always concentrating.
ANOTHER HIT
The new Swift is bigger and bolder than the outgoing one, but is it better? It's made a huge leap forward in terms of practicality with a much bigger boot and a more spacious cabin. With families getting bigger and more demanding, extra space is always welcome. But the Swift isn't really meant to be a family car. It's for individuals who drive themselves most of the time and, to that end, the new Swift, though it may be quicker, hasn't bettered the old car's fun-to-drive desirability. Where it does add a bit of excitement is with its styling which is even more striking than before. To be launched in early 2018 and sold through regular Maruti channels – which means it will be competitively priced (and not have a Nexa premium) – the Swift is sure to be another runaway success. It's just that the character of the previous car is missing.
["Source-autocarindia"]