When the Africa Twin first arrived in India in 2017 it mostly impressed as a full-sized adventure tourer you could really venture into the wild with – and it did so in a friendly, predictable manner that really sweetened the deal. Now, there is a 2018 version of the Africa Twin and, believe me, it's gotten even better.
What's new for 2018?
The Africa Twin now gets throttle by wire which equips the bike with the Honda Selectable Torque Control programme with seven intensity levels, as opposed to the three on the older bike. Level 1 of the HSTC is for aggressive riding while level 7 is for when you want to be really cautious in wet, slippery conditions. It also gets four new riding modes – Urban, Touring, Gravel and User – each of which is individually programmable.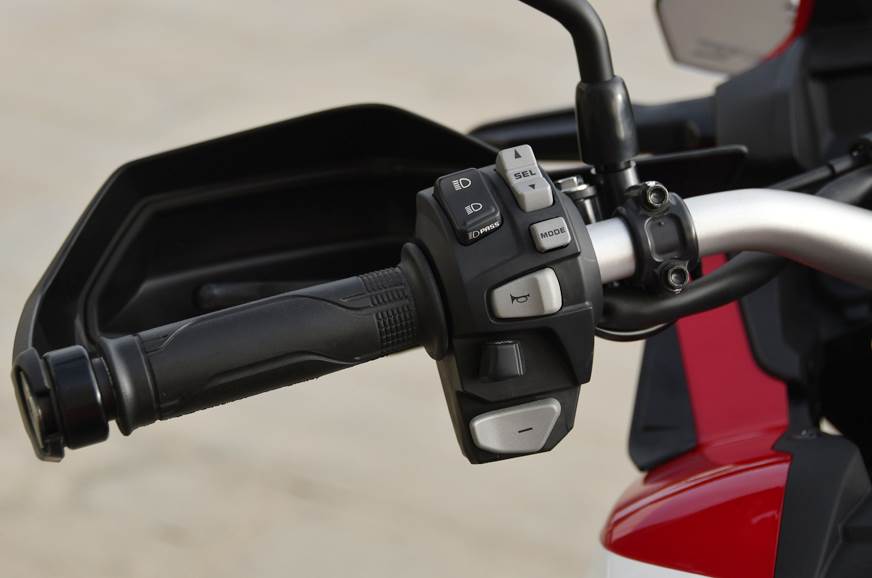 2018 Africa Twin gets four new riding modes.
Its powertrain gets some attention, too, and Honda has also updated the airbox and the exhaust unit. This gives it slightly stronger mid-range performance and a more pronounced exhaust note, as well. Thanks to a new lithium-ion battery, the Africa Twin has now shed 2.35kg, reducing the kerb weight to 243kg. This may not be a revolutionary change but then the Africa Twin didn't quite need that sort of substantial reworking anyway.
The bike I am riding also features a number of accessories, such as a very tall windscreen which is very effective in take care of the wind blast, a crash guard with fog lights mounted on it, wind deflectors on the fairing and a top-box mount on the carrier. Honda has reserved the larger, 24-litre fuel tank for the Adventure Sports variant – which, unfortunately, is not on sale in India right now.
Large windscreen and winglets are optional extras.
However, what the new Africa Twin has on offer is far from disappointing. The redesigned instrument cluster continues to remain a negative LCD unit and offers a terrific amount of information with better readability. Although the Triumph Tiger's new full-colour TFT display does come across as more special. As a result of the newer airbox and the updated exhaust unit, the 999 cc, liquid-cooled, parallel-twin motor now gains about 0.6hp more, producing 89hp at 7,500rpm. Torque has gone up by 1.1Nm as well, taking the tally up to 93.1Nm at 6,000 rpm. Although this is still about 6hp and 6Nm down on what the international-spec offers and this de-tuning is probably down to our fuel quality.
In India, the 2018 Africa Twin continues to be sold with a six-speed dual clutch transmission option which offers three drivetrain modes – D, which is fully automatic, S, which makes things sportier, and M, which lets you shift gears manually, although only by using buttons mounted on the left-hand side of the handlebar. Our test bike also came equipped with an accessory toe-shifter, which will give you a more traditional feel of shifting gears, available for approximately Rs 40,000.
Instrument cluster is new, highly informative, but still black and white.
What's it like on the road?
The Africa Twin has always been very tractable because Honda designed it to be very manageable rather than making it come across as intimidating. The riding position, to begin with, is commanding without being aggressive and you have a great view of things around you from the adjustable tall seat (between 820-840mm) for either a low or a high setting. It's a comfortable place to be whether you happen to be riding in traffic or navigating on the most treacherous surfaces.
In city traffic it's about as effortless to ride as an Activa and it is just as comfortable sustaining high speeds on the highway. Triple-digit speeds come easily to the Africa Twin and it's at home maintaining 120-140 kph. While some of its peers are perhaps capable of even higher speeds, the essence of adventure touring is in enjoying the journey rather than in getting somewhere really quickly – so it's not really a turn-off for most riders. And given the stress-free usability its mannerisms bring about, it's a fair trade-off for those seeking balanced versatility. Also, thanks to the 18.8-litre fuel tank, you effectively have a nearly 300km range in a mixed cycle – which is good for this class of motorcycle.
The long travel suspension at either end (a USD fork and a monoshock are standard fare) is soft in its neutral setting but thanks to being fully adjustable, you can tailor it to suit your needs. Given that it features a 21/18-inch (front/rear) wheel combination, it isn't particularly agile in the fast twisties, but it still is very easy to handle. The tyres, a 90/90-21 and a 150/70-R18, feature an on/off-road pattern (nothing too seriously off-road biased) which work well, although they aren't of the tubeless type. The brakes (310mm twin-disc up front, 256mm disc at the rear) continue to retain a soft initial bite with noticeable dive at the front-end under hard braking; but they perform adequately, providing just the right amount of progression you really need off the road.
What's it like off the road?
It's a mountain goat. It's incredible how much the Africa Twin feels like a dirt bike, especially considering it's a 243kg motorcycle in an XXL-sized format. Its CRF450 Rally genes ( the Honda's Dakar rally contender) come through beautifully, and the way the Africa Twin adapts to any degree of treacherousness is simply mind-boggling. Sliding around on loose gravel is just the most basic thing you can do with it – this thing can climb really steep rock faces as if they didn't exist! With 251mm of ground clearance – which is 26mm more than on a Triumph Tiger, for example – helps you be absolutely carefree about most riding conditions and adds to the seriousness of challenges it (and you) can accept.
To enhance its off-road capabilities – more than what it can inherently do, that is – Honda has equipped it with a 'G' mode, the button for which is mounted on the dashboard rather than on the switchgear pods, which engages the clutch for added tractability on loose surfaces on an incline. You also have the option of disconnecting ABS at the rear wheel, which helps you slide the rear and generally control the bike's trajectory more. Thanks to the traction control levels now being more adjustable (by seven steps, and it can be entirely disengaged too), you can really get the Africa Twin to behave exactly the way you want it to, and that's particularly helpful for a motorcycle of this category – especially since it can explore far deeper into the unknown than some of its rivals.
Is this what you should buy, then?
If you aren't fixated on getting a certain amount of horsepower for a motorcycle of this price, then you've just got to have an Africa Twin. This is a bike that lets you explore, discover and live every long-distance fantasy without being a limitation, owing to factors such as weight or a more aggressive a demeanour. It can definitely take on the worst India can throw at it, but hey, this bike has an 'Africa' in its name for a reason, and I'm sure I don't need to tell you why.
Compact new lithium-ion battery resides behind this black shroud and has helped to reduce overall weight.
However, no matter how easy DCT makes the Africa Twin to ride, we'd have liked to see Honda include the option of a manual gearbox, at least with this update. The company would do well to offer it as an option that would bring the weight down, reduce the cost and make the Africa Twin more appealing to a wider range of enthusiasts.
Nevertheless, with this update, Honda has made a step in the right direction. You can feel the stronger mid-range, something that has only added to the Africa Twin's capabilities, and the new electronic rider assists are something you will appreciate more as you venture into deeper extremes. At Rs 13.23 lakh (ex-showroom, Delhi), which is around Rs 30,000 more than the outgoing 2017 model, the Africa Twin offers even more value in a terrific-looking package.
["Source-autocarindia"]