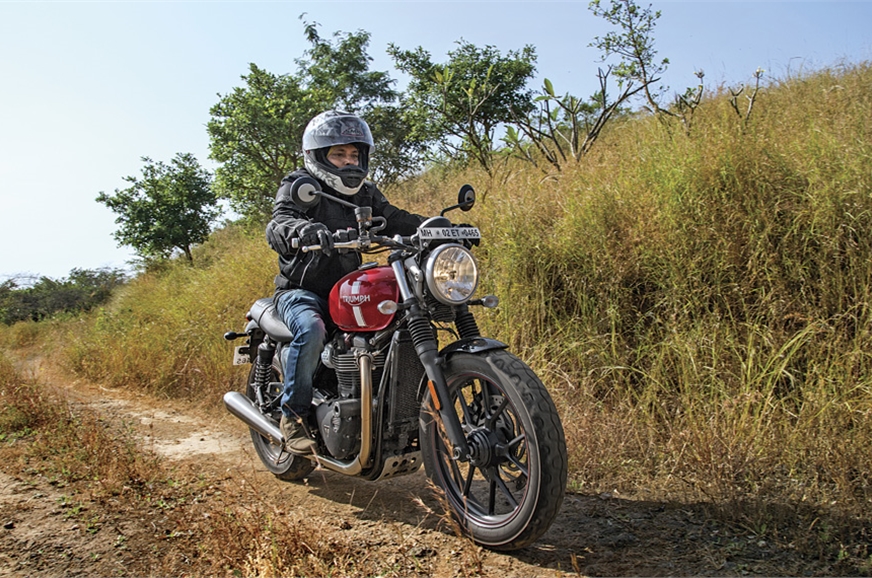 It's been five weeks since I took delivery of the Street Twin from Shaman Triumph in Mumbai and I have clocked over 3,000km. It's a bike I use every day, for my 14km commute from home to office, through some really heavy traffic and I have even managed to squeeze in two trips – to Vadodara and Goa – in this period. That's enough time to share an informed impression.
The first thing you notice is how usable the bike is, as an everyday commuter. The 900cc motor is an absolute gem. Yes, I know it makes just 55hp, but it also makes oodles of torque which is what you need in real-life traffic conditions. So you can potter around in traffic in third gear and when a gap opens, just open the throttle to scoot through. Engine heat? Manageable. Clutch effort? You won't develop an extra set of muscles.
It's on the highway, though, where you really appreciate the motor. On an open stretch, you can cruise briskly between 100 and 120kph. Go over that and it's the wind blast rather than the motor that limits your speed. On the highway, every litre of petrol will take you 25km, which I think is quite good.
Here's another great thing about the Triumph. The service interval – after the first service at 800km which cost me Rs 6,747.44 – is every 16,000km (or after one year, whichever is earlier). Now that shows Triumph's confidence in its quality and reliability.
While the Street Twin is a fantastic motorcycle, it does have its flaws. The recommended chain cleaning and lubrication interval is 300km! Also, the centre stand that allows you to lift the rear wheel off the ground to roll the wheel and lubricate the chain isn't offered as standard equipment. It costs over Rs 20,000.
Even though the bike will scrape when you ride over taller speed breakers (especially with a pillion) you can continue to ride after the asphalt ends. No, it's not an off-road adventurer, but it can tackle bad patches and dirt tracks without any fuss.
The biggest problem I have with the Street Twin is seat comfort during longer rides. After about an hour or two on the saddle, my backside is on fire. If I can get the seat sorted, the Twin will happily do Mumbai-Bengaluru non-stop.
I can't end this without a word on the attention to detail and craftsmanship – it's just gorgeous.
As I put more miles on the odo, I'll keep you posted on what's it really like to live with the Twin.
| Fact File | |
| --- | --- |
| Distance covered | 3242 km |
| Price now | Rs 7.3 lakh |
| Test economy | 25kpl |
| Maintenance costs | Rs 6747 |
| Faults | None |
Copyright (c) Autocar India. All rights reserved.
["Source-autocarindia"]