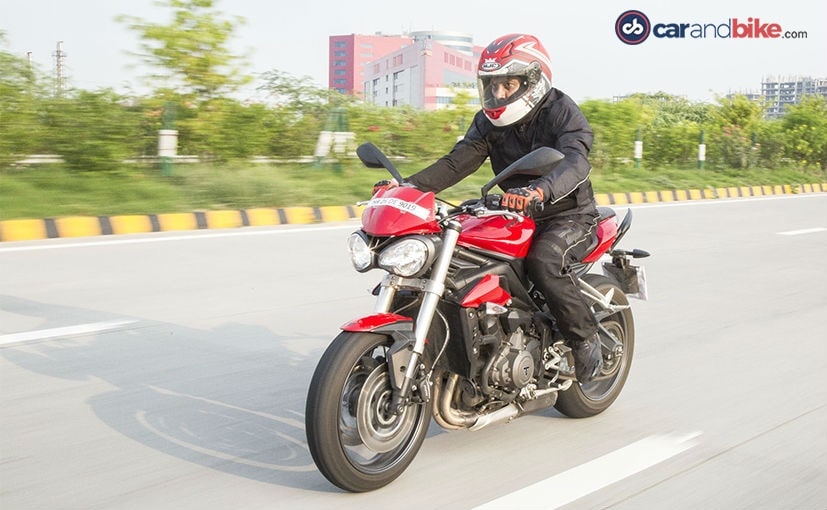 The roadsters, or naked bikes, as they are also called, aren't everyone's cup of tea, so to say. This seems to be the case, more so in India, where full-faired sportbikes seem to be more the order of the day, when it comes to the 'sporty' side of motorcycle buying decisions. But then again, these 'nakeds' have carved a niche for themselves, and there have been few bikes which are as light, as compact and as user-friendly as the Triumph Street Triple. And it's precisely that perfect blend of friendly vibe and hooligan personality that makes the Street Triple so endearing.
So when Triumph introduced the all-new Triumph Street Triple S, expectations from the new bike were naturally high, but most of all, I just hoped the new Striple didn't lose out on that raw and fun personality, which makes it such a sweet bike. The 2017 Triumph Street Triple S promises to carry forward those same traits, but it's almost brand new in all aspects.
How does it perform then?
The most significant change on the new Street Triple is the engine. Like the predecessor, the new in-line three motor is also based on the Triumph Daytona's engine, but bore and stroke has been increased on the new motor, with displacement getting an increase to 765 cc from 675 cc on the outgoing model. What has changed a lot is the performance, thanks to the additional power and torque. The new Street Triple S makes over 111 bhp of power at 11,250 rpm and peak torque of 73 Nm at 10,421 rpm, that's almost 40 per cent increase in power and 30 per cent increase in torque over the outgoing model.
And the change in performance is evident from the get go – there's more grunt lower in the revs, so unlike the outgoing model, there's ample push and pull from as low as 3,000 revs, and that is when the new airbox starts making a very sweet induction whine. The short stock exhaust is adequate and complements the intake roar to make the engine sing beautifully, bringing out the triple's symphony. It's quite addictive, and just that sound will make riders want to explore the near full range of the Striple's capability, and it's available in spades, and across the wide powerband!
The gearbox has been improved too with slicker shifts and shorter first and second gears for quick acceleration. Sixth gear is low enough to pull cleanly from as low as 45 kmph, so city duties will be easy with the new Street. It's easy enough for new riders and experienced riders will love to explore the Striple's capabilities. It's a roadster after all, so high speed runs on the highway has the wind blast giving a sense of carrying more speed than what you actually see on the speedo.
But throw in a winding road and you'll likely forgive and forget all that talk about wind blast and so on. Handling is the new Street Triple's forte, and with a weight of just 166 kg, it makes for a light, agile bike, which will be welcomed by new riders looking for their first performance naked, or even experienced riders seeking to add a compact second bike to the garage. The aluminium chassis has been carried forward, but the new bike gets an all-new 'gullwing' swingarm. Suspension is also upgraded with a Showa 41 mm upside down front fork and Showa piggyback reservoir monoshock, and in our road conditions, we're happy to report that the suspension tackled road undulations and broken patches quite nicely. The added safety net provided by standard ABS and traction control makes sure there's little room for error, even with an over enthusiastic right hand.
So, it also looks different then?
Well, not really. The new Street Triple S has more or less the same design as the outgoing model, but bits like the twin bug-eyed headlights and the headlight cowl have been inspired from the new Speed Triple. The headlights now get LED position lamps, and the sharp lines on the body have been accentuated and the tail end is sharper as well. The twin-seat design is new, and there's a new shorter exhaust muffler. In all, the new Street Triple S isn't dramatically different from the outgoing model, which is not a bad thing, but some more changes in design, to differentiate the old from the new, would have been welcome.
The instrument panel is also a familiar unit with a large analogue rev counter, and small digital readout. The updated LCD panel shows handy details like gear position, selected riding mode, fuel gauge, odometer, trip meter and fuel consumption. What is a significant step-up in the features department is the new electronics package, with switchable traction control, ride-by-wire and two riding modes – Road and Rain.
Verdict
Triumph will also launch the top-spec Street Triple RS in India, and it's a bike which boasts of even more performance from the same engine, but will cost more as well. The new Triumph Street Triple S is priced at ₹ 8.5 lakh (ex-showroom Delhi). Considering the upgrades it gets over the outgoing model, it will certainly appeal to riders looking for their first performance naked, or even existing Triumph riders seeking to upgrade from a modern classic for some added excitement.
Sure, the design of the new Street Triple S could have been slightly more different to give it the all-new tag it deserves, but overall the new Street Triple is a matter of a good bike getting even better. On our combined highway and city test ride, the Street Triple S returned fuel economy of over 20 kmpl, and with a 17.4-litre fuel tank, that's nearly 350 km range on a tankful. It gets more power, more performance and still retains its easy going nature and feisty performance. Go on then, take a test ride! The Street just got a whole lot better!
["source-auto.ndtv"]