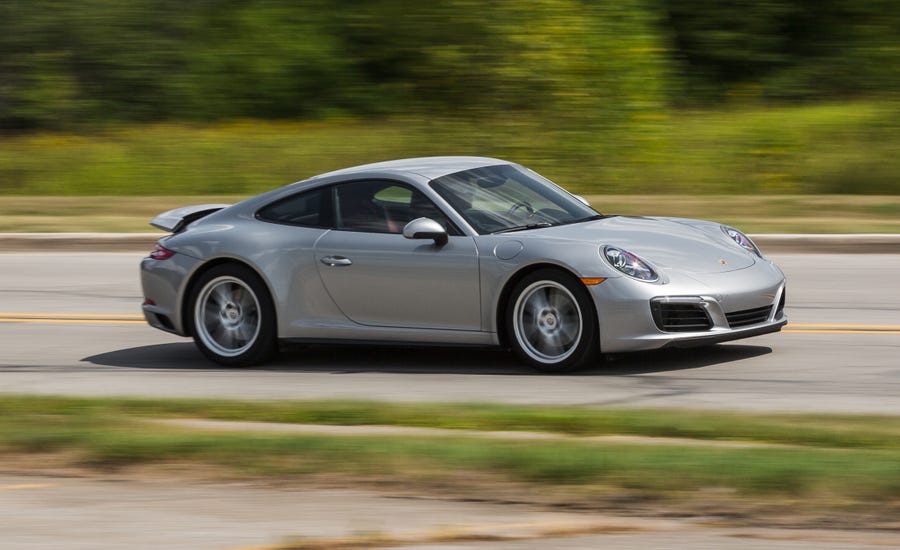 As guaranteed as death and taxes is that every iteration of today's Porsche 911 is ridiculously quick, has gobs of grip, and stops like someone dropped a concrete wall in its path. The slowest model we've tested, the 370-hp Carrera with the manual transmission, smoked to 60 mph in 4.0 seconds flat. That's the base 911. The rest of the "entry-level" Carreras—those lacking GTS, Turbo, or GT3 badges—fall between that time and the automatic-transmission Carrera S's 3.1-second rip. Each is capable of at least 1.00 g of lateral grip and a stop from 70 mph in fewer than 150 feet.
HIGHS
Looks, performance, traction, consistency.
Does the 911 Carrera 4 with the optional seven-speed PDK dual-clutch automatic transmission tested here buck the trend? Sorry, no. This 370-hp, all-wheel-drive member of the Carrera family posted the exact same 1.04 g of lateral grip as every current 911 Carrera 4 and 4S we've tested, and it hauled itself down from 70 mph in 143 feet, matching a 4S Targa and edging out a 4S coupe by four feet. Those more powerful 4S models—their more strongly boosted but otherwise similar twin-turbocharged 3.0-liter flat-six engines producing 420 horsepower to this car's 370—beat this 911's 3.4-second run to 60 mph by 0.1 and 0.2 second.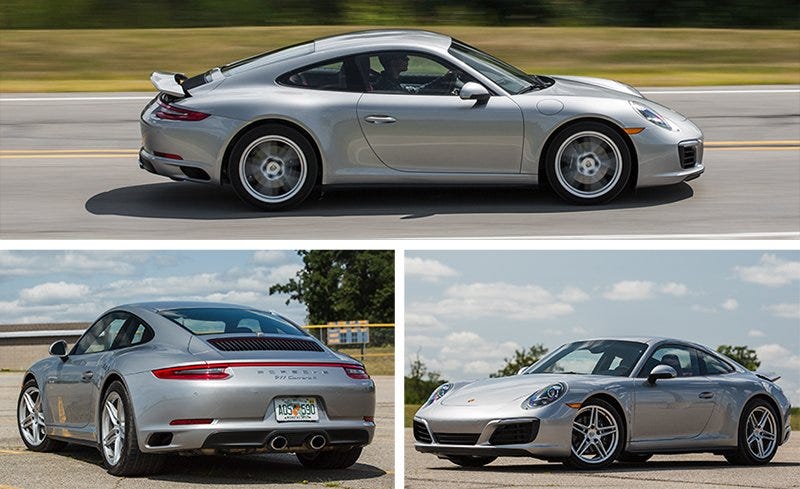 Splitting Hairs (and Price Brackets)
This is all that truly separates today's 911s from one another: tenths of a second in acceleration times and different combinations of letters and numbers on their rear ends. Oh, and price. The $97,350 all-wheel-drive Carrera 4 sits above the $90,450 rear-wheel-drive Carrera and below the pricier Carrera S and 4S iterations. Our test model's seven-speed dual-clutch automatic adds $3200 and, as it does on every 911 it's fitted to, quickens acceleration times by a few tenths of a second relative to the standard seven-speed manual. Carrera 4 models also wear bodywork that stretches 1.7 inches wider than a rear-drive Carrera's, a barely noticeable change given the overwhelming perception of girth that comes from any 911's shapely rear fenders.
Delving further into this specific car's options reveals relative restraint. Its $19,745 in extras is still some $60K shy of where you could conceivably take a Carrera 4. The only big-ticket items on this car, outside of the PDK transmission, are the stunning $4280 Bordeaux Red and Black leather interior, the sweet-sounding $2950 dual-mode sport exhaust, $2320 14-way power sports seats, and the $2605 Sport Chrono package that adds a driving-mode selector and launch control. Other options included the $620 Premium package (adaptive headlights, auto-dimming mirrors, and heated front seats), $540 Bordeaux Red seatbelts, $840 front-seat ventilation, $850 blind-spot monitoring, $510 ambient lighting, the $320 GT Sport steering wheel, and $710 GT Silver metallic paint.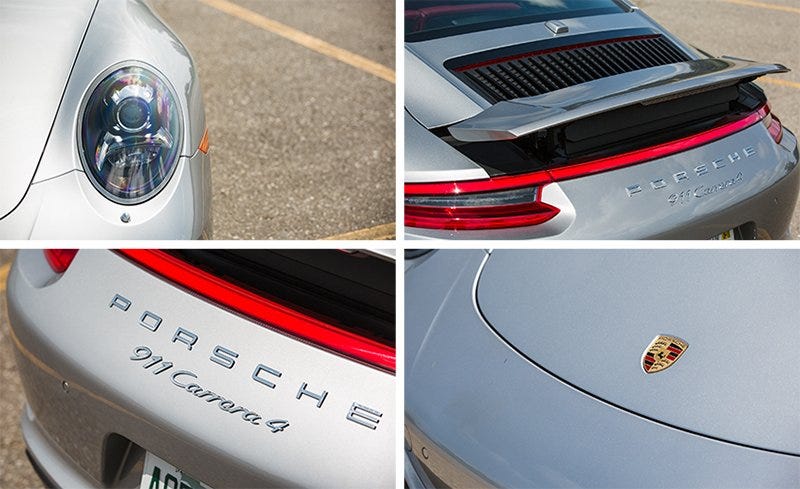 Excellence, as Expected
No matter how much you spend on a 911, the underlying car is excellent. Our test car's Sport Chrono package (and the Sport Plus driving mode it adds) simply sharpens the 911's responses that much further. Ditto the sport exhaust, which gave our Carrera 4 a little extra volume when thrashed, layering on satisfying spreads of flat-six rasp and pops on overrun. You still can tell this latest 911 is turbocharged—at light throttle and low speeds with the windows open you can hear the turbos whistling—but when the engine is so responsive and makes power all over the tachometer, most folks won't care.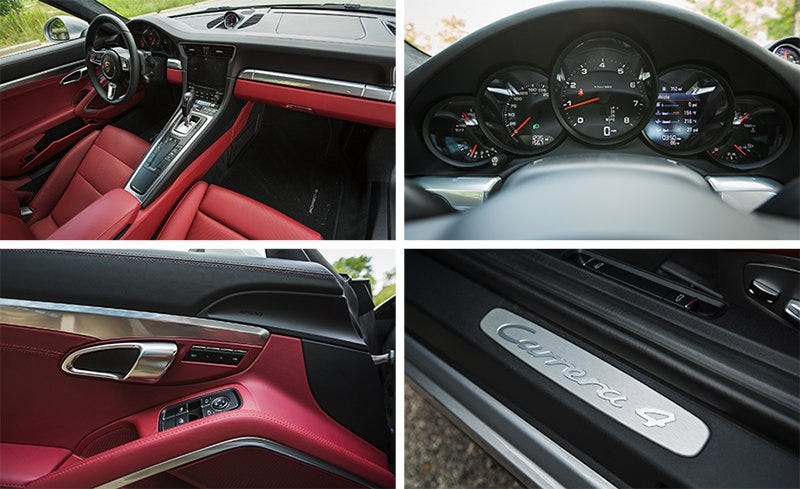 As in every 911, the electrically assisted power steering is as close to perfection as these systems get, spoiling the driver with excellent weighting and plenty of feedback from the front tires. Crank the wheel, and the 911 darts eagerly into corners. There is so much grip and it's so easy to exploit without drama that you could twirl the Carrera around your favorite traffic circle at relatively high speeds until your stomach—or a passenger—begs for mercy. The all-wheel-drive system helps here, apportioning torque to the front as soon as the computers detect slip at the rear wheels and palpably clawing the 911's nose out of turns. With the help of the standard Porsche Adjustable Suspension Management (PASM), which electronically adjusts the dampers based on the selected driving mode, none of this rib-fracturing performance comes at the expense of everyday comfort.
Further enhancing the Carrera 4's everyday usability is the 13 cubic feet of cargo space split between its four-cubic-foot front trunk and the nine cubes available when you fold the vestigial rear seats. We even saw 30 mpg on our real-world highway fuel-economy test. The interior, as on every 2017 911, benefits from Porsche's latest touchscreen display that is much quicker to respond and has more logically laid-out menus than before. There still are too many buttons clustered in a compact area of the center console, the small whirlpool of similarly sized plastic Chiclets encompassing both the air-conditioning and infotainment controls. Our only substantive complaint about the 911 is that its wide tires send a fair bit of noise into the cabin at highway speeds. Otherwise, this sports car is fabulous looking, athletic, and highly desirable—just like its many siblings.
["Source-caranddriver"]