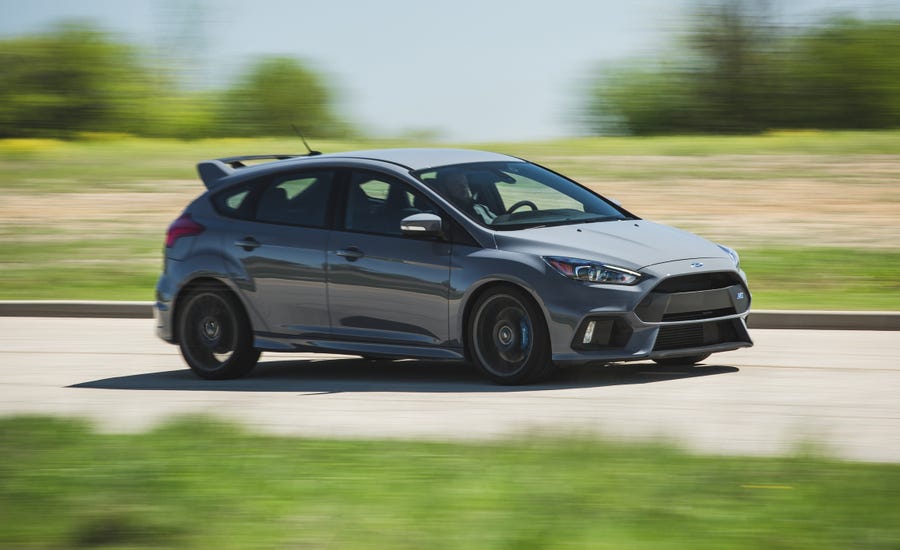 The Ford Focus RS is a weapons-grade compact hatchback with a 350-hp turbocharged four-cylinder engine, a six-speed manual transmission, and a torque-vectoring all-wheel-drive system designed with rally-car shenanigans in mind. That it's built upon the workaday Ford Focus makes it familiar and practical, yet this sport compact's charisma is cranked up to 11. While the RS lacks the refined demeanor and upscale interior of some of its competition, the Ford's racier setup makes it a highly entertaining driver's tool. Just know that its claustrophobic Recaro seats, stiff ride, and $36,995 starting price mean that not everyone can tolerate its rambunctiousness.
What's New for 2017?
Now in its second model year, the RS enters 2017 unchanged.
Trims and Options We'd Choose
It's easy to balk at a $37K Ford Focus. But the RS symbolizes go-big-or-go-home thinking, with our $39,780 test car serving as our preferred configuration. Its Stealth Gray paint is coolly subdued (black, white, and neon blue also are available), and the $2785 RS2 package—navigation; heated front seats, exterior mirrors, and steering wheel; grippier seat inserts; and an eight-way power-adjustable driver's seat in place of a six-way manual chair—makes this little brute a touch easier to tolerate. Snow Belters can find a less expensive 18-inch winter wheel-and-tire package than the $1995 bundle that Ford offers. And we'd also pass on the RS's $1990 forged 19-inch wheels with Michelin Pilot Sport Cup 2 tires, which, despite being reasonably priced and flypaper-sticky, magnify the car's already bouncy and jittery ride. Additional highlights that you don't have to pay extra for:
• Dual-zone automatic climate control
• 8.0-inch Sync 3 touchscreen infotainment
• Leather-wrapped RS sport steering wheel and shift knob
• Selectable RS driving modes with adjustable suspension and stability control
["Source-caranddriver."]