The Monster has always been an honest, no-nonsense motorcycle and, for a motorcycle that wears its 24-year lineage on its sleeve, it looks deliciously modern. This is good, because what Miguel Angel Galluzzi nailed in his first attempt (he is also responsible for the Aprilia Dorsoduro, RSV4 and Tuono – see the impressive pattern?) has evolved into a naked-bike icon, over two decades later. It's true that every panel on the new Monster is different to the ones on the first-gen motorcycle (and the ones that followed) but the essence of it has been retained without the slightest compromise. This is evolution done right, undoubtedly.
Does it have the fireworks?
The Monster 797, in effect, is the bare-bones variant of Ducati's iconic naked roadster range and that qualifies it as the smallest and cheapest of the lot. Within the 797's Ducati-red tubular trellis frame is the proven and popular Desmodue 803cc L-twin motor, which is the same as the one you get in the Scrambler and its variants, and is identical in spec. This motor produces 72.4hp at 8,250rpm, which, you must note, is lesser than the output of the now-defunct, made-for-Asia Monster 795 (85.8hp) it replaces. Like in the Scrambler, this motor churns out 67Nm of torque at 5,750rpm, a healthy figure, but substantially lower than the 78Nm produced by the 795.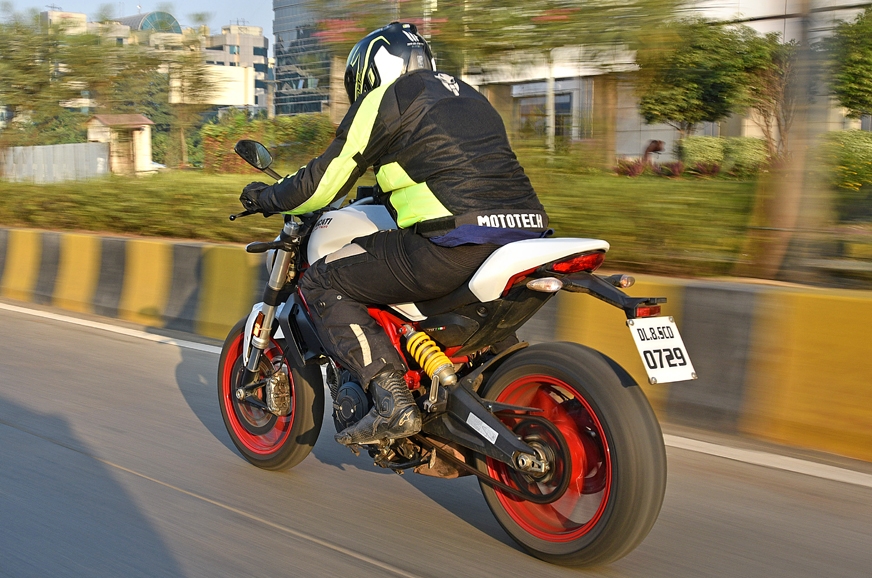 A fairly slick six-speed transmission is paired to the motor and is assisted by a wet-clutch mechanism that definitely does the 797 huge favours in the urban crawl. This is an important entry in its list of credentials since the 797 has nothing else to offer in the name of rider assists, barring a dual-channel ABS, that is. Like in the other 803cc-engined Ducatis, the Monster, too, makes do without traction control and riding modes, and while this may seem questionable, it doesn't have too much of an impact on its real-world performance, which we will get to shortly.
A friendly Monster?
The Monster, given its street bias, sports ergonomics that are relaxed and not demanding in any way, and you realise this in the instant you swing a leg over and grip the 16.5-litre fuel tank with your knees. The slightly low-set handlebar requires you to stretch out and hunch a bit, but it's not uncomfortable in any way, particularly once you settle in comfortably over an extended period of riding. What appears clumsy, to put it politely, is the foot peg setup, which is reasonably rear-set but marred by the pillion sub-frame (which also doubles up as a heel plate). This restricts you from digging your heels in and limits your cornering stance on the bike. It's an irritant, particularly coming from a manufacturer that also produces MotoGP-winning machines, and is something that needlessly distracts from what is otherwise an effortless, easy-to-ride motorcycle.
It's got the style, but what about substance?
Fire it up using a split-function sliding switch that combines the starter and kill-switch into one unit on the RHS handlebar, and it roars to life – typical of Monsters over the years – and eventually settles into a busy thrum that sounds raw and yet decently refined. The minimalist LCD instrument panel, shrouded by a similarly diminutive fly screen, does its expected jig before resting at a black-on-white display, with the tachometer dominating the headline act. It misses out on a gear-position indicator, as my colleague, Sergius, was quick to spot, but is otherwise decently informative, with its twin tripmeter, an odometer, a temperature gauge and, of course, the speedometer – all in digital readouts. Snick it into first gear and release the light clutch lever (progressive once you get used to it, but not adjustable – no brownie points because even a KTM 390 Duke offers it today), and you hear the first signs of its quick but relaxed and unstressed demeanour. This isn't an out-to-get-you motorcycle in the least. Not unless you really want it to anyway.
The Monster is quick to gain momentum and it only takes a few seconds for you to find yourself on the wrong side of the law. First gear is good for about 80kph and second gear shoots you well past 120kph – rather quickly, too – and it's quick to spin its rear wheel up as well, especially over concrete surfaces and paver blocks. At 100kph, in sixth, the motor settles at the 4,000rpm mark, at which point it is in the core of its comfort zone. This is great if you take pride in hosting reserves of power rather than putting all of it down, and it subscribes to the 797's brief of being a beginner-friendly machine. Another positive development is the engine's ability to crawl without any juddering (unlike on the previous dry clutch-equipped Monster) and it very well holds momentum even under 2,000rpm without feeling uncomfortable, which adds to its urban capability.
Can it handle Indian roads?
Contributing to this urban-friendly nature is the fancy-free but insightfully configured suspension unit, featuring a 43mm Kayaba USD fork (with 125mm of travel) and a preload/rebound-adjustable Sachs monoshock which offers 150mm of travel – brilliant for our unpredictably hostile roads. While Ducati hasn't revealed its ground clearance figure, I didn't scrape the Monster's underbelly on even the most ludicrous of speed breakers I could find. If anything, it's the load of central, borderline front-heavy mass that you have to look out for, especially over potholes, as a cracked rim is as much of an unpleasant sight as it is an expense.
The 797's no-nonsense running gear and inherently enthusiastic (in a calm rather than an urgent way) chassis also lends to its cornering prowess, which is more suited to long, sweeping curves than quick, hair-trigger changes in direction. This perceptible lethargy is perhaps purposefully dialled in to make things friendlier for the less experienced. Although, newer riders will get used to its 193kg kerb weight quicker than they would to the not-so-generous lock-to-lock steering movement, something that needs you to plan walking-speed traffic manoeuvres cautiously. Thankfully, the Pirelli Diablo Rosso II tyres contribute to its cornering potential immensely, giving you the sensation of vast reserves of grip (not too far from the truth, even under full lean or hard braking). This is good, considering the 797 features no rider assists – a good way to learn your way around big bikes, isn't it? That said, things should get interesting closer to the end of the tyres' lifespan, especially in the wet!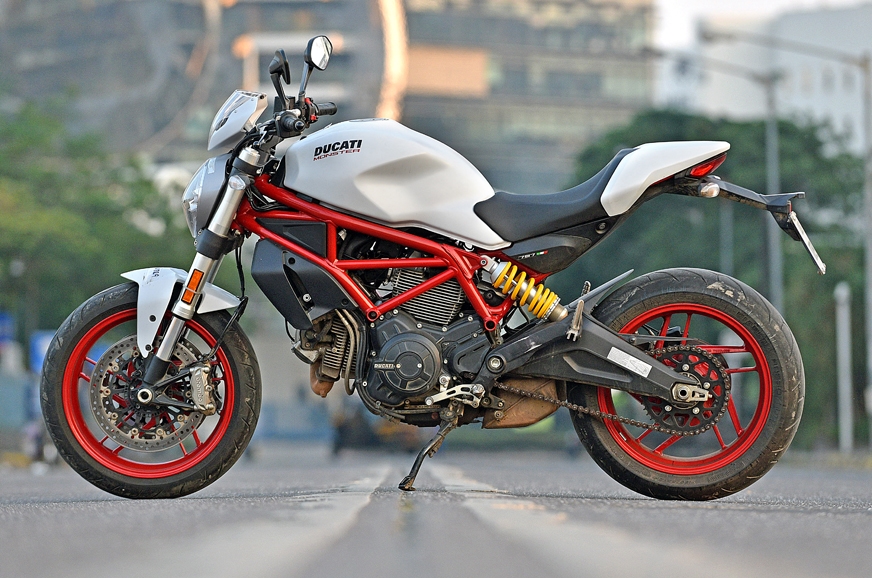 Should you buy it?
There is enough merit to the no-frills Monster to justify a purchase, provided you are comfortable with the idea of a street-only motorcycle, don't want to scrape knee sliders and want to cruise the highway at fair clip rather than dominate it. At Rs 7.77 lakh (ex-showroom, Delhi), it's not great value for money, given how basic it is, but the premium does buy you the Ducati badge and also a timeless design icon, one that is likeable and easily enjoyable.
["Source-autocarindia"]