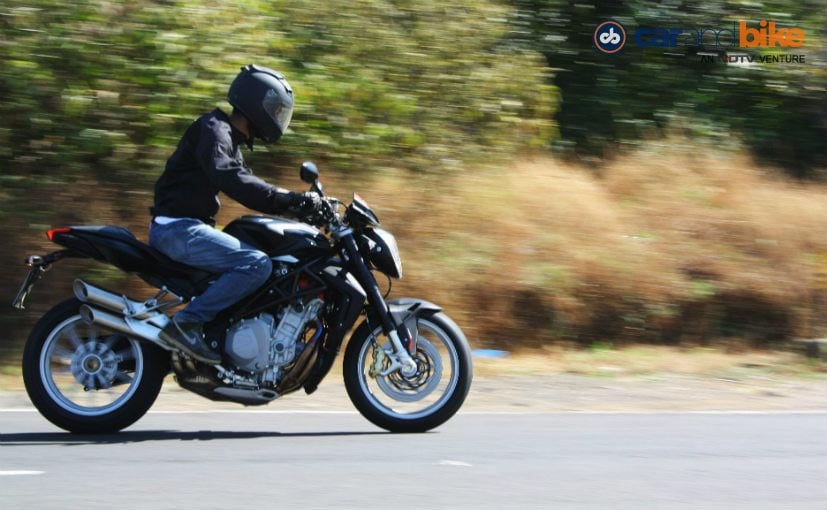 The name MV Agusta is associated with history and performance that perhaps no other motorcycle manufacturer comes close to. It evokes images of exotic Italian racing heritage and a lineage that goes decades back in time, yet retains an aura of glamour and style. And this one – the one we are riding – is the new MV Agusta Brutale 1090 – the naked street performance bike that promises to offer a lot of everything – exotic Italian lineage, heritage, history and dollops of performance.
In a way, we quite chanced upon the 1090; we had wanted to review its younger sibling, the Brutale 800, and the folks at MV Agusta India offered us this instead – the Brutale 1090! After riding it around Pune, Lonavla and the Aamby Valley road, here are our first impressions…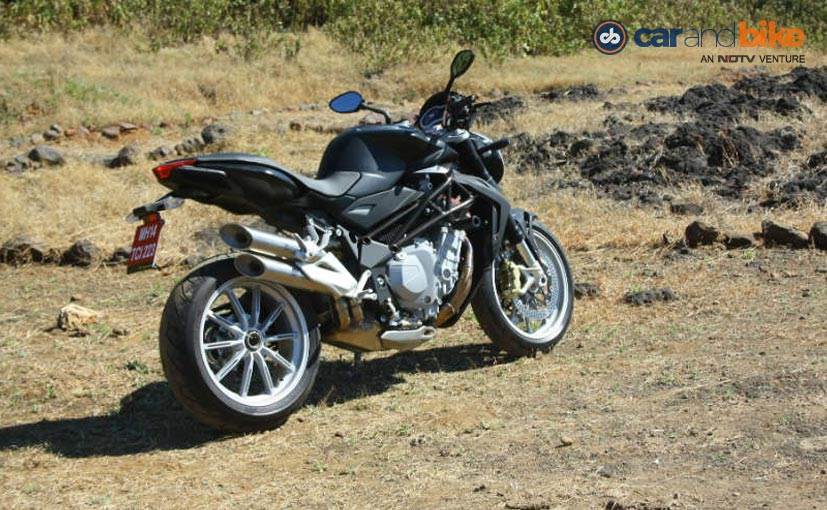 How does it look?
The MV Agusta Brutale 800 has always been a favourite when it comes to aesthetics and design, especially the one in red. We were expecting a shiny white and red Brutale 1090, so when this matte black beauty was rolled out of MV Agusta India's office on the outskirts of Pune, our first reaction was: "This colour won't do justice to pictures." But the more you look at it, the looks of the Brutale 1090 begins to grow on you. It's aggressive even when standing still, and looks distinctive and outrageously stylish in a way only an Italian with the MV Agusta name can manage.
The matte black paint looks good, and it is suitably complemented by the high quality bits, the large headlamp with daytime running lights, sculpted fuel tank, single-sided swingarm and the lightweight alloy wheels with split multiple spokes. The engine is finished in silver and bolted on the exposed trellis frame. Our test bike is all black, even the exposed frame, and a little bit of colour could have certainly made the Brutale 1090 stand out even more. Although the shape is not entirely brand new, overall, the Brutale 1090 is a very stylish motorcycle – there's no denying that fact.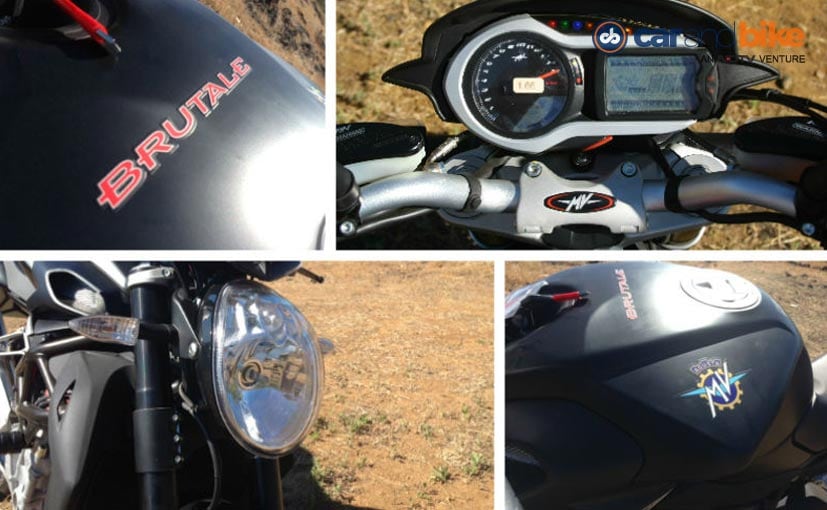 (MV Agusta Brutale 1090 Features)
How does it perform?
Swing a leg over the Brutale and you immediately realise it's a compact bike. Small, it certainly isn't though. Thumb the starter and the silky smooth character of the engine is immediately apparent. The inline-four engine displaces 1078cc, and makes maximum power of 142bhp and 112Nm of torque. Click into gear and release clutch and you are surprised with the urgency in which the bike rears, front wheel threatening to salute the sky. In fact, the story is more or less similar in second even, and if you are not careful with your right wrist, the Brutale 1090 is willing to go quite some distance on its rear wheel even on third.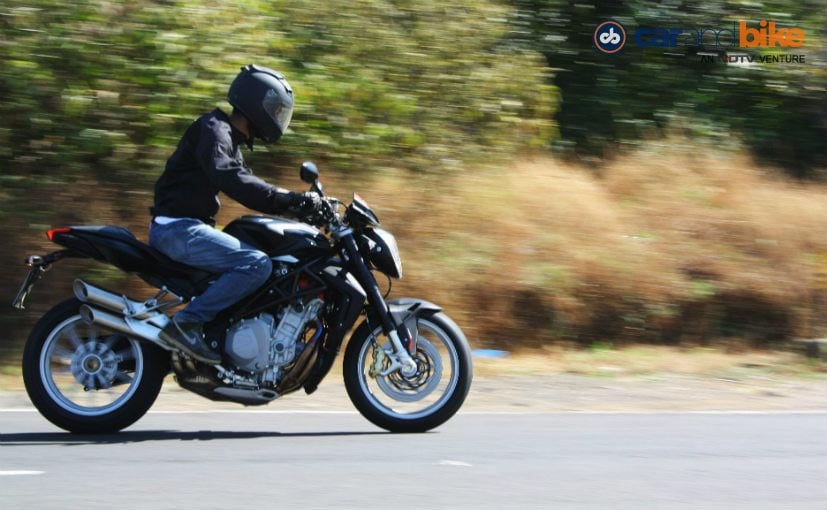 What is special is the way the power is handed out to you, complemented by a strong, smooth roar that is addictive. The in-line four delivers super silky performance and if it's refinement you are looking for, the Brutale 1090 has one of the smoothest motors I've ridden yet. But beneath all that smoothness is a violent, aggressive character that will demand your caution and respect. Based on the faired F4 superbike, the Brutale 1090 delivers superbike performance and handling.
The suspension consists of 50mm Marzocchi front fork, adjustable for compression on one leg, rebound on the other, and spring preload on both. It's set up on the stiffer side but that complements the bike's handling through the twisty bits. The only caution you need to take is on the right wrist; one wrong twist and things could go well out of hand. The Bosch ABS system works very well to shave off triple digit speeds in a hurry, with the two Brembo 310mm floating front discs and a single 210mm disc with Nissin calipers at the rear providing confident braking.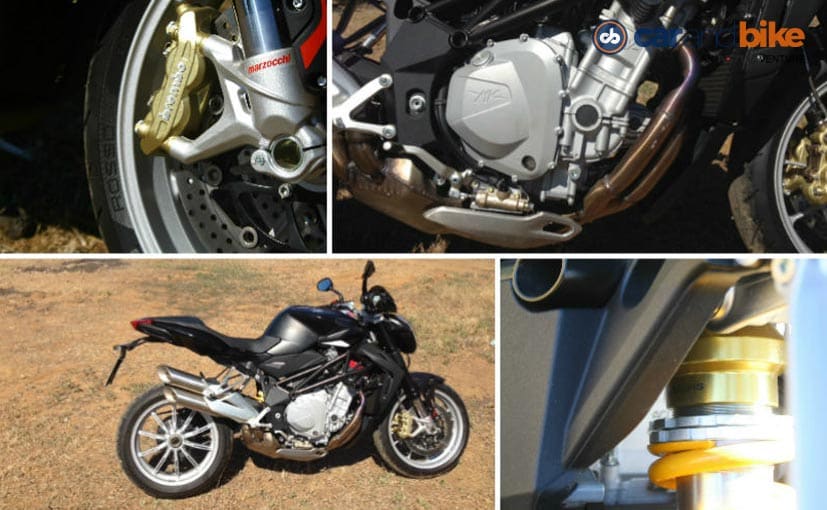 (MV Agusta Brutale 1090 Equipment)
The electronics package offers two riding modes, ride-by-wire throttle and an eight-level traction control system. We decide to keep all settings at the most intrusive, such is the nature of this beast, lurking under all that black matte paint. It's fast, quite fast and our ride from Pune to Lonavla and back felt like a short ride around the neighbourhood.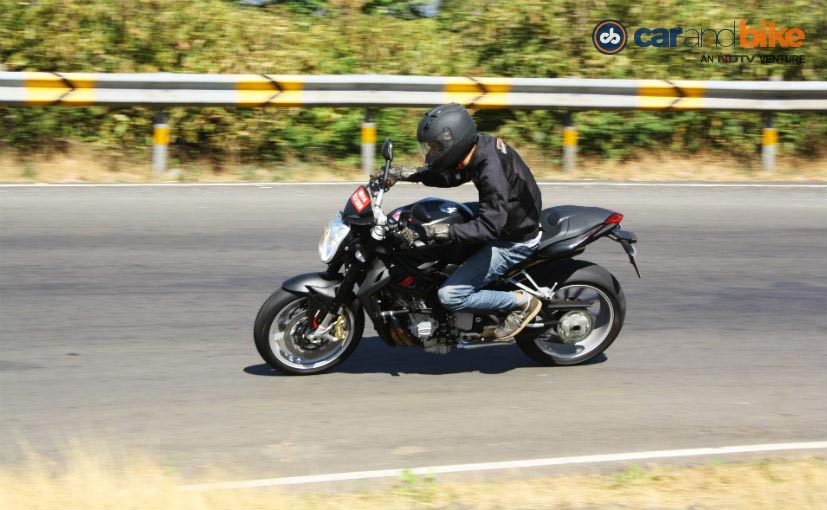 On the highway, it's easy to cruise steadily at triple digit speeds and more, with entertaining power throughout the rev range. But once you enter the city, it becomes a bit of a chore to work the clutch and rein in all that power. And it's easy, very easy to hit illegal speeds before you even realise it. With a top speed of 265kmph, you will definitely need some track time to understand at least part of its full potential.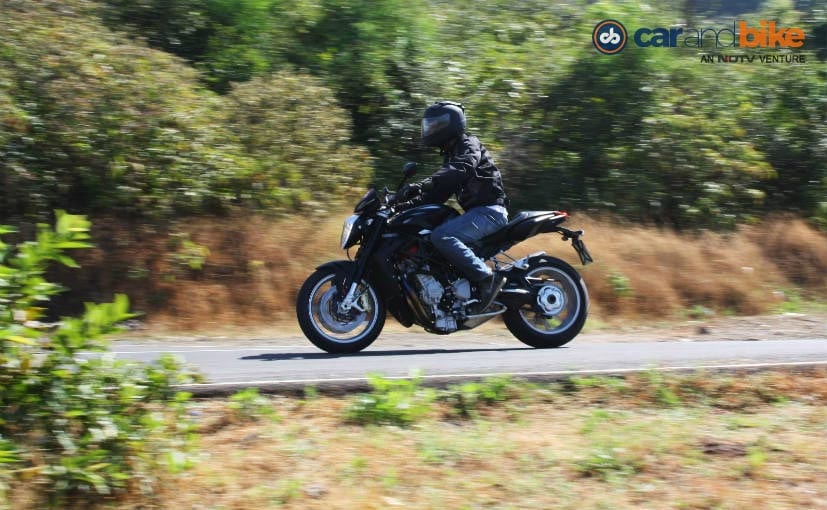 How much does it cost?
At 19.3 lakh (ex-showroom Delhi), the MV Agusta Brutale 1090 isn't exactly your affordable superbike. Sure, you get to be part of an exotic brand and ownership of a bike which will certainly keep you entertained with its super smooth engine and crackling performance.
In the end though, you would also want to consider things like after sales and service. Kinetic Engineering, which is bringing the MV Agusta brand to India, is going to launch a string of showrooms and service centres across India, under the brand Motoroyale. Once that kicks off, there is promise of a decent service network as well.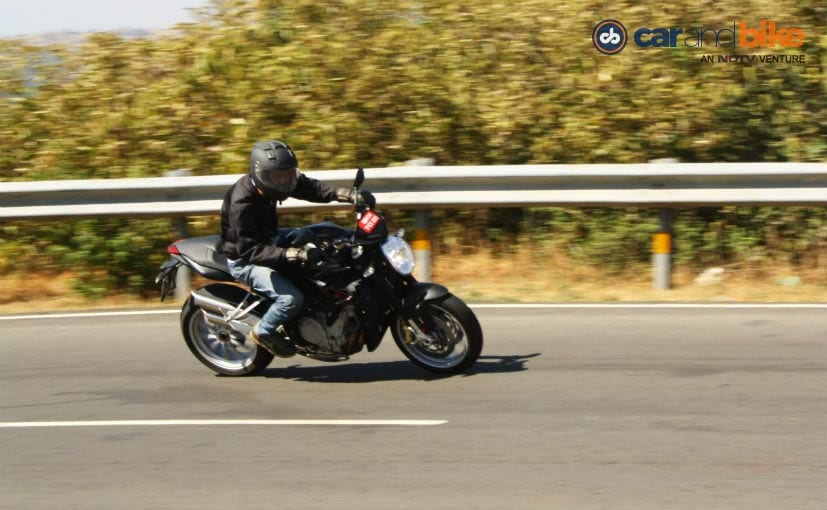 The question that remains is – whether you should buy it? If you have the budget, and are looking for something exotic, something out of the ordinary, with superbike performance, you should most certainly take a look at the MV Agusta Brutale 1090. It could be all the bike you need – your weekend ride, your daily commute and even your occasional track tool.
["source-ndtv"]