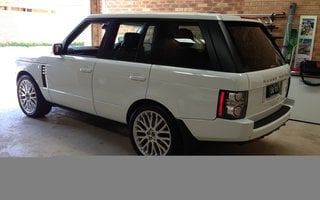 It is said – not entirely in jest – that a Range Rover isn't a car. It's a hobby.
Nevertheless, notwithstanding Land Rover's less than stellar reputation for reliability, I had coveted one for decades. By 2010 I realised that if I didn't bite the bullet soon, I'd be getting too old and sensible.
So it was that I found myself at my local Perth LR dealer, signing paperwork to commit myself to an amount of money several times more than the value of my first house, and driving out in a brand new Range Rover Sport TDV6.
Okay, it wasn't a 'real' Range Rover. The Sport was a brilliant marketing exercise by LR, based on the Disco, and it sold in the thousands to soccer mums all over the country.
But I had bigger plans. Fitted with off-road tyres and towing a heavy camper trailer. that Sport took my wife and I all over WA, right up through the Kimberley and along the Gibb River Rd, in supreme comfort.
It wasn't until some time after we got home that the problems began.
It started blowing blue-white smoke from the exhaust under sharp acceleration. For 6 months, I kept taking it back to the dealer, they kept replacing turbos and various other bits and pieces, and finally even they gave up, and ordered a brand new engine from England.
That seemed to solve the smoke issues. But I was nervous. (And – don't tell my wife this – I was looking for a 'rational' reason to pass on the Sport and upgrade to a 'real' Rangie.) So with 47,000km and three years on the clock – and with another two years to run on the extended LR warranty – I put the Sport on the market and sold it within a couple of weeks.
A lot of RR tragics will tell you that the L322 Rangie is the finest iteration of the legend that began with Spen King's original Range Rover released back in 1970. The L322 was designed when BMW owned the brand, more than 15 years ago. So it started out with a lot of BMW bits. By 2012, it was in Tata's hands, and the last of the L322s was about to be replaced with the all-new aluminium-bodied L494.
I figured that after a decade in production, most of the bugs would have been ironed out of the out-going model. By 2013 there were no more new L322s to be had, which suited me fine. I well knew that the resale values had dropped like a stone, so I searched for a couple of months before I found my ideal Rangie – a Fuji white TDV8 with that creamy 8-speed ZF gearbox.
It was less than a year old, had done only 13,000km and was on the market because its owner had allowed himself to be talked into the new model – a 5 litre supercharged petrol. (He was clearly unconcerned about prodigious fuel consumption.)
We did the deal.
In more than 40 years of driving, I've lost count of the number of cars I've owned. Must be 35 at least – Holdens, Toyotas (Prado), VWs, a variety of beige and forgettable Japanese marshmallows, some quirky English beasts among them. None of them holds a candle to the Range Rover. That stunning twin-turbo diesel V8 engine is a tour de force. Making 700nm from just 1700rpm, towing a 2.5 ton boat is ridiculously easy.
You sit in seats which make most lounge chairs feel like the cheap stalls at the local cinema. The Rangie's air suspension is a wonder, not the least for its ability off-road. This is a long-distance cruiser which soaks up road irregularities with barely a blip inside the cabin.
And that's with the ridiculous 22 inch Kahn wheels (now sold) that came with the car. Fortunately, he'd kept the original 20 inch factory wheels, which I've used with both off-road Coopers and the standard Continentals.
Our first big trip in the 'new' Rangie was last year, to Broome and on up the Gibb to El Questro, Home Valley and the notorious Kalumburu Road via Drysdale River Station. Picking up a heavy camper trailer in Broome, we headed via Fitzroy to meet friends from Melbourne at the Bungle Bungles.
It wasn't until we tried to reach Mitchell Plateau that things went pear-shaped. Attempting to nurse the car over corrugations that resembled a relief map of Switzerland, I made the mistake of going TOO slow. With insufficient cooling air flowing over the shock absorbers, the right rear one gave up the ghost, spewing fluid all over the dirt.
That's another, very long story, which (under warranty) must have cost Land Rover more than $25,000 to resolve.
The full story here: http://gibbadventure.blogspot.com.au/2014/07/a-range-rover-in-kimberley.html
As I said, a Rangie is a hobby, not a car. I still love it. No other so-called 'SUV' has the presence, the street appeal, the sheer 'grunt' of this brilliant piece of engineering.
It ain't perfect, by any means. It's expensive to maintain.
But – it's a big but – there are very, very few vehicles that give the owner that feeling on 'oh, yeah' like a Rangie.
["source-caradvice"]