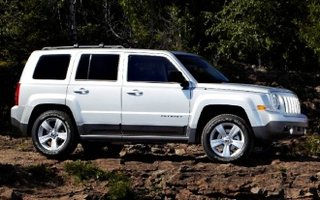 I really wanted a Land Rover short wheel base.Also I was told they hold there price and last a long time.But the cost was too much.So when I saw the Jeep prices I decided on a Jeep Patriot Sport cvt 2Ltr.In black it really looked good.
I thought the extras were really good I'm getting 32mpg US.Even though some will not agree with me I like it.If there is a perfect car everyone would have one.The other car companies would all go bang.
For me the silly things I don't like are some of the controls are for US roads why could they not take the time to change to right hand drive roads.the steering is nice and tight the bonnet is heavy road noise is good love every angle of it.I hope it will last as long as the Jeep's I see on the road from the 1980's.
I know the new one's are under Fiat with Mitsi and hyundai bit's that's disappointing but I love the Patriot look.Most cars on the road are made in other countries than where they should be made.In the 1960's it was simple less makes,models built in their own countries.but they would rust easier than today but more call backs now than before.
I wish they would have less extra's so they would be cheaper I don't need powerful speakers how big is the car inside to need them.And space savers and Mitsi now has no spare tyre.
I'll keep the Jeep till driverless cars are the go if I can bare being in the passenger seat.Had to unlock fuel cap with keys in you hand and twist in small opening.A real pain.
["source-caradvice"]