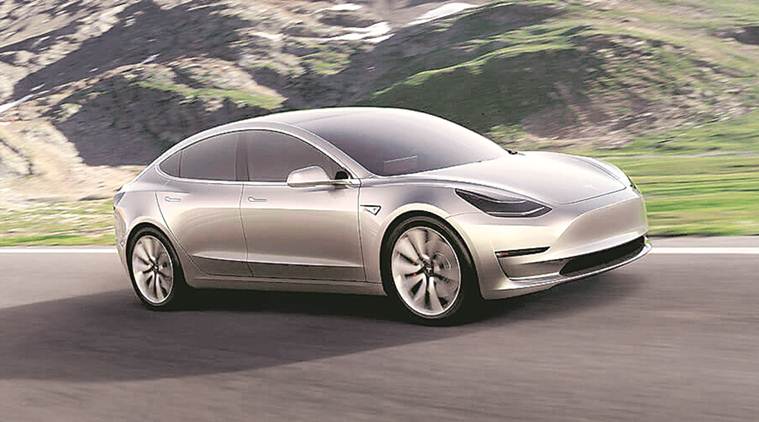 The Model 3's roof is a sheet of glass that stretches from the front to almost the boot. The car can rocket from zero to nearly 100 km/h in 5.6 seconds. (Image source: Tesla web site)
Tesla's new Model 3 is more than just a "stripped-down version" of its Model S premium electric sedan. The new launch — the first vehicle got off the assembly line on July 7 — could potentially transform the way the Palo Alto, California-headquartered company has done business so far, given that the Model 3 is expected to drive a 500% increase in its sales.
There are two things that Tesla has done differently in the run-up to the launch of the $ 35,000 Model 3, the first "mass market" product from the electric car company, which signals the entry of the luxury vehicle maker into the mainstream car market.
One, Tesla is working on ramping up service capacity at an unprecedented scale, with a target of tripling its global capacity. The steps include improving service time through automating paperwork, using the car's wireless connections to diagnose problems, and expanding mobile support. About 100 new service centres are being added to its current total of over 150, and 1,400-odd technicians are set to be hired this year, according to a Reuters report that quoted an unnamed company executive. Tesla did not have to do this till now, given the modest sales numbers of the pricier Model S premium sedan and the Model X sports utility vehicle.
Two, the company has decided to capitalise on the demand for the Model 3 among Tesla's 28,000 employees by strategically releasing the first few batches of the car to employee reservation holders. This step is in preparation for the mass market; the company intends to quickly tackle any glitches identified during the early rollout. The launch of the Model X in 2015 had been wobbly, hit by production issues including software glitches, misaligned body panels, and trouble with the falcon wing doors; a massive recall to sort out a niggling seatbelt issue had followed.
Even though Tesla has itself described the Model 3 as a stripped-down Model S, the lists of the new car's specs and features are pretty formidable. It goes from zero to 60 miles (97 km) per hour in 5.6 seconds, according to a specs sheet Tesla published in May — faster than most conventional base-level models in the premium car segment, including the BMW 3 Series and the Mercedes C-class sedans. Tesla claims the Model 3 can travel at least 215 miles (346 km) on a single charge, and buyers have the option to upgrade to a bigger battery that could take the car even farther.
The Model 3's roof is a sheet of UV-protected glass that stretches from the front of the car to almost its boot. The vehicle is equipped with the hardware for Tesla's autopilot features and high-speed supercharging, alongside the carmaker's signature touchscreen control panel that handles everything from navigation to speed. Rear wheel drive is standard, and dual motors and all-wheel drive are possible future options.
For Tesla, getting into the mass car market is also important to justify its credentials as America's most valued carmaker. More so, because Tesla edged out General Motors Corp in market cap this April — despite GM having sold about 10 million cars in 2016 as compared to Tesla's 75,000, and GM's $ 9 billion profits last year comprehensively overshadowed Tesla, which has had just two profitable quarters in its entire history as a public company.
Also, the launch of the cheaper model comes against the backdrop of reverses that Tesla has faced in other markets. The Wall Street Journal reported this month that new registrations of Tesla cars fell to zero in Hong Kong after authorities slashed a tax break for electric vehicles in April. Tesla faces the prospect of tax breaks being phased out in other markets as well.
Meanwhile, the company plans to ramp up the production of the Model 3 in phases — from 100 cars in August to more than 1,500 by September to 20,000 cars per month by December. Tesla chief Elon Musk has publicly said that he has high hopes from the Model 3, and expects the rollout to help the company deliver five times its current annual sales volume. The first deliveries are expected on July 28.
MODEL 3 AND INDIA
ON FEB 7, Elon Musk, asked on Twitter if he planned to launch Tesla in India, replied, "Hoping for summer this year". On April 1, he tweeted, "Adding several more countries to Model 3 order page tonight. Check for details, but will include India, Brazil, SA, SK, NZ, Sing & Ireland."
HOWEVER, on May 22, Musk tweeted: "Maybe I'm misinformed, but I was told that 30% of parts must be locally sourced and the supply doesn't yet exist in India to support that."
THE FOLLOWING day, the Make In India handle reacted: "[email protected] With respect to news reports on launch plans of Tesla in India being delayed, please note some key clarifications #MakeInIndia". It said, "FDI policy of India does not mandate any such minimum sourcing of components by manufacturers".
["Source-indianexpress"]